Cuddly octopuses helping to make premature babies feel safe
Nurses say the soft tentacles of the creatures can help soothe the tiny new arrivals.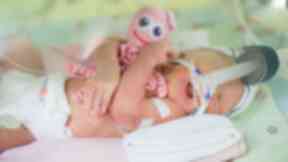 Scotland's tiniest and most fragile babies have been getting some extra special bedfellows.
The neonatal unit in Aberdeen is the first in Scotland to play host to a tangle of octopuses, crocheted to help soothe premature babies.
Made by the voluntary group Octopus for a Preemie, the little tentacled creatures have proven invaluable on the ward as comforters for babies at risk of anxiety or stress.
Research has shown the crocheted tentacles help remind them of their umbilical cords and of being inside their mother's womb, which in turn helps them feel safe.
Neonatal nurse manager Nicole Bauwens says the octopuses are great comforters for the tiny babies.
"The spiralled tentacles are reminiscent of mum's umbilical cord in the womb and instil a feeling of warmth and safety," she says.
"It is wonderful watching the babies interact with these soft, woolly creatures."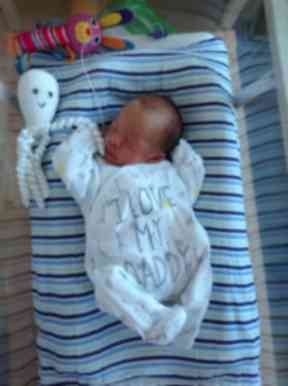 As mother Carys Thurlby says: "My baby, Laurence, was born premature at 33 weeks. He was given an octopus which really helped him as I was able to get him to hold on to the tentacles instead of pulling out his NG tube."
Initially launched in Denmark, where the project has so far handed out more than 22,000 octopuses, the idea has since been taken up in Scotland by kind volunteers.
Scottish coordinator Maxine Lawson, 55, of Glenrothes, says the UK-wide group was set up in February and has already gone from 250 to 8000 members in the last month.
"It has just exploded, it's amazing and we're absolutely delighted," she says.
"The generosity and kindness of people and their willingness to get involved in anyway they can is overwhelming."
So many octopuses have flooded in that Maxine and the team are now in the process of setting up local coordinators to help manage the influx.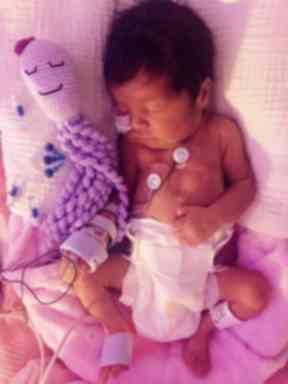 The guidelines on how to make the little creatures are strict, though, to ensure the safety of the babies they're being made for.
"They cannot be donated directly to hospitals, they need to be checked to make sure that they are safe," explains Maxine.
"They have to be made with 100% cotton or yarn.
"These little ones are tiny and their lungs might not be working properly yet so it's vital there are no loose fibres they could breathe in."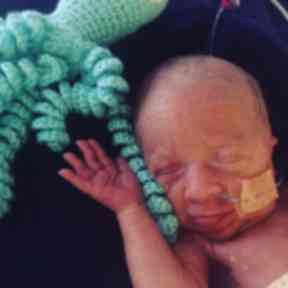 Each octopus is carefully checked over and washed at a minimum of 60C to limit the risk of infection in the incubators.
Every stitch has to be extremely tight to make sure stuffing doesn't come loose, and the group have also released a knitting pattern for non-stuffed octopods too.
"They look sort of like a coaster with tentacles," says Maxine.
"We think hospitals who don't currently accept stuffed ones might prefer them."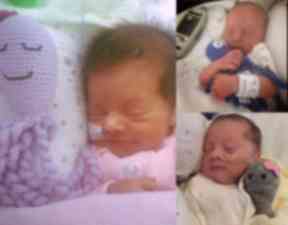 Although the images make them look quite large, the octopuses themselves are actually not that big at all - they just seem bigger because of the tiny hands holding them.
"We had one parent send us a picture of her premature baby with what looked like a silver bangle on her wrist," says Maxine.
"But it was actually her daddy's wedding ring - they really are that tiny."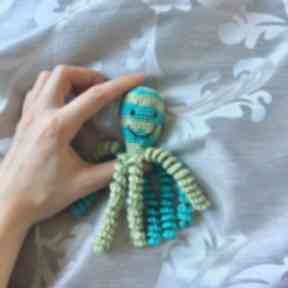 The group affirm "that no octopus goes to waste" if they don't meet the high standards set by healthcare staff.
Those that come in that don't meet the health and safety criteria are carefully sent off to help other families in need.
"We've partnered with a charity who do bereavement boxes for parents who have sadly lost their babies," says Maxine.
"The octopuses are included in them so they can sit with the baby or be kept in a memory box."
The group are keen to stress the octopuses are not toys but a calming tool.
When the babies get strong enough to put things in their mouth, the little octopuses are taken away again to ensure they don't become a choking hazard.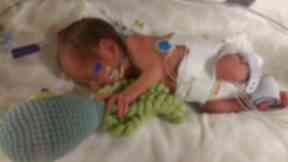 "They really do genuinely seem to work," says Maxine.
"The babies calm down and their oxygen levels improve. You can see the difference and the nurses say they are a lot calmer.
"They relieve stress and anxiety and stop babies pulling their tubes out. And when the octopuses get taken away to be washed you can see them reaching out and looking for them."
Around 5800 babies are born premature or sick in Scotland every year and the volunteers are keen to offer their creations to all of them.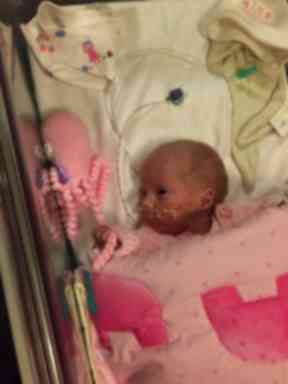 "The aim is to reach as many premature babies as we can across the UK," says Maxine.
"Aberdeen are the first to come on board in Scotland and we are hoping others will join them.
"Aberdeen is a big unit and needs around 80 octopuses on average every month so we are concentrating now on getting enough volunteers signed up to keep the little creatures coming in."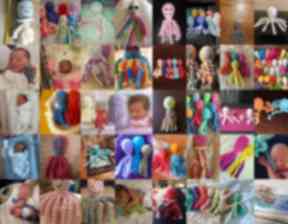 If you'd like to learn how to crochet an octopus for the ward, check out this design below and contact the Octopus for a Preemie group here online for guidance on how to take part.
Download: The STV News app is Scotland's favourite and is available for iPhone from the App store and for Android from Google Play. Download it today and continue to enjoy STV News wherever you are.