Shear gold: Orlando, Scotland's reigning alpaca champion
The cuddly animals are guarding sheep, calming stressed pupils and boosting business.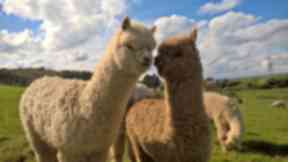 There are several stellar attributes judges look for when choosing Scotland's supreme alpaca champion.
The first is fleeciness. In layman's terms, that means having to be above-average quality in the coat department.
Apart from having a solid frame and being well-proportioned, a standout alpaca also needs well shaped ears, perfectly positioned eyes and neatly aligned teeth.
Judges are also looking for that extra-special sheen - a certain glint if you will.
"When the light bounces back off their fleece and you have a 'wow' moment," says alpaca breeder Bob Crosbie helpfully.
Bob, 61, is the proud owner of a 'wow' alpaca. Orlando, a four-legged camelid of golden fleecy wonder, is the reigning supreme title-holder of the Scottish Alpaca Championships.
The handsome chap outshone his competition to bring Bob home a victory win at the inaugural event last year.
One of 700 alpaca now roaming the rolling glens of Scotland, Orlando is part of a growing herd being used for everything from soft jumpers and sheep guards to calming stressed out exam students at university.
"There's masses going on in the alpaca world at the moment," says Bob.
"They're very gentle, wonderful animals."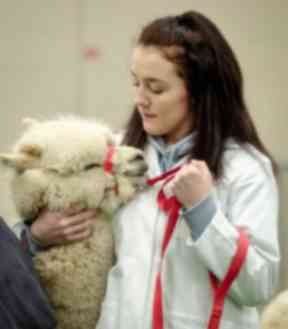 Bob's alpaca adventure began two years ago, after he retired from a life in IT as a civil servant.
"It was a plan that went wrong actually," he says.
"I just wanted to do something different and thought about a small holding.
"I'd heard alpaca can make good guard dogs of sheep and chickens so I went to check them out."
Alpaca aren't simply good at guarding - they've mastered it.
Members of the camel family, originating in South America, they are fiercely protective of their young, and that impulse spreads to other animals they share a field with.
According to Bob's research, that can make for a record 80% drop in fox attacks if you have alpaca near your flock.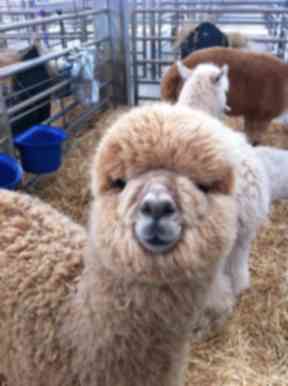 Having an enraged alpaca charge you down and spitting on you has proved to be quite the deterrent for Britain's foxes.
Bob was hooked. The dream of lambs and chickens flew off.
"I started off with five pregnant females and a handful of young males," he says.
"They've become a part of my life."
Petros, Ignatious, Artemis, Milo and the handsome Orlando won him over. And then the babies arrived.
"Some breeders have a system for naming, after Scottish places or whisky," says Bob.
Bob preferred to see their characters evolve first, which is why he is now the proud adoptive dad to the likes of Harmony, Eureka and Amadeus.
Orlando remains a particularly special one, though Bob says all the boys are very friendly.
"I would say that if pressed for a characteristic of him, it would be space cadet," says Bob.
"He lives on Planet Orlando most of the time and is fond of most of his food items - he enjoys the odd bit of carrot or apple as a treat."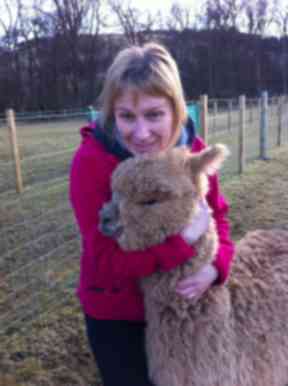 Together with his wife, Cath, Bob now welcomes visitors from across the country to their BobCat Alpaca farm at the foot of the Pentland Hills outside Edinburgh.
"We've never really advertised it but people still come thanks to Tripadvisor," laughs Bob.
"We run Alpaca Experiences so folk can come and walk with them and feed them.
"It really is something I thoroughly enjoy."
There are now around 50 alpaca breeders in Scotland and around 2000 throughout the UK.
They were first introduced about 35 years ago and the national herd has now grown to about 40,000.
A lady named Pat Bentley was the first to keep them in Britain, with her final herd being sold for around £50,000 when she eventually retired.
The increasing demand for alpaca fleeces has helped to keep the British herds growing in her absence.
Used in luxury clothing and bedding, in 2014 the price of a kilo of alpaca yarn fetched a comfortable £24.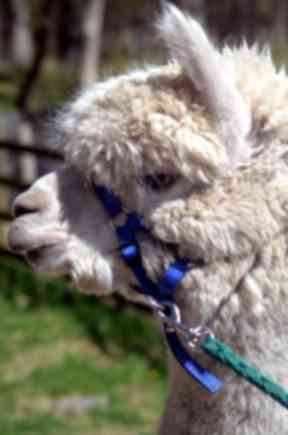 Alpacas are kept primarily for their fleece, which is a luxury fibre as soft as cashmere with amazingly good thermal quality.
But they are also very versatile animals, which are becoming increasingly used as therapy animals in Scotland.
They rarely bite or kick and, rather than hissing or roaring, merely hum. All in all, your average alpaca is a peaceful sort of pal.
"They are calm and calming, and this makes them ideal in this role," says Bob, who has taken some of his herd to visit residents in a local cancer hospice.
"I take mine into universities to help calm students at exam time and they are also very good as educational aids, particularly with children on the autism spectrum."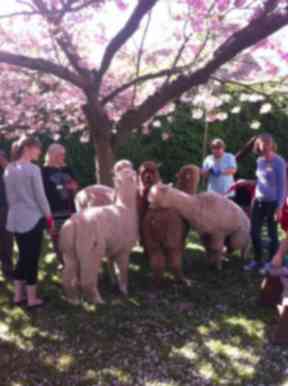 Last month, more than 1000 Glasgow undergraduates signed up to the Facebook page Alpacas on Campus.
It is thought their natural "cool" transmits itself to frantic students.
For others wanting to experience the "cool" for themselves, the second Scottish Alpaca Championship, organised by the Scottish Alpaca Group, will be held on April 15 at Lanark Auction Mart.
There will be stalls, public access to the show area and the chance to go backstage to the "dressing area".
A record entry of 140 alpacas will vie to be judged as the best in each colour group, then best in show.
The Scottish Alpaca Group is a regional group of the British Alpaca Society (BAS), which is the breed society at National level. The show is judged by a BAS certified judge.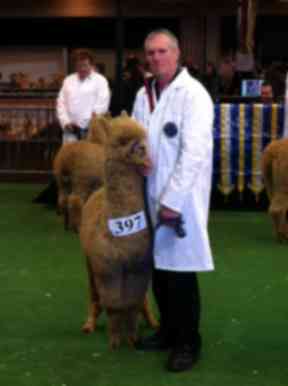 This week, Orlando is preparing to hand over his crown as the championship gets under way.
He won't be entering for a two-run win, though, as his services are needed elsewhere after last year's success.
Bob thinks it won't be too much or a hardship for him though, as the winner's reward is pretty significant for a lucky young lad like Orlando.
"Because of his status as supreme champion he's going to be engaged elsewhere," says Bob.
"He's about to start work as a stud male."
Which means that if all goes to plan for Orlando, next year's Scottish Alpaca Championships could be even bigger.
"It's a very close alpaca community in Scotland," says Bob.
"Even if we compete against each other it's still very friendly and we help each other out.
"We're looking forward to seeing even more alpaca herds in the country - they really are such wonderful animals."
Download: The STV News app is Scotland's favourite and is available for iPhone from the App store and for Android from Google Play. Download it today and continue to enjoy STV News wherever you are.