Best buds: Loyal guide dog Milo helps owner take on marathon
Blind runner Scott Cunningham will take on the London Marathon for charity.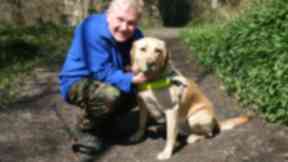 The countdown to the London Marathon is on and for Labrador Milo it is an important day.
His owner, feeder, walker, chief tummy scratcher and all-round best friend is counting on him.
Usually, he spends his days glued to Scott Cunningham's side.
He knows the route to the shops, to stop at every pedestrian crossing and how to make sure each step Scott takes, he takes it safely.
This time, though, Milo is only able to keep watch from the sidelines as Scott attempts one of the biggest endurance challenges of his life.
Scott has been registered blind since the age of 23.
Now, he's taking on one of the world's best known marathons on April 23, representing Scotland as one of the few - perhaps even only - blind Scottish runners to compete.
It is Milo who usually sees for him. As Scott's guide dog and companion the pair are inseparable.
"He's a brilliant character, full of life," says Scott.
"He's a really good worker, especially during our long distance treks in the hills."
As Milo cannot run the marathon with him, his two-legged friend Jim Kirk is going to take Milo's place.
"Training for the London Marathon has been an amazing adventure, especially since Jim and I had never run before in our lives," says Scott.
"I didn't even own a pair of trainers until October of last year. The buzz of running blind is out of this world."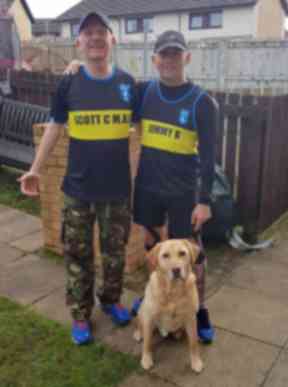 The pair have been putting themselves through an intense training regime, finding different ways to enable them to run together.
"It's been fantastic to hear cheers as we run along the streets of Larkhall," says Scott.
Jim has taken on the role of guide runner, with the pair trying everything from bootlaces to dog leads to tether themselves together.
"I started off jogging in hiking boots with a bootlace tied to Jim," laughs Scott.
"Now I'm trainers attached to him with a dog lead and we've definitely found our rhythm."
The two friends have been racing across Scotland, going from a few hundred metres in the beginning to clocking up two half marathons.
They have now just hit their 22.2 miles in training and are confident they'll be able to take on London.
"We're in our routine now and we've lost a lot of weight between us," says Scott.
"We can actually breathe and chat at the same time now."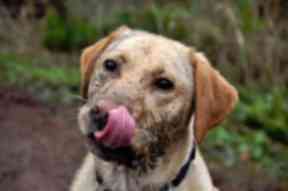 The last time Scott was in London he was in the back of a cab scooting down to Buckingham Palace to pick up his MBE.
A charity champion for Guide Dogs Scotland, he had raised more than £270,000 to help other people get matched with their own guide dog.
The London challenge, he says, is just another way for him to raise even more funds to help others.
"Knowing that we are running to help change someone's life is what keep us both going when things get tough," he says.
"I wouldn't be here if it wasn't for guide dogs. My wee man Milo make sure I can keep living my life."
Scott was employed by Royal Mail as a forklift truck driver until early October 1993 when, after a period of three weeks, he had lost his eyesight.
After a stay in the Southern General Hospital in Glasgow, he was diagnosed with a rare eye condition known as Lebers Hereditary Optic Neuropathy - or LHON for short.
LHON is a condition that usuallu affects males in their late teenage years or in their early 20s.
Sufferers lose sight by the erosion of the optic nerve which turns white instead of a healthy nerve being pink in colour.
No message from the eyes gets passed to the brain although the eyes look perfectly normal.
There is no known cure for this rare condition as of yet but sufferers are optimistic for a breakthrough with revolutionary stem cell treatment being currently tested.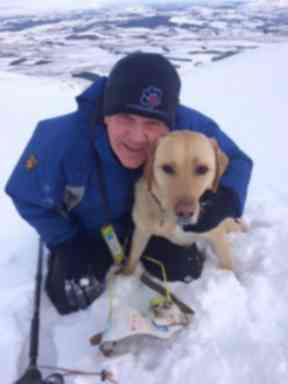 In the meantime, Scott is very much continuing with life.
He's had three guide dogs - Ike, Travis and now Milo, all of who have helped him take on charity challenges.
Their recent fundraisers, known as Milo's Miles have attracted fans across the country including a few high profile friends.
"Clare Balding, Amy Macdonald and Sharleen Spiteri love him," says Scott.
"They follow Milo on Twitter."
Milo is travelling down for the London Marathon and will be watching out for Scott at the finish line.
"I've not had a pint since I started training in January last year and I've been whispering in Milo's ear to be there with a pint and perhaps a wee malt as well,"says Scott.
He also says he incredibly grateful to his friend Jim for taking on the challenge with him.
"It is an incredible journey that we've been on," he says.
"I cannot thank him enough. Our lives have been on hold for this.
"He's been a great friend to me."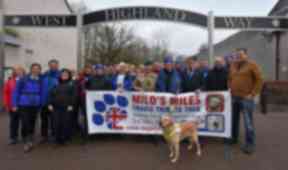 Jim, in turn, is thrilled with everything his friend has managed to achieve.
"This is probably the toughest challenge of both our lives and I'm so proud of Scott," he says.
"He keeps me motivated and is a true inspiration to all."
The pair say they are most looking forward to the final mile sprint to the finish line which they are expecting to be emotional.
Milo will be there, tail wagging, ready to join his friend's side once again. Though after the race is over, he has one other pretty big duty ahead of him - as best dog at his pal's wedding.
"My fiancee Shelly and I are getting married six weeks after the race," says Scott.
"I owe her so much for arranging the whole wedding while I've been focused on this.
"We're all looking forward to the big day."
You can support Scott and Jim's London Marathon efforts here and you can also find more information on Scott and his previous endeavours at www.legendstrek.co.uk
Download: The STV News app is Scotland's favourite and is available for iPhone from the App store and for Android from Google Play. Download it today and continue to enjoy STV News wherever you are.