Cracking treats: Chocolate Easter eggs from your childhood
Do you remember Border Creme Eggs or Mackintosh Toffee Mallow Eggs?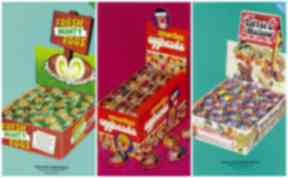 As Easter rolls around for another year, it's time to crack into your stash of hollow eggs, filled eggs and packets of miniature eggs.
From large milk chocolate eggs filled with Nestle sweets to Cadbury's smaller Creme Eggs, the celebration has long been associated with the sweet stuff in the UK.
But did you know that at one point the British confectionery market had at least four different versions of the classic fondant-filled egg?
Since the early 20th century, confectionery companies have been experimenting with different sweets and chocolates to create special treats designed for holidays such as Christmas and Easter.
Chocolate chickens and fish, symbolic of the Christian celebration were exchanged prior to World War One, but by the end of the conflict chocolate eggs became a symbol of hope and new beginnings.
While the eggs became popular, the continuation of sugar rationing beyond the end of World War Two meant the treats didn't soar in popularity until the 1950s, with Rowntree's Dairy Egg launching in 1954.
Since then, companies such as Cadbury's, Fry's and Mackintosh quickly followed suit, creating much loved treats from the cream egg to the toffee mallow egg.
Cadbury's Border Creme Eggs
The Border Creme Egg was in fact Cadbury's first foray into the world of the classic creme egg we know and love today. First known as a Fry's Border Creme Egg, it was released in 1970 before it was rebranded under the Cadbury's name in 1974. Known for its distinctive tartan wrapper, the Border Creme Egg was filled with chocolate-flavoured fondant and could be bought in all manner of different colours. However the classic creme egg outlived its chocolatey cousin and it was discontinued in 1981.
Fry's Creme Egg
Much like the Border Creme, Fry's original fondant-filled egg was also eventually rebranded by Cadbury, who had joined forces with its confectionery competitor in 1919. In 1963, the fondant-loving Fry's introduced the sweet which mimicked a hen's egg with a white and yellow centre. Covered with a patterned silver foil, it was a hit upon release. In 1971 the creme egg was rebranded with the Cadbury's name but the sweet's origins weren't forgotten - in 2013 the oldest surviving version of the egg alongside a similar chocolate cream egg was discovered in Kraft's archive. The US company bought Cadbury in 2010 and it's thought the archived eggs could be around 50 years old.
Mackintosh Toffee Filled Eggs
With its distinctive red packaging, Mackintosh Toffee was a popular confectionery brand in the UK in the 20th century, eventually merging with Rowntree's in 1969. The two companies still retained their names, releasing sweets under their respective titles and in the 1970s, Mackintosh branched out with hollow eggs filled with its signature 'not too hard, not too soft' toffee. Often sold in packs of eight, the pink and gold foil wrappers were housed in boxes covered in cartoon characters such as dinosaurs and clowns.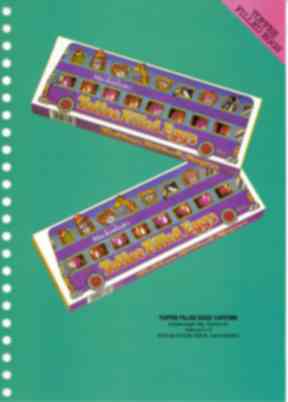 Mackintosh Toffee Mallow Eggs
While Mackintosh's classic toffee was a hit at Easter in their plainer eggs, their gooey mallow versions were also popular with the public. Released in 1972, their cutesy foil packaging advertised alongside rabbits and chicks were a popular treat around Easter before they were discontinued in the 1990s.
Following the takeover by Nestle in 1988, Mackintosh Toffee slowly disappeared from shelves although it is still made for the Canadian market. It is also licensed through another company for New Zealanders.
Rowntree's Milk Chocolate Cream Eggs
Launched in 1963 as part of the British confectionary battle to produce cracking Easter treats for the public, Rowntree's version was fairly similar to Fry's milk chocolate shell and fondant filling. Covered in bright, jewel-toned foils, they were phased out in the early eighties to make way for Smarties Eggheads.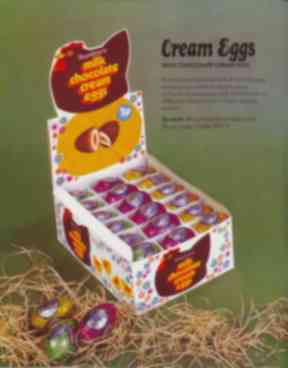 Rowntree's Fresh Minty Eggs
Rowntree's released its minty alternative to Cadbury's fondant filled Easter treat in 1982. A blend of both milk and plain chocolate, which Rowntree often made for its chocolate shells, each was filled with white and green peppermint-flavoured fondant and wrapped in jade coloured foil. Much like its Smartie-filled cousin, the minty egg was discontinued in the 1990s.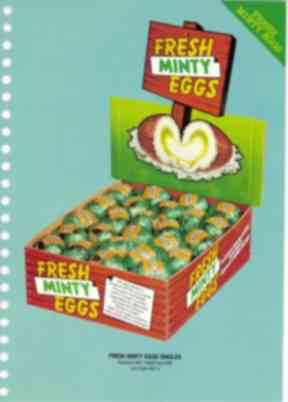 Rowntree's Smarties Eggheads
The colourful chocolate beans beloved by children aren't just a worldwide favourite, but one of the oldest chocolate sweets in the world. A type of dragée, a French term for sugar shell-coated sweet, Smarties were first made by Rowntree on and off since 1882 and quickly became one of the company's most-beloved sweets. While large Smarties Easter eggs have been popular for years, the smaller Eggheads were a chocolatey alternative to the sugary sweet fondant eggs on the market.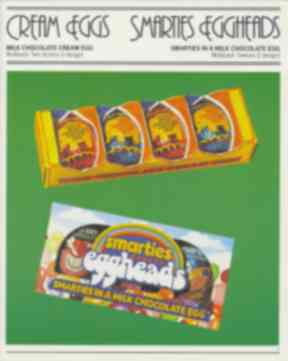 Introduced in the early eighties, the hollow chocolate shell was filled with chocolate beans and wrapped in foil decorated to look like everything from pirates and clowns to school children and adults. They were a hit for more than two decades before they were rebranded as Smarties Shakers in the mid 1990s. Their most recent incarnation is the Shakeable Smarties Easter egg, which has a hollow chocolate chick hidden inside a large chocolate egg, also filled with the sweets.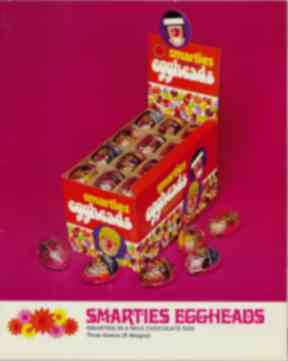 Download: The STV News app is Scotland's favourite and is available for iPhone from the App store and for Android from Google Play. Download it today and continue to enjoy STV News wherever you are.