Snow white: Secrets of Scotland's mountain hare whisperer
Wildlife photographer Andy Howard reveals his latest photo subject, Mrs Grey.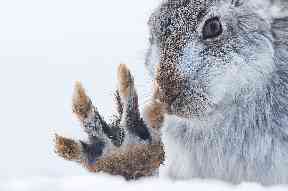 There is a special place high up in the Cairngorms where the mountain hares hide.
Andy Howard knows it well, as only a person can who has spent up to five hours at a time lying in snow waiting for a moment such as this.
It is winter in Scotland, some 2500 miles from the Arctic, and a cold like no other is sinking into his bones.
He dare not move, not even one inch, or he risks startling the animal barely a few feet from him.
She's fast, he's seen her run before. If she wants to, she can take off like a silver bullet, leaping into the mountain mist like a salmon into a river.
He takes a shallow breath - in-two-three and out-two-three.
She moves. He freezes.
Her paws pad softly over the rocks, graceful as ever in her silence.
She sits herself down beside him, oblivious or deliberating ignoring the loud thumping of his heart, and delicately nibbles at the heather.
She's beautiful, her pearl grey coat soft as down and the tips of her ears dark, as though dipped in coal dust.
"I call her Mrs Grey," he says. "She's really quite special."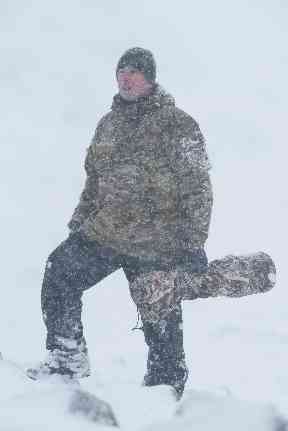 Andy describes these moments as addictive as a drug - being close enough to wild animals like hares when they trust you enough to relax and behave as though you aren't there.
"There is no fear, no worry, they're just carrying away on their own," he says.
"That's a real privilege, for a wild animal to trust you that much."
Andy is an award-winning wildlife photographer who has sat in more snow drifts and bogs than most.
As a veritable hare whisperer, his patience is boundless and the resulting images he captures show you why.
The wild creatures almost seem to deliberately pose for him and he has become adept at capturing their fleeting expressions and personalities, as he has with other wildlife.
He has otters chewing on fish bones, flame red squirrels playing in the autumn leaves and, always, his beloved shots from inside the secret world of the mountain hares.
His ethos is always stay quiet and don't interfere.
"You cannot harm them or disturb them," he says. "You must respect them and know when to leave them in peace."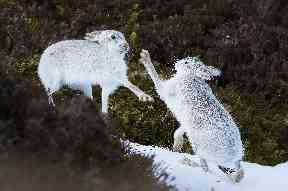 Mrs Grey is his most recent subject and the images he is able to take of her are captivating.
"You look through the lens, you're photographing away and then you see them just metres away from you," he says.
"You just think 'God that's amazing'."
Mountain hares are Britain's only truly Arctic mammal. They are incredibly tough little animals and thrive on our wildest mountainsides even in the depths of winter.
As temperatures fall, they become brilliant illusionists. Their fur turns snow white and they can disappear into the wintry world around them.
When they hunker down against the ground, only their black ear tips give them away, and in spring when the snow and ice melts, they grow back their brown coats.
Andy is trying to capture a full year in the life of his own Mrs Grey and her changing wardrobe.
"I've been photographing her since September and I want to head up there and photograph her every month so I can get a full cycle," he says.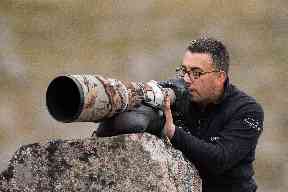 It will be a patient and dedicated undertaking, experienced by many wildlife and landscape photographers.
Many professionals wait for weather windows and can plan shots years, even decades, in advance.
"Sometimes, you have to wait a full year for the exact conditions to come again," explains Andy.
"At my squirrel site, at a particular time of year, the light hits in a certain way and I wait for that exact time."
Andy is also a firm believer in something he calls otter karma.
"I just think that if you're nice to them, then that will come back to you and you'll get that shot you want," he says.
"Never push it. If it's not happy with you or you might disturb it, leave it in peace and come back another day."
It seems to work. Last week, Andy was at his secret otter spot watching out for a cub he has known since March last year.
"I watched him grow up with his mum," he says. "He's now independent and I now know his favourite spots.
"We were there, bums on seaweed, and he caught a fish and brought it on land barely 10 meters from me away.
"It was the perfect place to put an otter for that shot - a golden ticket moment."
It's been a journey of discovery for Andy over the last seven years since he took up a digital camera he used to think was the "Antichrist" to photography.
"It was a change from film but then I realised the freedom it gave you," he says.
He started off sharing a camera with his wife after she suggested they take it up as a joint hobby.
Then came a game changing life moment with a squirrel in Aviemore.
"I took a washing line pole, attached a nut feeder to it and hung it over a log," says Andy.
"This squirrel showed up and loved it, and kept putting his paws on the camera, but I got the shot I was after."
He posted it online and Autumnwatch called to ask if they could put it in their show.
Then a press agent from London phoned asking if it could be published in the national papers before asking him if the could do a feature on Andy and his wife and their camera hobby.
"The momentum has carried on to today," he says.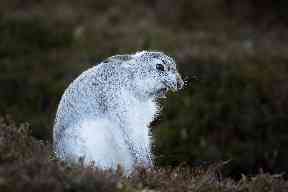 He is now a full time wildlife photographer, who often takes out keen amateurs with him to show them how to get their perfect shot.
He plans on seeing more of his badgers this year, which dwell locally, and work on his squirrel shots.
His heart though, he says, is always in the Cairngorms.
"If I was pressed to pick my favourite animal, it would have to be mountain hares," he says.
"I've got to know individual hares - one I've known for nearly four years, with his really distinctive markings."
Also known as blue hares, Scotland has almost all of the British mountain hare population.
They are Britain's only native hare and may have been here since the Ice Age.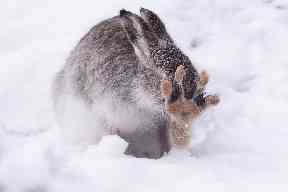 "Capturing them takes patience so if you don't have that I wouldn't recommend it," says Andy with a laugh.
"It's dedication to the art of photography which is a strange thing really. You're painting with a camera, using light as your brush.
"It can get very complex but I use a 'keep it simple, stupid' approach which seems to have worked so far."
His plan for now is to keep heading up to his secret spot in the Cairngorms, hunker down and wait for the other lady in his life, Mrs Grey, to see which coat she appears in next.
He's just hoping she'll still be there, ears twitching among the heather, ready for another picture-perfect mountain moment.
Download: The STV News app is Scotland's favourite and is available for iPhone from the App store and for Android from Google Play. Download it today and continue to enjoy STV News wherever you are.