Tuk In: Tackling food poverty with free meals on wheels
A volunteer tuk tuk group is gifting fresh food to Aberdeen families in need.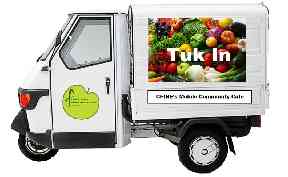 With crates of red peppers, cans of tomatoes and plenty of carrots ready for distribution, the plentiful supply of surplus vegetables is ready to be packaged up into emergency packs for desperate families.
From bananas to sticks of celery, families in food poverty in Aberdeen have a fresh food lifeline in the form of Community Food Initiatives North East (CFINE), a charity which aims to help alleviate food poverty in the north-east.
From running a food bank to offering financial services to those in need, CFINE's latest project is small in size but aims to have a huge impact across the city's regeneration areas - all from a tiny electric tuk tuk.
Tuk In was developed by a group of students as part of the City Lab initiative, where University of Aberdeen and Robert Gordon University students present innovative ways to tackle issues in the city - from paving stones that generate electricity to double decker buses offering educational workshops.
Initially titled FitDish, students presented the idea of an electronic tuk tuk vehicle which could deliver hot meals to Aberdeen communities using food which would otherwise have gone to landfill.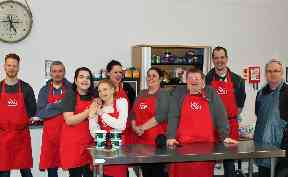 It would also double up as a mobile van to deliver fresh food to companies across the city to help with the running costs of the project.
Presented in a Dragon's Den style pitch to local businesses and charities, CFINE took on the project and decided to bring the students' vision to life by successfully crowdfunding more than £12,000 to purchase an electric tuk tuk in May.
Now the charity aims to get the initiative up and running within two months to help alleviate many of the area's' food poverty issues.
"This is a huge problem in Aberdeen and people might think Aberdeen is a really wealthy city but we've got some people who are really struggling at the moment," explains Sean McVeigh, a development worker for the project.
One of the charity's main enterprises is operating the FareShare Grampian franchise, which distributes fresh, in-date surplus food from supermarkets and food producers which would otherwise have gone to waste, to more than 100 good causes.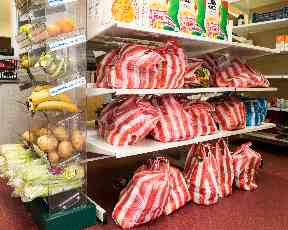 In the past year, homeless shelters, women's refuges and even its own food bank have received more than 270 tonnes of produce, in turn saving 135 tonnes of carbon emissions.
In a report published by Zero Waste Scotland last year, it was estimated that the retail sector, which covers waste generated from supermarkets, threw away around 31,000 tons of edible food waste in 2013.
A Zero Waste Scotland spokesperson said: "Food waste is a global problem with serious environmental and social implications. The best way to tackle it, is to prevent it, and Zero Waste Scotland's work in this area is focussed around helping people and organisations make the most of food, and ultimately waste less.
"Where food waste cannot be prevented, re-distributing surplus food to people should be the first priority. Zero Waste Scotland is working with the food and drink sector to overcome barriers to re-distribution."
Food which CFINE already has access to would be prepared into healthy, low cost dishes in its community kitchen Cook at the 'Nook by volunteers while those from low income families could use the facility to learn how to make nutritious and low cost meals in a friendly environment.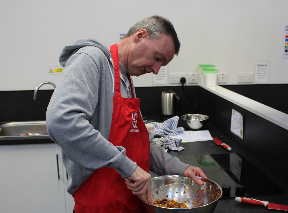 Sean says: "A lot of fresh produce comes through there and quite a lot of the time you wonder how we could use this properly so the tuk tuk plays in really well with all that.
"It saves on food waste and by using the produce to create lovely healthy nutritious meals we'd also help to alleviate food poverty in the seven regeneration areas around Aberdeen."
From three bean chilli to curries and veggie burgers, the meals are simple yet nutritious and recipe cards are hoped to be distributed alongside the meals from the tuk tuk.
Sean explains: "For some people it may be the only hot meal they get in a day so we would take that out to the seven regeneration areas and it would either be no cost or low cost."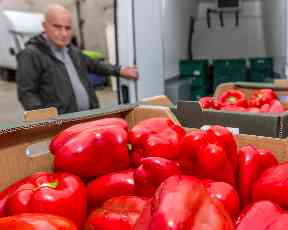 CFINE is operated by numerous volunteers, all of which he says come from many different backgrounds. Some are past users of the charity's food bank, others want to give back to the local community. Out of work chefs assist in the community kitchen and some are searching for ways to boost their CVs.
It is hoped that through sales of the same meals to businesses in the local area and cookery classes held in the 'Nook, CFINE could afford to employ its trained volunteers for the project.
As Sean explains, with CFINE's many approaches to tackling food poverty in Aberdeen, the charity is a real community effort but with the purchase of a new vehicle, even more staff can help families in need in the north-east with all manner of social issues.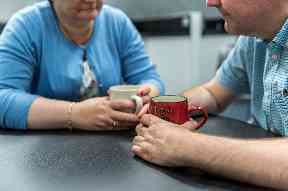 Sean says: "One of the problems we've got is that we don't have quite enough staff to go out and speak to people all the time and identify needs.
"Our financial capabilities team are really busy but they can't always address needs in the community. We are in one part of Aberdeen and it can be quite hard for people to move about so we would introduce that element as well."
The team, which assists with debt issues, money management, and help with benefit sanctions or delays, is a popular service Sean says with the help of the tuk tuk, more people would be able to access help.
"We would try and make appointments or make contact with our financial capability team," he says.
Tackling food poverty in new ways is part of CFINE's message.
While the charity encompasses numerous different projects, it is hoped that through food education, reusing ingredients destined for landfill into healthy meals and access to financial support, could help to ease the pressure on some of the city's most vulnerable.
"We would love to close our food bank tomorrow and hope everybody was fine but unfortunately it's not happening," says Sean.
"We want to try and alleviate the kind of pressure people are feeling through a variety of means and Tuk In will lend itself to this really well.
"It's just another weapon in our armoury to try and address these problems."
Download: The STV News app is Scotland's favourite and is available for iPhone from the App store and for Android from Google Play. Download it today and continue to enjoy STV News wherever you are.