Could Instagram be damaging your child's mental health?
Popular Glasgow user speaks out as survey highlights concerns about the social media app.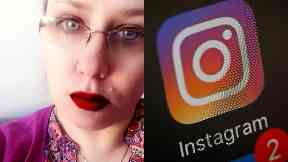 Lauren Burton has an Instagram following of 38,000 people, built up over the course of five years and countless hashtags.
While the number can be something to boast about, some corners of the social media platform cause concern.
The Glasgow security worker, also known as @FlickeringEmber, has seen children as young as nine commenting on her pictures through shared hashtags and interests.
A survey released on Friday found the photo-sharing app has the worst impact on young people's mental health.
"I'm seeing younger and younger people on Instagram", she told STV News.
"On some of the hashtags in comments I look to see who it is and if I should say something back, they're about nine years old. When I was that age I was still riding my bike outside.
"I know it's different times and everything but it's depressing and the fact that I know when people are being bullied in school they can't even escape it at home because it then goes into social media."
She added: "You see kids these days walking around wearing make-up and the pressure to wear it at stupid ages and it's all because of Instagram and taking photos of themselves to try to look good.
"Look magazine recently did a campaign with #GetReal. Basically some people take double figures of the pictures before they find the right one to post.
"So you'll see someone's picture and they'll look great but they've probably posed about 30 times and added God knows how many filters and effects to it and it's not real life."
The Royal Society for Public Health's survey of 1500 people aged 14 to 24 found Instagram had a negative impact on people's body image, sleep and fear of missing out.
Instagram came in as the most harmful social platform for mental health, with Facebook and Snapchat closely behind. At the other end of the spectrum were YouTube and Twitter.
Despite the findings and her own personal feelings, Lauren remains a frequent user of Instagram while keeping a "dormant Twitter account under the same handle but I haven't used that in over three years".
She explained: "People around me, for example, if I go to a concert are watching it all through the screen of their phones, especially younger people. Why have you bought a ticket?
"Even people working somewhere, if they get any kind of dispute with a customer the phone's out and they're being filmed and threatened with Facebook and things.
"I like sharing photos and I find a photo expresses more. I don't really see the point of Twitter to be honest. I know it's obviously saying whatever you're going to say in 140 characters but all I saw was people getting into stupid debates or trying to show off. I just got tired of it."
As well as the rise in younger people taking to Instagram, London-born Lauren has noticed various trends over the years having worked over a range of different shifts of the working day.
She said: "Over the space of five years it's just been learning how to use hashtags and also getting involved more.
"I'll reply to people and people notice me that way, and again it's a lot about hashtags. If I get a new tattoo I'll put it on there and talk about the tattoo, the specifics of it, some tags.
"People searching those will come across it and there's a thing where you can see people similar to you so I take on suggestions that way and it just builds."
She added: "There was a time when I didn't post for a couple of days and people started dropping off.
"That's another thing that's depressing with Instagram - the fact that people have the attention span of a gnat these days.
"If I've got a really busy day then I'll post a couple of times but generally speaking it is spaced out. If you spam or post three all in one go then it doesn't show up as much, so sometimes less people see it."
"That's another thing that's depressing with Instagram - the fact that people have the attention span of a gnat these days."

Lauren Burton, Instagram user
Thom Watt, head of digital at PR firm Weber Shandwick, agrees the use of filters and effects on Instagram have diluted people's expectations of reality.
The social media expert told STV News: "The opportunities offered by social media is a double-edged sword.
"On one hand it's presented amazing opportunities for younger people to shape their ideas, build a profile and share their experiences in a way that would never have been possible a decade ago.
"Equally, it's made people increasingly image-conscious. We're all much more aware of what our friends are doing, how our peers are looking, and the seemingly perfect lifestyles of those around us."
He added: "There's long been debate around realistic celebrity body images in magazines and photo shoots but that psychology now applies to your friends and peers as well.
"We've normalised digital editing, filters and celebrity culture so there's greater pressure to take perfect photos of your hashtag-friendly lifestyle.
"Perversely, it's harder to keep up with the Joneses than the Kardashians.
"What we all need to remember is that any time we post, tweet, like or comment, we're saying 'look at me' and we're hiding our fears or insecurities away."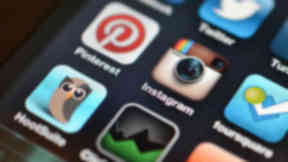 The survey also found Instagram was positive in terms of self-expression and self-identity.
Its head of policy, Michelle Napchan, told ITV News: "Keeping Instagram a safe and supportive place, where people feel comfortable expressing themselves, is our top priority - particularly when it comes to young people.
"Every day people from all over the world use Instagram to share their own mental health journey and get support from the community.
"For those struggling with mental health issues, we want them to be able to access support on Instagram when and where they need it."
She added: "That's why we work in partnership with experts to give people the tools and information they need while using the app, including how to report content, get support for a friend they are worried about or directly contact an expert to ask for advice on an issue they may be struggling with."
Download: The STV News app is Scotland's favourite and is available for iPhone from the App store and for Android from Google Play. Download it today and continue to enjoy STV News wherever you are.