Crumbs! Scotland's tiniest cake shop opens in phone box
Holly Ford and Bron Campbell sell cakes in a decomissioned phonebox in Argyll.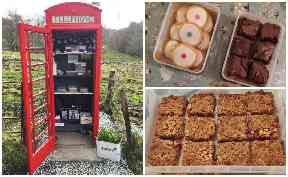 Around 9am, a little red telephone box tucked into the side of a country road is opened, a convoy of cakes carried into the box and arranged upon the empty shelves by two friends with a love of baking.
Some days the decommissioned payphone is filled with mini lemon drizzle loaves, other days it's full of flapjacks. Dairy-free empire biscuits and gluten-free brownies often make an appearance upon the shelves fitted inside the telephone box, housed in airtight tubs for passersby to pick up a treat.
For Holly Ford and Bron Campbell, starting their shop Cakes in the Call Box was a creative outlet for two friends who wanted to spread a little sweetness in the tiny Argyll hamlet they call home.
"Both Bron and myself really love to bake and thought that transforming the derelict phone box into a small cake shop would be a perfect way to put our baking skills to the test and also bring the community of Cladich even closer together," says Holly.
"We thought that giving the phone box a new lease of life would make it an eye catching and unique icon in Cladich. We've had fantastic support from the community, with everything from helping to paint and set up the phone box, to their custom and feedback.
"We're over the moon with how it's going so far."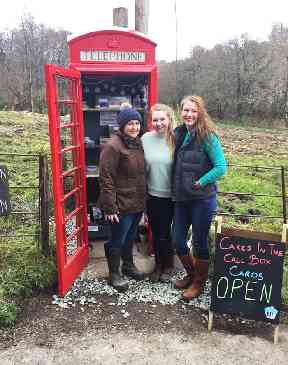 The population of Cladich, a small settlement situated around 25 minutes from Inverary, is home to just 30 people but Holly says there are plenty more residents living in the surrounding area who travel for a slice of something sweet from the old payphone.
Upon first glance, a telephone box filled with fresh cakes in such a remote spot wouldn't appear to be much of a business venture, but since setting up what could be Scotland's tiniest cake shop, Holly says they regularly sell out of their homebakes.
Each day, the pair bake trays upon trays of baked goods for the local community, adding a slightly larger selection of treats on weekends when they expect more customers.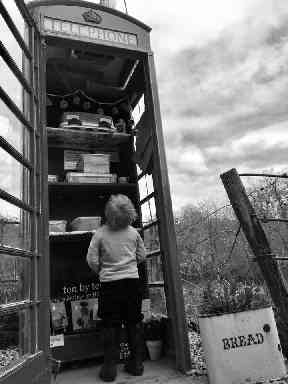 "We tend to bake on demand, so if the box is selling out we make sure it's topped up. I'd say we're baking most nights," Holly explains.
"So far the favourites are lemon drizzle, blondies and brownies and custard creams."
Highland cows housed in a field behind Cladich's phone box are jokingly referred to as the keepers of the honesty box visitors use to pay for the cakes.
The telephone box became available to the community as part of BT's Adopt a Kiosk scheme. For £1, the phone company would disconnect the line with locals responsible for maintaining everything from the iconic shiny red paint to the glass panes.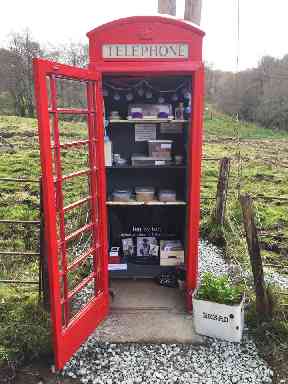 BT say that since the scheme was launched in 2008, more than 225 iconic red boxes have been transformed across Scotland.
According to BT, use of public telephones has decreased by 90 per cent in the last decade, and while the company still operates more than 4,570 boxes across the UK, it says it continues to look at payphone use to manage costs.
The company adds that it only removes phone boxes with the consent of local planning authorities and following Ofcom's guidelines.
A spokesman for BT explains: "[The scheme] allows a community to retain their local red BT phone box, with the payphone taken out, by buying the kiosk from the company for just £1.
"Around than 4,000 kiosks have been adopted in the UK. The Adopt a Kiosk scheme has captured the imagination of people up and down the country.
"Boxes have been turned into defibrillator kiosks that can help save the lives of cardiac arrest victims, and into art galleries, public libraries, exhibitions and information centres."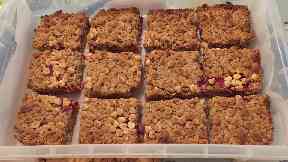 Miniature libraries have popped up across the country from Thurso to Kinross-shire, with defibrillators fitted in more rural areas. In other parts of the UK, businesses have begun to launch within the confines of an old payphone, with one man transforming a booth into a coffee bar in Bristol.
Even the residents of Ambridge, the fictional characters in radio drama The Archers, adopted their local payphone in the long-running series.
For the residents of Cladich, the tiny hamlet's phone box is a venture for locals to share their talents.
Holly explains: "The phone box was bought by the community around 10 years ago, but has been kept by local farmers and business people Jon and Queenie Strickland, who are both hugely responsible for the success of the phone box through their help and support."
A month ago the telephone box was in disrepair, but determined to give it a new lease of life, Holly and Bron, along with their partners and neighbours, cleaned it up fitting lilac bookshelves to house their cakes and adding a fresh coat of post box red paint.
Local artist Hilary Ollason, who helped to give the phone box a makeover with her partner, has her prints and cards featuring local highland cows for sale in the telephone box, the small space doubling as a gallery for her Ten by Ten Paintings business.
Since launching Cakes in the Call Box in early May, Holly says the support has been overwhelming from the local community and both Bron and herself often dash home to bake more biscuits if their afternoon checks show that stocks have been depleted.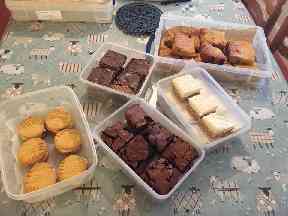 "It offers a talking point, an insight to the talent and amenities available in the local area," says Holly.
"We advertise for the farm's beef, local B&B's and have a small book swap.
"Although Cladich has always been an eye catching place, it gives tourists a reason to stop and enjoy Cladich even more, hopefully bringing more visitors."
"We are going to put in a small guestbook but we've been left notes from people in Staffordshire and Berlin who have loved our idea," she adds.
"We've also had lots of lovely comments from people we meet at the phonebox."
Download: The STV News app is Scotland's favourite and is available for iPhone from the App store and for Android from Google Play. Download it today and continue to enjoy STV News wherever you are.