Farmer cream of the crop as he wins place at Le Cordon Bleu
Nathanael Dixon will swap his wellies for chef whites at the prestigious cookery school.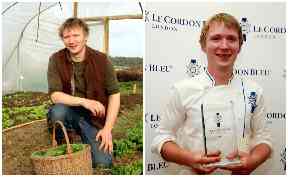 Nathanael Dixon is preparing for a busy summer season at his small organic farm at the foot of Fife's rolling Lomond Hills.
With around 70 varieties of fruit, vegetables and herbs planted last year, the 27-year-old and partner Bryde Marshall need to bring fresh produce to shops from Dundee to St Andrews.
They will fulfil orders for their veg boxes filled with everything from pak choi to bundles of kale.
"It's all about being on the field at the moment," Nathanael explains.
"At the moment we are at the start of our very busy summer period so it's all planting seeds and nurturing plants and harvesting and delivering to customers."
Yet Nathanael's time on his five-acre farm will soon be coming to an end.
As the autumn harvest approaches, he will swap his wellies for chef whites as he undergoes a prestigious year-long scholarship with Le Cordon Bleu in London, in part down to his passion for organic produce.
It was an opportunity he could never imagine happening to a relatively inexperienced farmer.
He began Falkland Kitchen Farm just three years ago after becoming interested in environmental ethics while studying at St Andrews University.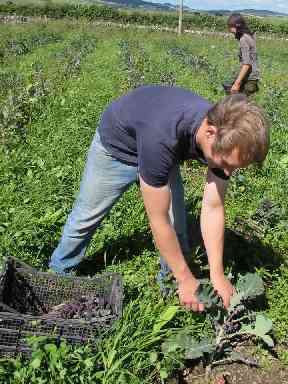 "I've been cooking since I was pretty young to be honest and a lot of my extended family have been farmers," explains Nathanael.
"I did a few little bits, they were on very different farms. I helped a family friend with a huge potato harvest one summer."
Living in a tiny flat in Leuchars just a few miles from the university town, Nathanael began to grow his own vegetables in his home with Bryde, creating fresh meals with their tiny crop of produce.
"Around the same time, the Falkland estate launched a new farmer programme, designed to get young people without farming backgrounds back on to the land and growing their own food and growing food for the area," Nathanael says.
"It started out of a love for cooking and in particular a love of fresh produce and good produce. We took on the lease for the land, put a few seeds in the ground and it started from there."
Starting out with "a polytunnel and two spades", Nathanael and Bryde relocated to Falkland to grow a farming business that quickly became popular in the local community, their fresh produce grown without pesticides or herbicides.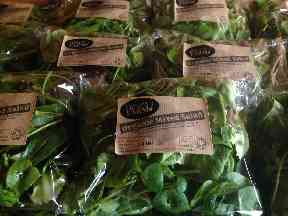 The pair believe in people power and aside from a small tractor helping to prepare the field beds, most of the tasks are performed with tools by hand and plenty of elbow grease.
Recently they expanded into catering, creating street food dishes to sell at the farmers markets they regularly sell their produce from.
Nathanael's talents will be put to an altogether different test when he enrols on Le Cordon Bleu's most prestigious course, the Grand Diplome in September.
The Fifer will relocate to London, studying for nine months at the prestigious cookery school to train in classic cuisine and patisserie before undertaking a three-month internship at LIMA Fitzrovia, which was awarded a Michelin star in 2014.
Nathanael applied after spotting an advert for the scholarship programme, which aims to seek out the best aspiring culinary talent across the UK and give them the training they may not otherwise have access to.
Now in its sixth year, the scholarship - worth £35,000 - was fiercely contested by 12 finalists, each assessed by their behaviour in the kitchen, their motivation and creativity whilst taking part in a practical cookery test after watching a demonstration by Le Cordon Bleu's master chef and academic director Loic Malfait.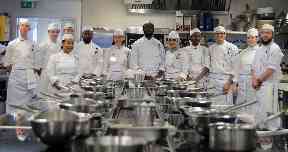 Nathanael impressed the judges with a savoury tart and a passion for organic food, naming him the winner of the scholarship to the cookery school in London.
"The other candidates were doing some amazing things all across the country and it was a real honour actually," Nathanael explains.
"I was shocked really, obviously very happy and really excited and very proud but it was amazing really to see there are passionate young chefs all across the country doing great things in the food industry."
Julie Walsh, head patisserie master chef at Le Cordon Bleu London, says Nathanael's attentiveness and ability to transfer his passion for produce into his food helped him win the overall prize.
"He stood out, he was very attentive in the demonstration, he asked very smart questions, and he asked questions that were not obvious," he says.
"He asked questions around the subject which is really important because if he's thinking of these questions then it means he understands the technique that Chef Loic is showing him.
"In the practical class, we were looking for the person who was able to transmit their feelings to the plate and he showed us the love that he had for the commodities and that's what we wanted."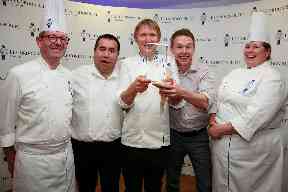 With just a few months left until he leaves Falkland Kitchen Farm behind in the hands of his partner Bryde, Nathanael admits it will feel strange to leave 'his baby'' but the opportunity to learn classical skills at the prestigious school could have a positive effect on the farm in the future.
"I've always loved cooking but the classical side of it I have no background in at all," he says.
"I'm entirely self-taught, just going on what I like and what I like to cook.
"I think it will be really good for my skills to be able to learn these classical techniques and bring them back and do something different with them that lets the produce really shine."
While Nathanael's year-long scholarship will feature many classic techniques and even provide a foray into patisserie, something which he finds "daunting", the Fifer believes the skills learned will allow him to let his organic produce shine when he returns.
"I really like keeping things simple and I think that French classical training will be really good for that, I think it's all about the flavours," he says.
"I just like the feeling of taking something straight from the ground or taking kale straight off a plant and getting it straight on to a plate - and I think that process is the best thing about it."
Download: The STV News app is Scotland's favourite and is available for iPhone from the App store and for Android from Google Play. Download it today and continue to enjoy STV News wherever you are.