Daring divers to rescue Dam Busters 'bouncing bombs' from loch
The Highballs have lain on the floor of Loch Striven in Argyll for more than 70 years.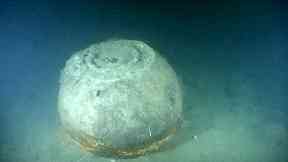 For more than 70 years, bombs have lain on the murky floor of the ice-cool waters of Loch Striven in Argyll.
Left scattered across the floor like marbles, they are all that remain of an innovative wartime experiment to 'bounce' 6600lb of explosives across water into enemy targets.
Known as Highballs, the historic bouncing bombs are now set to resurface in a daring mission by a team of divers dedicated to recovering them.
Two of the estimated 200 bombs dropped on the loch are to be brought back out of the water this July in time to mark the 75th anniversary of the infamous wartime mission they were built for - the ambitious Dam Busters raid of the Second World War.
The exciting project is being backed by Mary Stopes-Roe, the daughter of late British engineer Sir Barnes Neville Wallis, who invented them.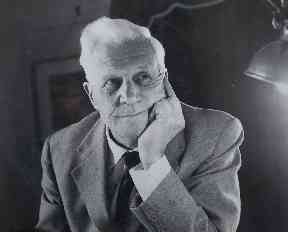 It was, when you come to think about it, a bit of a far-out idea.
Historically bombs were heavy, explosive and, moreover, tended to stay where they fell. That was rather the point.
Then Sir Barnes came along and posed an altogether different plan - what if a bomb did not just explode where it landed? What if it could bounce?
When the Second World War started, Sir Barnes was assistant chief designer of aircraft at Vickers-Armstrong and respected for his innovative geodesic airframe designs for the Wellesley and Wellington bombers.
Ironically, the weapons designer was also a pacifist.
Appalled by the rising numbers of casualties, Sir Barnes set his engineering mind to work on seeing what he could do to shorten the war and reduce loss of life, a process he called An Engineer's Way to Win the War.
The result was his bouncing bomb, built to take down enemy targets.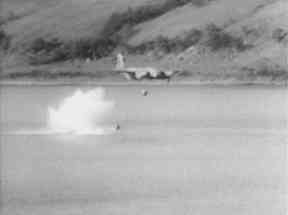 They were made to fall while spinning, like stones skipping across water, with the resulting splash an explosion capable of bringing down heavily fortified German dams.
The skip-bomb designs were capable of bouncing over protecting torpedo nets, codenamed Upkeep (for dams) and Highball (for warships), and they drew the attention of the Air Ministry.
When Sir Barnes first put forward the idea of bouncing a bomb across water into a heavily fortified German wall, he was called "a damn nuisance".
His own boss, Vickers Chairman Sir Charles Craven, told him he was "forbidden to work any longer on this absurd bouncing bomb project" - but that was before Prime Minister Winston Churchill got wind of it.
Bombs that bounced fired his imagination and testing got under way.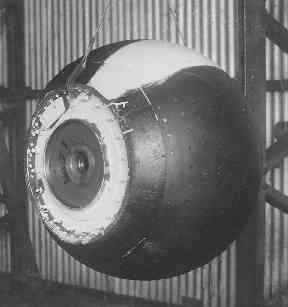 Sir Barnes believed Germany's industrial heart could be destroyed - literally drowned - if the huge dams in the Ruhr were destroyed unleashing vast quantities of water into the Ruhr industrial sector.
On the night of May 16, 1943, a total of 19 Lancaster bombers took off from Scampton in Lincolnshire with Upkeep.
It was a 9000lb cylindrical mine that was designed to bounce across the surface of the water until it hit a dam.
It would then sink and a hydrostatic fuse would detonate the mine at a depth of 30 feet.
Named the Dam Busters, the men carrying it were members of the RAF's 617 Squadron who were specially assembled in March 1943 to bomb three dams in Germany's industrial heartland, the Ruhr Valley, just two months later.
Called Operation Chastise, they had three primary targets: the Mohne, Eder and Sorpe dams and two secondary ones, the Lister and the Eneppe dams.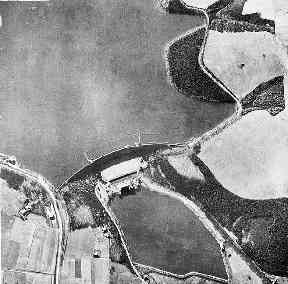 Wing commander Guy Gibson was the commander. They had just eight weeks of training and nobody in the squadron except for its most senior members was aware of the targets until the briefing on the day of the raid itself.
Three waves set off on the evening of May 16, each wave targeting a different dam.
The Mohne and the Eder were both successfully breached, while the Sorpe was damaged but not destroyed.
The cost to 617 Squadron was significant. Of the 19 crews that had set out on the raid, eight did not return.
In total, 53 men were killed and three more were presumed dead, though it was later discovered they had been taken prisoner and spent the rest of the war in POW camps.
The press, and history, reported the operation as a great success, though for many involved in the raid, and particularly Sir Barnes, this was severely tempered by the loss of life in 617 Squadron.
Sir Barnes later wrote that: "For me the subsequent success [of the raid] was almost completely blotted out by the sense of loss of those wonderful young lives."

With the anniversary of the historic raid fast approaching, the drive to have the test bombs involved in the story has increased.
A total of 11 British Sub-Aqua Club (BSAC) scuba divers from all over the UK are preparing to raise two of the bombs this summer.
Among them is Lindsay, a member of Dundee Sub-Aqua Club.
Lindsay, 48, previously captured underwater footage of the Highballs during a dive to research them in 2010.
"It's a special project which is why I was so desperate to be part of it again," she says.
"It's fascinating particularly when you get into understanding how they tested them out. Even with all the technology we have now could we do it any better? I'm not so sure."
There are currently no complete examples of Highballs on display to the public and the aim is to place two of the giant spherical bombs in British museums, in time for the 75th anniversary of the Dam Buster raid, in 2018.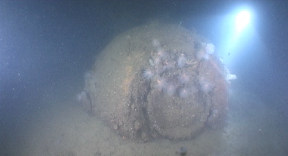 The project has received the blessing of Sir Barnes' daughter, who is approaching her 90th birthday this autumn.
"I think it's absolutely splendid. I'm very happy to lend my support to this project and wish the team the best of luck with the dive," says Mary.
"It's a fantastic project and it would be a fitting tribute to my father to have the Highballs in a museum.
"My father loved the water, and although he didn't scuba dive, I remember once he did bring back a snorkel from a trip to Sicily and it was the first one we had ever seen.
"I think if he were still alive he would be standing on the side telling them all what to do!"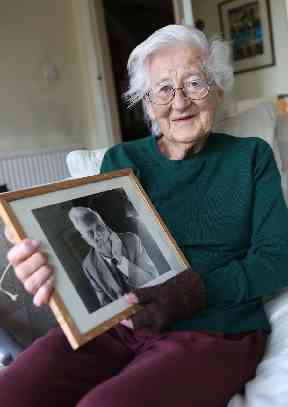 The team, led by diver Mark Paisey, will begin their mission shortly to the delight of one particular Scottish fan.
Dr Murray, a lecturer at Dundee University, has spent the last decade trying to find a way of raising the bombs from the bottom of the loch, which lies off the Firth of Clyde about 30 miles west of Glasgow.
His prayers, he says, have finally been answered now the BSAC team have secured the necessary funding and lifting licence to make the project a reality.
Dr Murray, who is also author of the Dam Busters Manual, says: "I've personally been interested in the work of Sir Barnes for a long time.
"I occasionally visited the Imperial College London and had a rummage through his papers. I found lots of interesting stuff. I thought to myself when I have time there is a book in this.
"Then I heard in 2007 there was going to be a remake of the Dam Busters film. I thought this was the perfect time to do the book so stepped up my research at that time."
He added: "I got a little bit of funding in 2010 to engage a diver and when a local fisherman heard about it he rang me and said they are definitely there, as now and then they fish them out of the net.
"He said they tow them to a deep bit and throw them back in."
A dive took place in July 2010 but at that stage Dr Murray had no means in which to raise the bombs, which were never made operational and so do not contain explosives.
"Since then I've been tentatively trying to get people interested in it, but not with very much success," he says.
"Then Mark contacted me out of the blue last year. He came to Dundee to see me and has now put the whole thing together."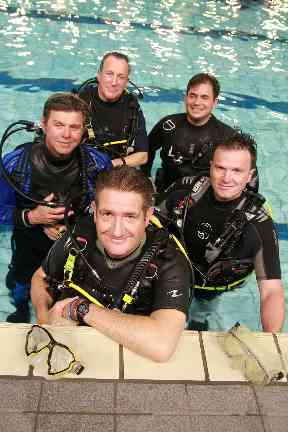 Sir Barnes produced various prototype bouncing bombs, the dams bomb or Upkeep, the anti-ship bomb the Highball, the Grand Slam which was a 22,000lb earthquake bomb, the Tallboy which was a 12,000lb earthquake bomb, and a 4,000lb earthquake bomb purely for aerodynamic testing.
The Brooklands Museum in Weybridge, Surrey, has every one of these on display except a Highball. Several Upkeeps are on display, as are Tallboys and Grand Slams at other UK museums.
"I'm hoping to be there when they do the recovery," adds Dr Murray.
"I was beginning to lose hope that it would ever happen but now we know the exact coordinates for where they are, so it should be pretty straightforward.
"There are some that are bashed from hitting the target ship too fast, but some are in perfect condition. It's a really exciting project."
Download: The STV News app is Scotland's favourite and is available for iPhone from the App store and for Android from Google Play. Download it today and continue to enjoy STV News wherever you are.