Brave girls' life-changing surgery for new 3D printed ears
Anya Storie and Charlotte Richardson were both born with one of their ears not fully developed.
Two young girls are in the middle of having their biggest wish come true - to each have their own brand new ear.
Anya Storie and Charlotte Richardson were both born with one of their ears not fully developed.
Now though, the girls are bravely undergoing a process using 3D printers that will not only gift them brand new ears but will also hopefully allow them to hear properly for the first time.
The man working to make sure both girls get their wish is plastic surgeon Ken Stewart.
Along with the team at the Royal Hospital for Sick Children in Edinburgh, he has used a scanner and printer in a process which creates a perfect template of the girls working ears.
This has then been used as a model to create a replacement ear carved out of the children's rib cartilages.
"It's a lovely, special thing to do and it's a great artistic endeavour," says Ken.
"I am delighted to be able to offer such a life-changing procedure."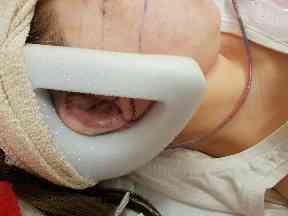 It's a difficult operation but for the two girls who have both dreamed of having "normal" ears for years, it's worth it.
"At the beginning when I heard about it I was excited and scared at the same time," says Anya, from Wishaw in South Lanarkshire.
"I've been wanting one for quite a long time."
When Anya was born nine years ago, her left ear was perfectly fine but her right ear had not developed.
A condition called Microtia, which translated from the Greek means little ear, a small or absent ear has a chance of occurring in one in 9000 children.
"It would be quite traumatic in the mornings before she had to go to school, " explains Anya's mother, Aurea.
"At gym the girls usually wear their hair up when they have long hair and we would have an argument most mornings about that.
"We don't have that any more and I think she's now excited about the procedures to come."
Charlotte, aged ten, had a similar experience. "When I was younger I was sensitive about my ear," she says.
"If someone called it tiny or small I'd get really angry. It hurt my feelings."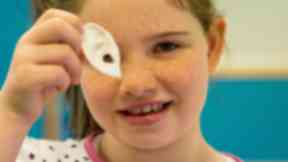 The overriding problem for both of the girls, though, was how the condition affected their hearing.
Anya has had the first of the three operations to construct her new ear but is two steps away from the final surgery that will hopefully give her the ability to hear.
"I don't know what it's going to be like, as I haven't heard through it before," says Anya.
"But I'm really excited."
Despite advances in reconstructive surgery, many children over the years have had to endure painful and complex procedures first devised nearly a century ago.
Synthetic materials developed in the 1990s later became the best option but were prone to high rates of infection.
The new 3D printing process involves three operations: one to fit the structure of a new ear, carved from rib cartilage, beneath the skin on the side of the head.
After the skin has conformed to that, a second operation moves the replacement ear into position.
Then, the third and final procedure opens the ear canal to allow the patient to hear.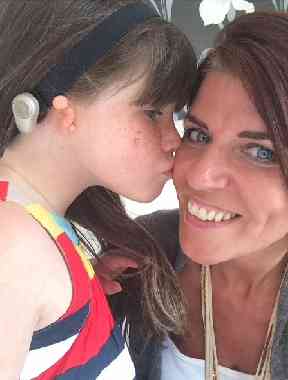 Surgeons like Ken Stewart and the team, however, are attempting to push medical advancements even further.
While reconstructing ears for the children is life-changing, Ken says the next step is being able to grow a whole new ear instead.
"We're also doing some work with the Centre for Regenerative Medicine at Edinburgh University," he says.
"Ultimately what we want to do us use stem cells to grow the ear in a lab and implant that."
If successful, the process would mean that children would not have to undergo cartilage from their rib cage being removed to construct a new ear.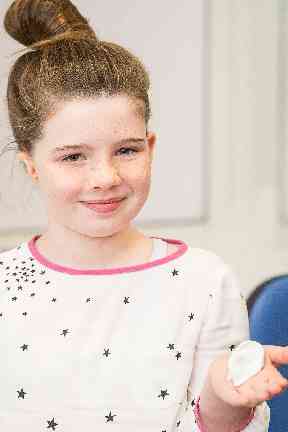 For the girls, though, what Ken has already been able to give them is life-changing.
"After the last operation I will be able to get my ears pierced," says Anya excitedly.
"My friends have seen my new ear already and they said it looks nice."
Charlotte, who is a step behind Anya with her surgery, is equally keen to get earrings like the other girls in her class.
Remembering the moment she first found out a new ear was possible for her, she says, is still amazing.
"One of the best things," she says, "was knowing that I could actually wake up in the morning knowing I could have a new ear."