Andrew's Hope: Autistic teenager's joy as he trains puppy
The Waggy Dog Project stepped in to help Andrew Work, 15, after he was bullied at school.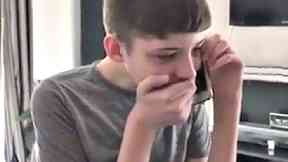 Laura Work had her camera on standby when the call for her son came through.
Andrew, 15, had been having a difficult time. He was anxious and she knew he was being bullied at school.
He did not have friends like the other boys did and his confidence was slipping.
Andrew, diagnosed with autism and epilepsy, was finding things hard.
Which is why Laura wanted to capture the exact moment she knew his life was about to change.
On the other end of the call was Sean Carr, a trainer from The Waggy Dog Project, set up by a mother just like her who had a son with autism.
As soon as Andrew knew who it was, he broke into a grin.
"I'm from a charity which trains dogs to help children with autism," Sean began.
Halfway through, he offered Andrew the chance to be his apprentice to become a trainer like him.
"I would love to, it would be my - wow," broke off Andrew excitedly. "Yes, yes!"
But Sean had one other thing to ask. He had a Labrador puppy, barely a few days old, named Hope.
She was to be Andrew's, if he wanted her, to keep and train himself.
Andrew couldn't speak. Trembling and crying, he manged to get the words out.
"Thank you," he cried. "Thank you. This means a lot to me."
It has been three months since Andrew took that call and a few weeks since Hope arrived in his life.
He has been helping out Sean at all the dog classes and the 12-week-old puppy is glued to his side.
"We've all fallen in love with Hope," laughs Laura.
"We were lucky, within a week of Andrew being withdrawn from school, she arrived.
"She's a little character, she's lovely."
Andrew gets her breakfast and takes her to puppy classes. She sleeps in his room at night and helps him to settle.
"When he has a seizure, she goes and lies on top of him until the worst passes," says his amazed mother.
"She seems to know just what to do when he needs her."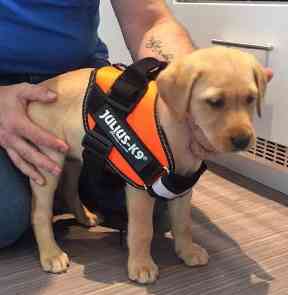 Hope is a direct result of The Waggy Dog Project, set up my mother-of-four Laura Docherty, whose four-year-old son Logan has autism.
"We knew from day one that he was different," says Laura.
"He got his diagnosis when he was three but we found that what was available for him was quite limited, especially activities that involve the whole family."
Laura started small, renting out community centres to hold autistic friendly events where common triggers such as bright lights, loud noises, and social interactions are reduced.
At these events, therapy animals and quiet activities act as social ice-breakers, helping these children to engage with adults and other children.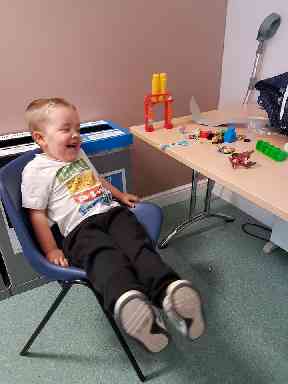 The Waggy Dog fun days are attended by around 200 people and their smaller Lego and dog classes are full.
During the week, they are able to attend reading classes in additional needs schools with their dogs.
"A dog doesn't correct them and they wag their tale throughout it," says Laura.
"The kids love it and the parents love the fun days, too, you just see them relax when they walk through the door.
"I just love it. I absolutely love it."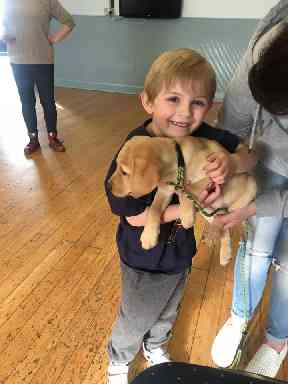 When Laura also saw the beneficial affect their own dog, Gatsby, had on Logan, she drove forward plans to help other children have access to assistance dogs.
Titled Logan's Gift, she has partnered with Sabers Pride Labradors, dog breeders who have pledged to donate one puppy from each of their future litters.
This puppy will be donated to a child/adult with autism through The Waggy Dog Project.
On top of that, they've just secured their first small premises in Broxburn and are hoping to build a special sensory room there for the children.
"Everything we've done we've had to do on our own," says Laura. "Most of our funding comes from friends and family."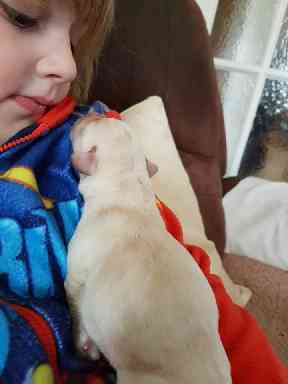 The Waggy Dog Project is now urgently fundraising and seeking support to help kit out its new premises.
Among those attending will be Andrew and Hope, helping to support the others in the group.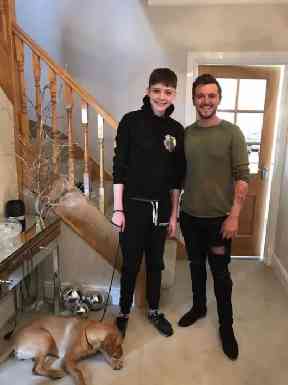 The impact the project has had on him and his family, his mother says, cannot be explained enough.
"They've changed Andrew's life and in turn changed ours as a family," she says,
"He believes he's now helping other children. They've given him Hope and the chance to maybe even have a career. They've given him a purpose and I can't thank them enough.
"Them having faith in him made all the difference."
Download: The STV News app is Scotland's favourite and is available for iPhone from the App store and for Android from Google Play. Download it today and continue to enjoy STV News wherever you are.