Lego wonderland: Fans given chance to build own masterpiece
Around 10,000 people are expected to visit the first Scottish BrickLive event in Glasgow.
Surrounded by millions of tiny plastic bricks, thousands of Lego fans arrive in Glasgow to be confronted by live shows, computer games and huge displays.
Giant brick pits, each filled with around 300,000 Lego pieces, are dotted around the arena, filled with different coloured building blocks to encourage children to build their own masterpiece.
An area for younger children holds a Duplo pit alongside foam bricks in a soft play area for easy stacking.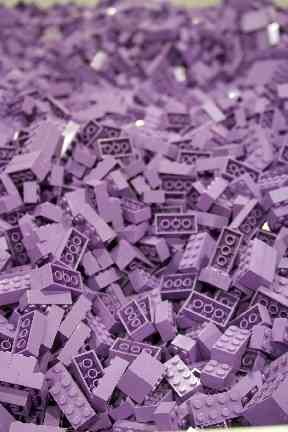 Children and adults alike take turns on computer screens to play the latest Lego games while a giant map of the United Kingdom is carefully filled with everything from oil rigs to cranes built by fans.
BrickLive is the UK's largest celebration of Lego, built for fans of the creative colourful toy.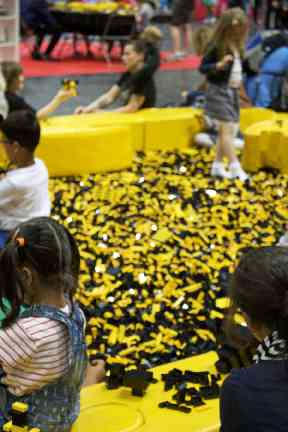 The four-day event has come to Scotland for the first time this summer at the SEC Centre and it is thought 10,000 Lego fans will visit the show.
After opening to the public on Thursday, the event has quickly filled with Lego fans eager to spot the latest sets, incredible builds by professionals and event pick up some vintage pieces for their collection.
The fan zone, filled with self-confessed adult fans of Lego (AFOLs for short), celebrates large-scale builds of cranes, historical scenes and even a working theme park complete with water fountain display.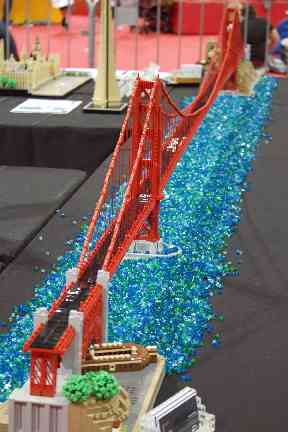 AFOL Rocco Buttliere has travelled the farthest of any bricklayer at the show, making his way from Chicago to set up his impressive self-designed Lego buildings - including the Houses of Parliament, which he says took around two months to create.
Other adult Lego fans have travelled from the Netherlands, where one designer created a theme park complete with roller coasters, jousting displays and a water feature.
Theresa Elsmore from Edinburgh built Lego Movie characters Astro Kitty and Santa Kitty, which used up 20,000 bricks each.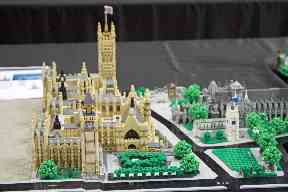 "I think there a really great way of bringing people together," explains Dan Harris from professional building group Brick from the Past.
The group, which specialises in large-scale historically themed Lego models, is comprised of 11 members who work on specially commissioned pieces, most recently a Lego broch which went on display in Caithness.
"I have a model which is based on the Holy Island in Lindisfarne, in Northumbria and Lindisfarne was the site is the first recorded site of a Viking invasion," Dan explains of his large-scale display.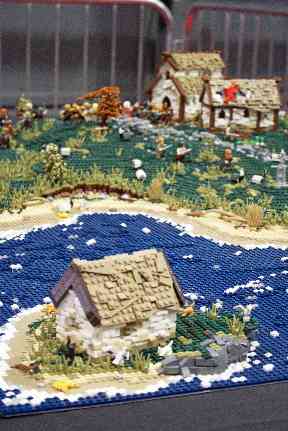 The 25,000-piece model took the 34-year-old six months to build and around two hours to put together once he arrived at the venue.
He adds: "I've got lots of Vikings running about burning down buildings, stealing gold and just a few other bits of details of everyday life in Lindisfarne.
"What we find is that quite a lot of kids have done Vikings at school so they get really enthusiastic about it... through quite a fun and engaging medium."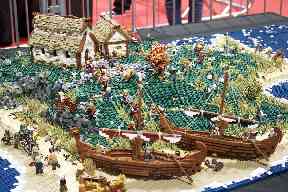 For Steve West, showcasing his skills for the first time has been a worthwhile experience at the Glasgow event.
The 35-year-old from Forfar only recently reignited his love of Lego when he was playing with his son.
"I had it when I was younger and once my oldest son was starting to get into Lego, that's when my interest came back," he explains.
"Dug it out of my mum's loft, he got to play with it and I started getting back into the building side of it."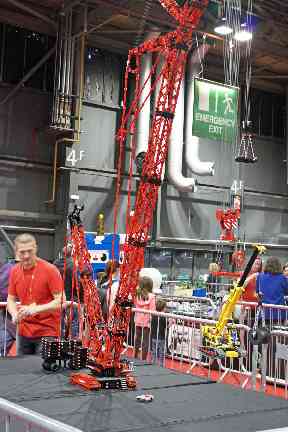 Building a working Leiper LR1600 crane, he resized the instructions from the manufactor's website himself and has drawn praise from crane operators as they pass his exhibit.
"The reaction has been fantastic, it's something a bit different from the guys who have done table top stuff," he says.