Ship graveyards: Scotland's links to deadly industry revealed
More than 150 vessels built on the River Clyde ended up in ship breaking yards in Asia.
The men who work in the ship breaking yards of South Asia do one of the most dangerous jobs in the world.
Dozens are killed every year in fires and explosions, crushed by falling metal or poisoned by toxic fumes.
At least 52 people lost their lives in 2016, although the actual number may be far higher as shipyard owners refuse to discuss accidents and do not release figures.
Most workers earn less than £4 a day, while corporations make millions selling to yards in India, Pakistan and Bangladesh.
An investigation by STV News has revealed Scotland's ties to this deadly industry and traced more than 150 ships that began their lives on the Clyde and ended up as scrap in South Asia's ship graveyards.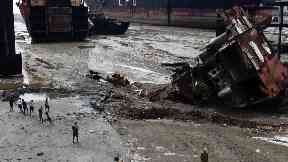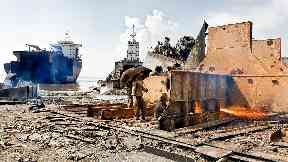 Among them was the Empress of Britain, one of the last great ships built in Glasgow and launched by the Queen at the Fairfield Shipyard in June 1955.
She was a liner, 600ft long and could carry 1000 passengers, though at the leisurely pace of 20 knots she took more than a week to cross the Atlantic.
The Empress changed hands and names half a dozen times during 50 years in service, outliving most of her sister ships by two decades or more.
In 2008, after an accident at anchor, her latest owners decided the ageing liner had reached the end of her life and she was sold to a shipyard in India.
In early June, the Empress was sailed into shallow waters off the coast of Alang and at low tide she was rammed on to the beach, stranding her upright in the sand.
Over the next few weeks the Empress was stripped bare. Her steel skeleton was left to rust in the surf while the scrap taken from her hull was sold off for recycling.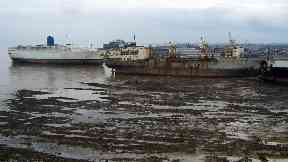 Most of the work is done by hand and very little machinery is involved.
Ships weighing upwards of 25,000 tonnes are cut apart piece by piece using blowtorches and saws, and the valuable metal is taken away to be recycled.
Despite the dangerous conditions, workers are usually given little or no protective gear and health and safety regulations are practically unenforced.
In its latest report on the Chittagong ship breaking yards, the Institute for Global Labour and Human Rights (GLHR) quoted one worker saying: "The government authorities sometimes visit the ship breaking yards. Only then does yard supply us with safety gear.
"They take it away when government officials leave the yard."
Men who are injured often have to wait hours or days for medical attention.
Child labour is also common despite being illegal across South Asia and there are reports of boys younger than 12 working on the beaches to support their families.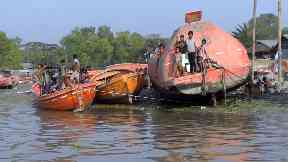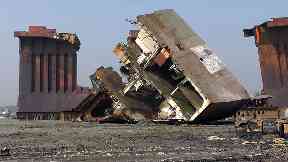 Jamie Webster, a former Clyde shipbuilder who worked as a welder from the 1960s, said: "The conditions they're working in are worse than the conditions we were working in 40 years ago.
"They just accept fatalities, things like people falling off ships, which would never be tolerated in the West. The people who work there are almost like cannon fodder.
"It's driven by money before people... nobody should go to work to put their lives at risk," he added.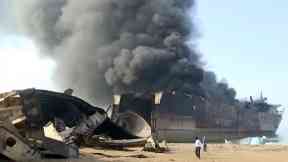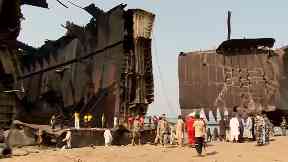 Last year in Pakistan, 28 workers were killed and 60 injured when a gas cylinder exploded inside a ship, sparking a fire which blazed for four days.
The families of the victims received less than £11,000 in compensation.
In Bangladesh, two friends from the same village died on their first day when a ladder dangling from the deck of a ship snapped under their weight.
One their workmates told GLHR: "The death of a worker is actually the death of a whole family.
"They were the main bread earners of their family. They are dead and now their families are dead."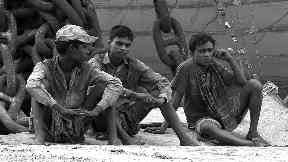 The company that sold the vessel they were dismantling reportedly made £4m from the deal, while most shipyard workers earn less than 30p an hour.
Another worker employed in the same Chittagong yard said: "I work inside the ship where it is riskier but I only make £3.53 a day. My helper only gets £2.26 a day. We cannot support our lives on what we are making."
Ship owners sell to yards through brokers, who find buyers and arrange the sale. Payment is usually made up front and often in cash.
Buyers often change the names and flags of ships before selling them to shipyards, making them harder to trace.
Shipowners often demand this is done in order to distance them from the sale, one broker told STV News.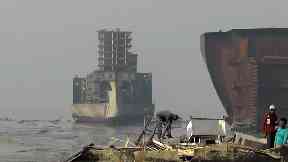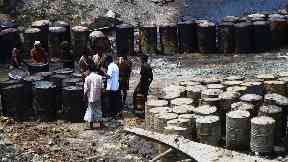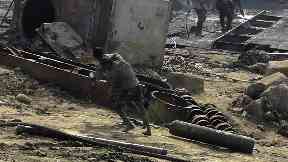 Ship breaking is equally hazardous to the environment. Pollution released during the process builds up on beaches or is washed out by the tide, threatening local wildlife.
Ingvild Jenssen, director of the Brussels-based non-governmental organisation Shipbreaking Platform believes responsibility lies with shipowners.
"They are can choose to opt for a facility that has better protective equipment for workers and that operates on an industrial platform like a drydock," she said.
"New EU ship recycling regulations will be applicable from next year and the European Commission will be publishing a list of facilities worldwide which comply with environmental and health and safety standards, so it will be extremely easy for any ship owner that wants to make a responsible decision to choose one of those facilities."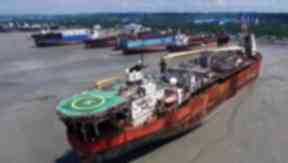 There are signs the situation in parts of South Asia may be improving, however, with increasing numbers of shipyards taking steps to meet international regulations.
Last year, four new yards in India were certified.
There is some hope for the Clyde, too, as earlier this week steel was cut on the first of eight Royal Navy frigates being built at the BAE Systems shipyard in Govan.
HMS Glasgow is under construction a stone's throw from where the Empress of Britain was launched six decades ago and the work promises to safeguard jobs well into the 2030s.
"I was 16 years of age when I arrived here and it was an amazing place," added Mr Webster.
"It was very noisy, very dirty. The conditions were hard but the people were fantastic and there was a great buzz about it. We built fantastic ships here.
"Like they say," he said. "Glasgow made the Clyde and the Clyde made Glasgow".