Tongue cancer survivor finds voice to help young patients
Sean McBain is writing a song a week for a year to raise funds for Teenage Cancer Trust.
Sean McBain was 20 when doctors told him they had found cancer in his tongue.
His first reaction was disbelief. He was a young Aberdonian lad, a singer in a band.
He did not even know you could get cancer in your tongue. Besides, he thought cancer was something that happened to other folk.
"Young people with cancer were in tiny stories in my mum's Take a Break magazine, not me," he says.
His doctors told him differently. There was a malignant tumour and it had to be removed.
Sean went into surgery, losing a section of his tongue and the lymph nodes in his neck.
Looking back, he says, he only got through it because he was young and naive.
"I was 20 and invincible and didn't believe it was happening to me," he says.
Now a 34-year-old father of three young children, he is able to realise the magnitude of what he faced.
"My mother still has nightmares about it," he says.
Sean was lucky. The cancer was cut out, no radiotherapy or chemotherapy was needed.
He had to learn to speak again once the wound on his tongue healed. And then, eventually, to sing.
As his voice began to return and he realised the actual battle he faced, he wanted to do something for others still fighting the disease.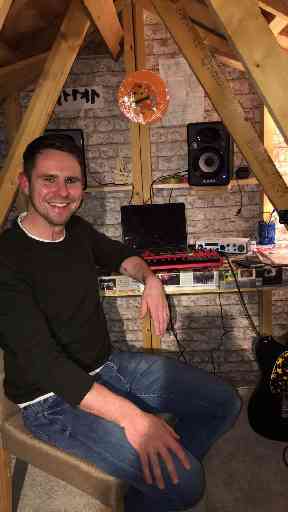 Spurred on to use the voice he almost lost, Sean pledged to write a song a week for an entire year as a way to raise funds for the Teenage Cancer Trust.
"There was no Teenage Cancer Trust in Scotland at the time that I was ill", he says.
"I've been in to see them recently, though, and met the people who work there. They're so passionate, it's really, really inspiring."
Though Sean was not a teenager when he fought his own cancer battle, he says he still felt he was barely an adult.
"I have an understanding of how these kids suffering with this awful illness in all its manifestations must be feeling," he says.
"This fantastic trust provides comfortable and relaxed hospital facilities catered specifically for teenagers and young adults.
"I would love to raise enough money to make a difference to the trust, to allow them to buy something for the kids and make someones fight more peaceful and relaxed."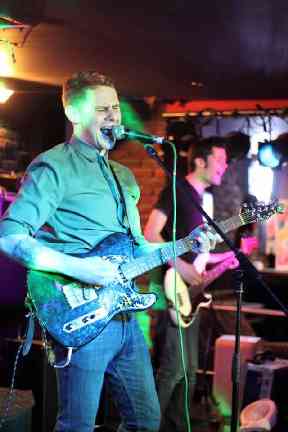 It has been 39 weeks and 39 songs since Sean decided to launch his marathon singing challenge and he has already raised nearly £3500 for his chosen charity.
The lorry driver - who lives in Neilston, East Renfrewshire, with wife Julie and children Lennon, eight, Liam, seven, and four-year-old Sian - records each song in his own self-made studio in his attic.
His children made a special appearance in his first attempt to give him a boost.
Sean then shares the original creations online with his growing group of supporters and has even sang his most recent song acoustically - an experience he says he found daunting.
"I haven't really thought about the very last song yet, though," he says.
"I'm hoping for a really good song in the last week to end on a high."
In the meantime, his friend and supporters have been lending a hand, holding a band night. One local lady even knitted a blanket to raffle.
"I couldn't believe how much the community got behind it, even the local chippies were involved," says Sean.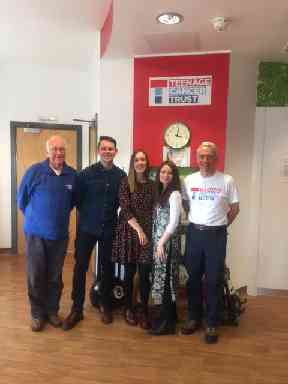 Sean is still in his attic planning next week's song, and says he is hoping the money he is raising will go directly to support young people fighting the same disease he faced.
Right now, Teenage Cancer Trust can only reach 50% of young people with cancer across the country, so his efforts are valued.
"There was a time when I said my fight against cancer was over and while I no longer fight the cancer in me, I will do what I can to help fight it in others," says Sean.
"This is just one small way that I feel I can make the biggest difference."
To follow Sean and his weekly music releases you can visit his online fundraising page.
Download: The STV News app is Scotland's favourite and is available for iPhone from the App store and for Android from Google Play. Download it today and continue to enjoy STV News wherever you are.