Woman reunited with long-lost Indian brother after 60 years
Asgar Patel came to Glasgow as a young boy to escape the violence of India's Partition.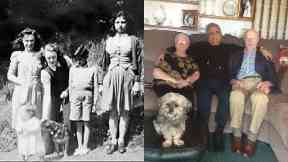 In 1947, Ida Moreland was growing up in the west end of Glasgow, with little idea of how the Partition of India would impact on her childhood.
At the stroke of midnight on August 15 that year, British rule was ended in India after a decades-long struggle and the territory separated into two new countries: India and Pakistan.
Millions of people were forced to leave their homes to move to the other state in the largest mass migration in human history, with the majority of Hindus staying in India and most Muslims moving to Pakistan.
This also had the affect of sparking violence and riots between Hindus and Muslims, with up to one million people being killed.
It was against this backdrop that the parents of young Asgar Patel sought to find refuge for him and their other three children.
At the time, Ida's great aunt ran a boarding house in Willowbank Street, in the Woodlands area of Glasgow, mainly catering for overseas students based at the University of Glasgow.
She was contacted by two former lodgers to see if she could provide a safe haven for four of their friend's children: Ramzan, Atabr, Kulsom, and Asgar Patel.
"Ramzan was the oldest," Ida recalled. "Asgar was about six or seven, Atabr was maybe about seven or eight.
"Kulsom was ages with me, must have been about 12 or something then."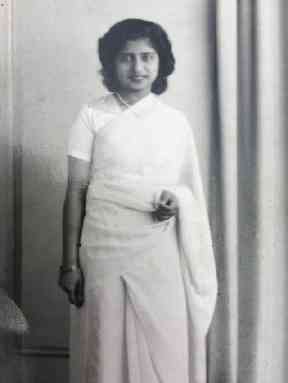 Mr Patel had businesses both in Bombay, in today's India, and Karachi, which is in Pakistan, and he was concerned about his family's future - and the future of his country.
Ida told STV News: "I don't know if that family had any real bother, but you could see why he wanted the kids out of the country.
"When they came at first we thought, how can any mum and dad send four kids like this to Scotland?
"But you could see it a bit more when you saw all the horrible things that were happening in India and Pakistan."
However, Ida's great aunt was getting old and, as she did not know Mr Patel, she initially told their mutual friend she wouldn't take the children in.
Then a few weeks later she stepped outside to find four frightened Indian children waiting on her doorstep.
Unable to take all four of them in herself, Kulsom, it was agreed, as the only girl, would go to Ida's parents, Greta and Jack Moreland, while the older boys went with the aunt.
Ida recounted: "My mum said to me: 'How will you like another girl coming to share your bedroom?' And I said: 'We'll see, it'll be fun.'"
But Kulsom would have none of it - she refused to go anywhere without her youngest brother, Asgar.
"She was crying: 'Oh please, can I bring the littlest one?'" explained Ida.
"She didn't want to leave Asgar. No doubt she'd been told: 'Now, you look after your wee brother.'"
So it was that Asgar and Kulsom both entered the Moreland family, as Ida and her other sister Greta's new adopted siblings.
Family life didn't change much. "They said funny things and of course, we said funny things," Ida said.
"Kulsom got homesick and wanted to go home. Asgar would have lived here forever. Even when he went down south to go to school, he kept coming up at the holidays.
"They were just family, there was no difference made. They just did what we did. Their English was good."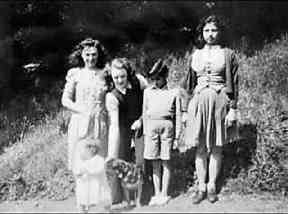 Asgar and Kulsom stayed with the Morelands for five or six years, initially going to Hillhead High School.
As the younger child, Asgar was quicker to forget his old life back in India.
"He did call them mum and dad to begin with but that was quite embarrassing lots of times, and my mum said to him: 'Look, Asgar, you've got your own mum and she won't be pleased so you better call us aunt and uncle,'" said Ida.
"Then his mum came over and by this time he had forgotten how to speak Urdu and she didn't speak English."
Eventually, five or six years after first arriving, Asgar was coaxed home by his parents under cover of a supposed holiday - but they never let him return.
Asgar had loved Ida's mum "greatly" and hadn't wanted to go home at all - he had wanted to stay on at school in the UK.
"We were heartbroken when he left," Ida said. "Taking him to the train was dreadful, it was awful. We didn't like that at all. But he was gone. They all went."
Now separated by continents, the adopted siblings still kept in touch for years, sending each other birthday cards and Christmas cards.
"But then we moved about so much," said Ida. "And obviously so did he."
Over time, she and Asgar lost touch completely.
That was until six decades later, when Asgar, now 78, saw a photograph of Ida, now 83, doing the rounds on Facebook, showing her holding a bouquet of flowers at a family wedding.
"I just got a message on the iPad to say 'are you Ida Moreland'," she explained, "and he called my mum and dad auntie Greta and uncle Jack."
Now Ida Wilde, she was astounded to hear from her long-lost adopted brother. "I thought it was just lovely. I couldn't believe how he had seen just that one photograph because I haven't put photographs up on the iPad at all on Facebook," she said.
Asgar arranged to fly over and visited Ida at her house in Irvine just last week.
"He said: 'Oh, do you remember we went to Ayr on holiday?'" she recalled. "And I said 'yes'. He said: 'We went to Tighnabruaich,' and he could say Tighnabruaich without an accent or anything."
Asgar, his memory jogged by an old photogragh, also remembered the family dog Sparkie, along with Ida's young cousin Muriel.
"He remembered going on holiday - he remembered quite a lot of things," said Ida.
"He said he didn't remember my dad all that much but he remembered everything about my mum."
It turns out Asgar, now based in Dubai, has made quite a name for himself.
He built up one of the largest logistics companies in India and is one of the country's richest men, clocking in at number 45 on Forbes' top 100 Indian business owners in the Arab world in 2017.
"He says he'll come back next year," said Ida. "He likes Edinburgh. I said: 'Oh Asgar, you're Glasgow, you don't like Edinburgh.'
"He's Golf-nuts. Golf is his whole life at the moment. He was supposed to be going up to St Andrews but he changed his mind and he had tickets for the Tattoo."
But will Ida ever make the trip to Dubai to see him? "I haven't made up my mind on whether I'm going or not," she said, adding that her family "thinks I'm stupid if I don't go".
Given that he'd probably pay for the whole thing and put you up in a penthouse, Ida - they might have a point.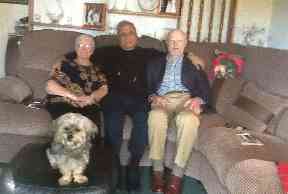 Download: The STV News app is Scotland's favourite and is available for iPhone from the App store and for Android from Google Play. Download it today and continue to enjoy STV News wherever you are.