Top ten weird and wonderful items left on trains revealed
False teeth, kittens and a wheelchair among the more strange items left on ScotRail services.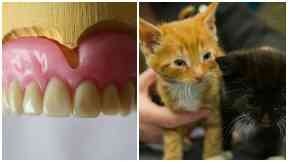 There is nothing worse than that feeling of dread when you lose something important like your phone, keys, false teeth, kittens or wheelchair.
OK, misplacing your teeth, kittens or wheelchair might not be a common occurrence for most but they do make the list of the ten strangest items left on ScotRail trains this year.
Every month, the ScotRail Alliance operates 60,000 train services and takes hundreds of thousands of people, and their belongings, all across Scotland.
Despite the best efforts of staff not everyone takes all their personal belongings with them when they leave the train.
Glasgow Queen Street is home to the ScotRail Alliance's central lost property office and if you have lost something on one of their trains, there's a good chance that it'll wind up there.
We look at the rundown of the top ten strangest items to have been left on a ScotRail train.
All of the following are real items that have been left in trains and stations.
1. False Teeth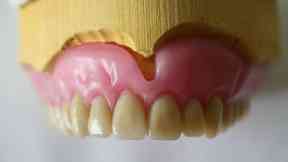 Losing your expensive false teeth could leave a bad taste in your mouth. If you have found chewing more difficult since your last train journey this might be why.
2. Kittens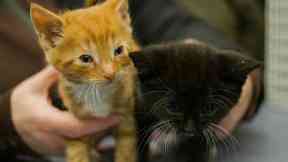 How could anyone leave these bundles of cuteness behind? We don't know. But someone did and ScotRail had to arrange for the Scottish SPCA to take them into their care.
3. Fancy Dress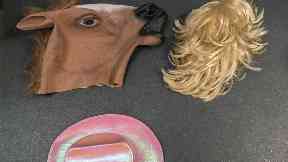 Why the long face? You only need to contact ScotRail lost property to pick up your horse mask if you want it back so badly.
4. Wheelchair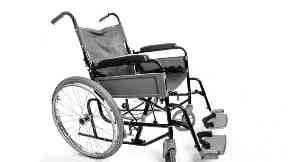 This one is either a real mystery or a scene from a Little Britain sketch but it seems that someone was in that much of a hurry to get to their destination they forgot to take their wheelchair when they left the train.
5. Skateboards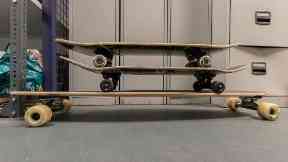 A couple of cool dudes must have been disappointed when they got to the skate park and realised they had forgotten their boards.
6. Bikes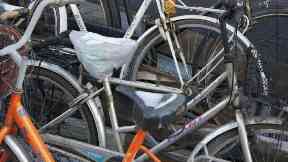 We are not sure how you can forget your bike on part of your journey.
Did you just walk home, clad in lycra wearing a safety helmet, thinking that you might have forgotten something?
7. Season tickets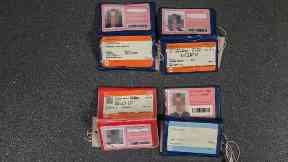 ScotRail has several thousands of pounds worth of season tickets just waiting to be collected.
Although they would really love to know how you got through the barriers without them.
8. Mobile phones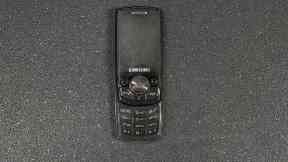 They also have hundreds of phones of all different shapes and sizes including this little retro classic, if you recognise it give ScotRail a ring from your nearest phone-box.
9. Glasses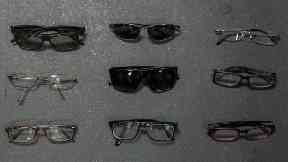 "I can see clearly now that train has gone" or maybe not so much.
If you have recently lost your glasses (you probably won't be reading this to be fair) you should contact ScotRail before going back to the opticians.
10. Car keys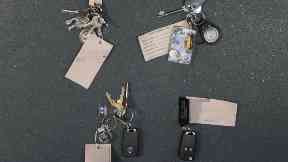 Someone clearly enjoyed travelling by train so much they decided to throw away their car keys. If you recognise any of these you should reclaim them as soon as possible or it will be more public transport for you.
This list is only a fraction of the hundreds of items that are handed into the central lost property office in Glasgow's Queen Street station, with most left unclaimed.
All unclaimed items are disposed of after three months.
Most go to charity, except phones, which are sold for parts, with the proceeds going to charity.
If you think you might have left any of the items above, or anything else, on a ScotRail train, you should ring the lost property office on 0141 335 3276.
Anything lost at Edinburgh Waverley or Glasgow Central, or on a train there, may be sent to the left luggage offices in those stations.
ScotRail Alliance communications director Rob Shorthouse said: "While it's always great when we can reunite lost property with its rightful owner, it's much better for the customer not to lose it in the first place.
"As much as we've enjoyed compiling this list, we're asking customers to spare a couple of seconds and look before they leave."
Download: The STV News app is Scotland's favourite and is available for iPhone from the App store and for Android from Google Play. Download it today and continue to enjoy STV News wherever you are.