Secret bunker: Volunteers dig deep to uncover Cold War history
Volunteers are working to restore the shelter hidden under Corstorphine Hill in Edinburgh.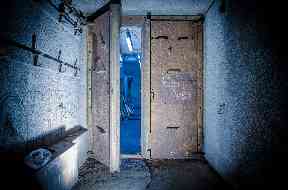 The spark began deep underground in a room once used during the war by Royal Air Force officers.
It was 1993, and the fire-raiser had long fled, but down in the abandoned shelter the flames were gathering force.
It burned unchecked for hours before the alarm was raised. When firefighters arrived, sirens screaming, they had to hack their way through the lower blast doors to get inside.
By then, the fire had ripped through its belly, leaving it blackened and charred, burning with a ferocity that the crew struggled to contain.
At its peak, the heat from the flames was enough to melt the thick glass interior windows into puddles on the floor.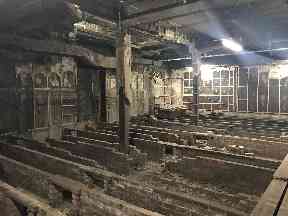 Watching that day was Grant More, a young lad of 13 from Edinburgh who lived nearby.
All the boys in the area knew of the tunnels underground, of the secret rooms beneath Barnton Quarry at Corstorphine Hill.
"I remember standing on the spot watching this great black plume of smoke billow out of the ground," says Grant.
"I'd played around there as a boy and I knew the bunker well."
Nearly 25 years later and Grant is pushing aside a maroon metal door leading into the nuclear bunker he once watched burn.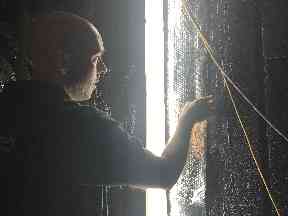 Before him is a huge tunnel, ghostly lit by overhead lights and echoing with the thrum of dehumidifiers.
Grant has been here nearly every weekend for the last four years as one of a small band of "bunker-obsessed" volunteers armed with glass blasters, drills and tins of paint.
They number only 12 men, the oldest is in his 70s, but together they are steadily rebuilding Cold War history.
"We want to be here, there's a definite drive to completely restore this," says Grant.
"We've realised that if we don't do it, no one else will."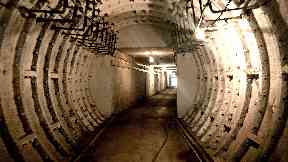 The sheer level of work faced by the men is intimidating. They are hammering and blasting away at three stories of thick concrete deep underground without natural light.
Roughly halfway through their project, Grant's own palms are scarred with deep blue bruising and burst blood vessels but he has boundless energy when he is in the tunnels.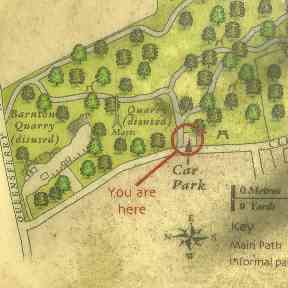 Tall and wiry, he crosses from room to room, his knowledge of Cold War history outdone only by his knowledge of bunkers.
They all have day jobs, some are engineers, others work in Edinburgh's banks, and modestly like to remain largely anonymous.
Their aim is to restore the bunker as closely as possible to its original form and open it as a public museum.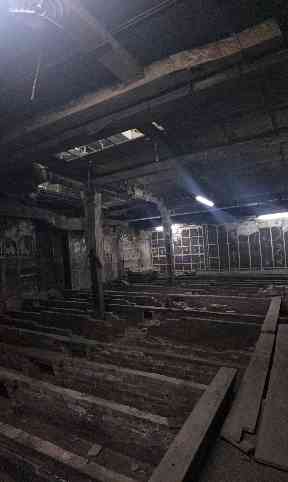 Built in 1952, the Barnton bunker is the only surviving one of its type in the UK.
A silent relic of the Cold War, when a genuine fear of nuclear attack cast a shadow over Europe, it took Grant and the team 15 years to secure the full set of classified military planning files used to construct it.
Built of reinforced concrete, its walls are 10ft thick. Its doors, weighing in at nearly a tonne, are designed to withstand the shockwave of a close nuclear blast.
The RAF were at BQ from 1940 until 1959. After the RAF moved out due to the advances in radar technology rendering the complex obsolete, in 1960 the bunker was converted into the RSG, Scottish Central Control for the regional government should the balloon have gone up.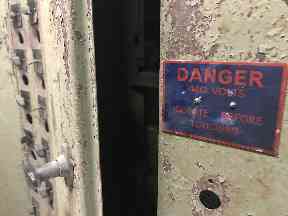 Grant picks up one of the hinges used to secure them. It's the size of his hand and weighs as much as a large dumbbell.
"You can imagine how much the doors weigh," he says. "They were built perpendicular to the access tunnel - the idea being that if a blast shot down it, the end wall would take the brunt of it rather than the doors."
Given current political tensions around North Korea, seeing the blast doors - a symbol of how genuinely close to nuclear war Britain thought it was - is uncomfortably poignant.
"We're restoring it as fast as we can," jokes Grant.
Grant and the team, with help from a group of other voluntary "bunker monkeys" have been busy stripping back the charred shell the site has become.
Left broken and scarred, its wooden flesh burned back to metal bones, many of the lower rooms are still scorched black.
It is a shell that has been picked over by vandals, anything not too heavy to move has been pilfered, but Grant has been scouring the country for anything that can be rescued.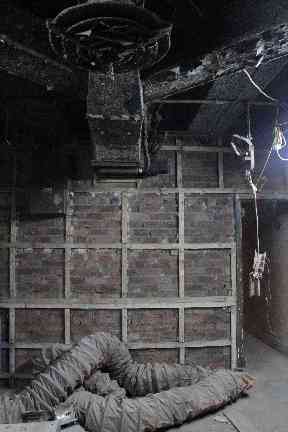 "We've had one guy get in touch actually with something he took back in the 80s," says Grant. "We'll take anything, no questions asked."
Help has come from many quarters. BT engineers out on their rounds who know what the lads are up too keep an eye out for things they might need.
When RAF Leuchars closed down, Grant got a call to come up and take what he could.
"We've had some of the men who worked in it come down for a look and to show us where things were," adds Grant. "The old boys love it."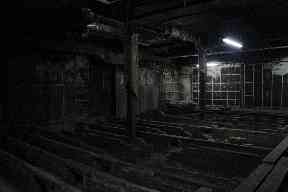 The bunker was equipped to hold hundreds of staff in complete isolation for a month if the Cold War turned hot.
Because of its proximity to eastern Europe, a Soviet missile would have taken only four minutes from detection to reach its target.
Buried 100ft down into the rock, its network of tunnels formed one of a network of nuclear command centres in the UK and it was the central nuclear response nerve centre for the whole of Scotland.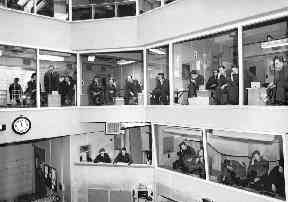 If London was knocked out in a nuclear war, power would devolve to sites across the country.
So it was here, deep underground, that 400 politicians and civil servants would have sheltered for up to 30 days, organising Scotland's food supplies, healthcare and policing.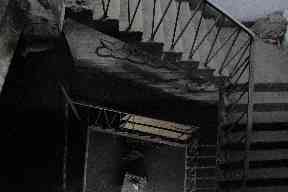 In other bunkers, decades-old cans of rations labelled curried chicken, steak and kidney pudding and oatmeal blocks have been found among abandoned supplies.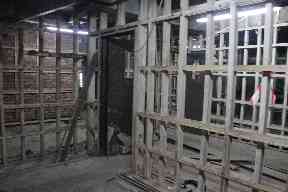 According to author Nick Catford, to counter the Cold War threat "Britain became the most densely enbunkered nation in the world".
The result was an extensive network of bunkers planted by the government.
Around 1500 small radiation monitoring posts were scattered across Britain and more than a dozen enormous underground bunkers were built from which the country could be governed if the capital was annihilated.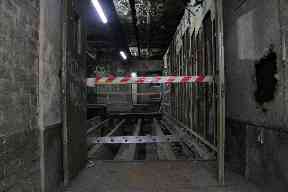 Whether they would have worked or not depended largely on how long people would have needed to stay there.
In the first 24 hours after a Hiroshima-like nuclear explosion, large particles of hazardous radioactive material rain to the ground.
Most of the fallout quickly begins to decay and scientists use what's called the 7:10 Rule of Thumb to estimate radioactive risk: For every seven-fold increase in time after detonation, there is a ten-fold decrease in the exposure rate.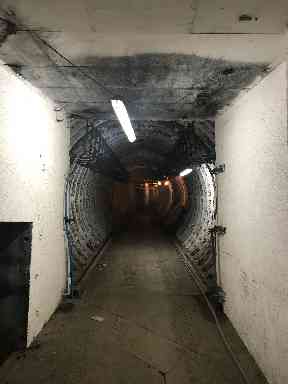 The bunker in Edinburgh would have housed government ministers, members of the military, police, fire and ambulance services and telecommunications engineers.
The still-intact BBC broadcasting studio would have been where those left in charge could have spoken to the nation.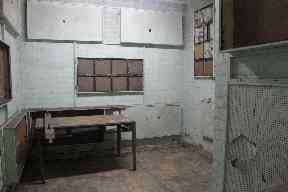 Perhaps the most interesting part of the bunker is at its heart though, in the control room which when operational resembled the deck of a galactic starship.
It is here that Grant and the team have really made progress, stripping back the burned layers and rebuilding it as close to the original plans as possible.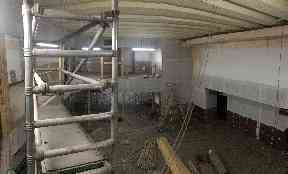 Large glass windows once overlooked an operations table two floors below. They are due to be replaced.
The result is imposing, and once completed, not far off magnificent.
The team have rescued the cork used to insulate the walls, are glass-blasting back and re-hanging the air ducts and have set aside reclaimed teak to re-lay flooring.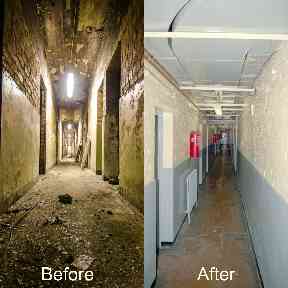 They have managed to achieve the same textured cast on the bunker's walls, building a whole new tool to do so, and have even sourced the exact same peach shade of governmental paint.
It looks like an old 1970s NHS ward, possibly an avocado-coloured sink was in original plans, but the dedication to perfection is admirable.
"Having access to old photos and plans has made all the difference," says Grant.
"We have all the pieces of the puzzle now."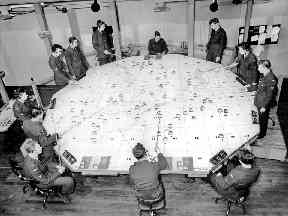 The team has sourced equipment and materials from other bunkers too and cleared thousands of tonnes of debris dumped by fly-tippers.
Most importantly, they've given it light.
This far underground, it is not so much dark as deepest black. Darkness takes on a whole other meaning when you are standing beneath layers of rock not endless sky.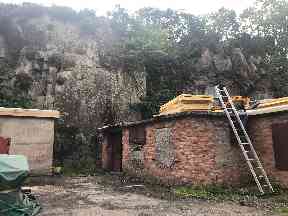 The team have set up generators but it's still an odd sort of light that emanates casting odd-shaped shadows and making dark corners seem all the darker.
Nevertheless, you can still see light switches, floor tiles, banisters, the corridors, stairs and shape of the rooms.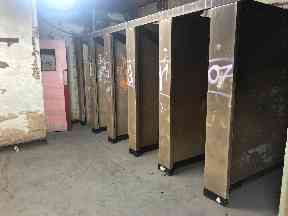 The darkest section of all is found below the third floor, deep underground.
Grant shines a phone light down into a black hole and a bright shimmer reflects back up at him.
"Oil," he says. "Someone dumped it here in the sump where the sewage ejector plant lived - we have to pump it out and we're excited to see what we'll find down there."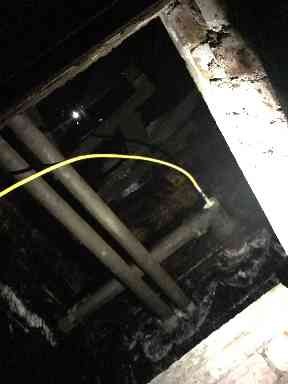 Despite it having been picked over by vandals, there is still a lot to find in the bunker.
Much of the larger machinery was too heavy to be stolen and has been patiently blasted back and restored.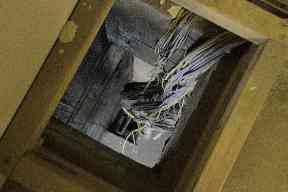 The three-story bunker's most critical operations were housed at the lower levels, including an enormous air filtration and cooling systems crucial to running the bunker.
There was also a canteen, officers toilets, and "plotting rooms", where military and civilian staff would have tried to determine the size and nature of the attack and severity of the fallout.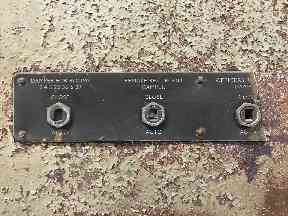 The dimly lit communications rooms accommodated thousands of telephone lines, with teleprinters that would have spat out instructions.
An old telephone exchange is being carefully restored by the team, on which an operator would have patched calls through by connecting wires with the relevant sockets.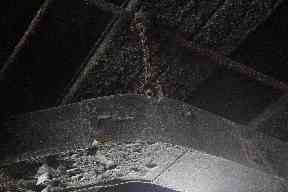 "Do you remember party lines?" asks Grant.
"Sometimes in this area in the old days, you'd make a call and suddenly have your neighbour on the line.
"That's due to the fact that the entire cable laying capability of the GPO was occupied by the need to lay the communications between the bunkers and the radar sites!"
Sure enough, Grant holds up an exchange box labelled "South Queensferry" off a shelf.
All the phone lines have long been cut but the wires remain. BT has already shown great interest in helping out the team.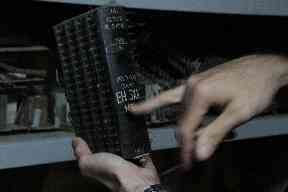 The bunker is expected to open to the public in the coming years, once the painstaking work is complete.

What the team really need is dedicated help.
"Anyone who can carry or hold a paintbrush," jokes Grant, but his intent is serious.
It's a slow, steady pace of work and all hands are welcomed and much-needed.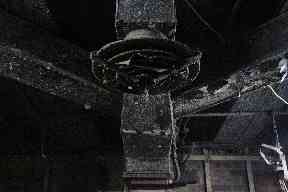 Above ground, the area is known to locals, especially dog walkers, but it is apparent that the team feel a bigger weight on their shoulders to have it known by the next generation, too.
"It's about leaving a legacy," says Grant. "I think it's about being part of something.
"It's so important that places like this are looked after and remain open so every generation can learn from them."
If you would like help out the team of the Barnton Quarry Restoration you can visit the project Facebook page.
Download: The STV News app is Scotland's favourite and is available for iPhone from the App store and for Android from Google Play. Download it today and continue to enjoy STV News wherever you are.