Petty officer gets down on one knee after eight months at sea
Mark Titman's crew mates held up a banner asking Laura Campbell: 'Will you marry me?'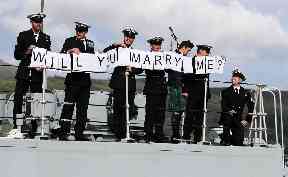 With a diamond ring in hand, Royal Navy mine hunter Mark Titman was preparing to pop the big question after months away at sea.
The 34-year-old was getting ready to surprise his girlfriend Laura Campbell as HMS Penzance returned to her home port on the Clyde on Friday after spending eight months in the Arabian Gulf.
As the ship rolled into view, Laura was shocked to see her partner down on one knee on the deck as his crew mates stood next to him with a banner which read: 'Will you marry me?
"I got the ring in April so I knew I was going to do it, so I was just getting loads of ideas," Mark says.
"I had a few ideas and narrowed it down to this one. My crew mates knew about it and helped out,"
He joked: "I thought this was the best way to do it - spell it out to her to give her a bit of a heads up."
It was a "massive surprise" for Laura, who was waiting to be reunited with her partner on the quayside cradling the couple's baby Ava in her arms.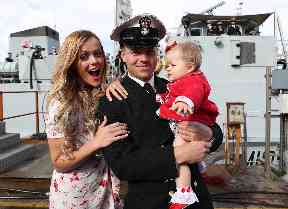 The petty officer from Sheffield quickly disembarked the vessel before getting down on one knee and asking the big question with a huge bouquet of flowers at HM Naval Base Clyde.
Laura, who is from Glasgow, happily said yes.
"It was a massive surprise. We had talked about it and stuff, but not anytime soon, so it was a lovely surprise," the 32-year-old explains.
Deployed to the Gulf in January when daughter Ava was just four weeks old, Mark was delighted to be reunited with his family.
The ship was greeted by gathered family and friends as it returned from its three-year deployment, having left Faslane in June 2014.
A lone piper played from the deck of the vessel and the Royal Armoured Corps Band then played on the quay to welcome Crew 1 home, who have been operating the vessel since January.
She was one of five Royal Navy ships to join forces with United States Mine Hunting vessels and aircraft, taking part in a major exercise in the Arabian Gulf testing their prowess in locating underwater explosives.
Mark said: "I am proud to be able to do my job and even more proud of the way that my partner Laura has coped in bringing up our daughter. It leaves me in no doubt whatsoever that she is the perfect woman for me."
Lieutenant commander Jim Lovell said the crew all knew about the romantic plan and were backing petty officer Titman.
He said: "Everyone on board has known about it - he was nervous as heck last night and this morning.
"He seemed quite confident last week and he's just been getting more nervous today, but we're just thankful she said yes."
Download: The STV News app is Scotland's favourite and is available for iPhone from the App store and for Android from Google Play. Download it today and continue to enjoy STV News wherever you are.