Family hit Scotland on epic trip around the world in 17 years
Herman and Candelaria Zapp have visited more than 100 countries - and also had four children.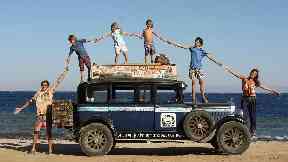 A family who have spent the last 17 years travelling the world have finally landed in Scotland.
After visiting more than 100 countries, the Zapps are happy to confirm they "tried to save the best to last" and Scots are the "most friendly people" they have met.
Childhood sweethearts Herman and Candelaria Zapp, who gave up their jobs in Argentina to trek the globe, initially only set out on a six-month road trip to Alaska.
They have now been on the road for 17 years and have gathered more than just the odd souvenir along the way - they have also had four children, all born in different countries.
Pampa, 14, was born in Greensboro, North Carolina; Tehue, 11, was born in Argentina; Paloma, eight, is a Canadian native, and little Wallaby, seven, is from Australia.
They have all experienced several lifetimes worth of adventure, too.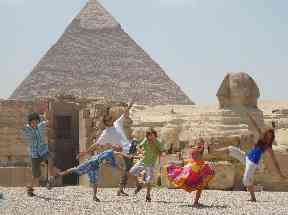 "To travel was only a dream, a dream that we've had since we were very little," says Candelaria.
"But then life happens and you got side-tracked. You start following the system to have a house and get a good job.
"But then one day we sat down and said: What's happened to our dream?"
Candelaria first met Herman was she was only eight and he was working on his grandfather's cattle ranch.
At 14, they started dating and a decade later married and pledged to go travelling together.
After six years building their home as a married couple, they finally decided to leave it.
"We decided to leave with what we had, everyone thought we were crazy," says Candelaria.
"Then someone offered Herman a car and he fell in love with it."
The old 1928 Graham-Paige car inspired them and has been with them ever since.
With plenty of personality all of its own, the vintage motor - approaching its 90s - has a 40 mph speed limit.
The Zapps are not a family on a journey of speed, however, theirs is a mission of discovery.
The children sleep in the roof tent of the car where they can watch movies before bed and play video games, while the seats collapse to make a bed for their parents.
This week, the Zapps have driven across Scotland, searching for the Loch Ness Monster and exploring the old cobbled streets of Edinburgh.
Previously they have seen kangaroos jumping in Australia, a grizzly bear and a space shuttle take off.
When we catch up with them, they are enjoying a chilled morning in Motherwell before they set off on the road again, this time to Ireland.
They have been staying with a host family, one of more than 2500 homes and kind strangers who have opened their doors to them along the way.
Many Scottish families have stepped up to offer their homes, too.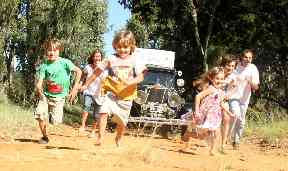 Scotland's hospitality has not let them down.
"This week the car had a broken windshield and two wheels needed welded," says Herman.
"We put up notice of our plight online and these wonderful people came to help us."
Scots garage workers, classic car enthusiasts themselves who have modestly asked not to be named, did all the work for free to get the family on the road.
"They were so happy to help," says Herman gratefully. "I think everybody loves to be part of a dream."
Their first experience of kindness on the road was on their very first trip, when they were stranded in Ecuador, which was experiencing a financial crisis and rapid inflation.
Candelaria started watercolour painting and Herman framed them to sell.
Having never sold anything before, the exercise in survival was an epiphany for the couple.
"All you need is a few coins to get to your next town," Herman explained in a later interview with Global News.
"In the next town you'll find a way to make another coin to get to the [next town]... then you look back and realise that you've almost seen half of the world."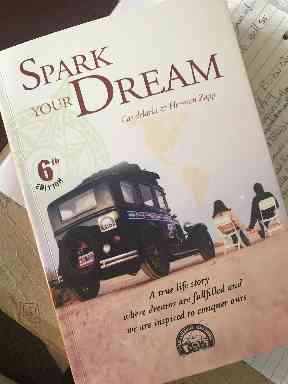 During their initial trip to Alaska they printed their first book, Dream Chaser, which was the best-selling book of the International Book Fair of Costa Rica.
The couple sold 12,000 copies since and their second, Spark Your Dream, is a best-seller in Argentina and now helps to fund their travels.
They have more than 70,000 followers on their family Facebook page.
While the children are home schooled at the moment, downloading lesson plans every time they reach an internet zone, the family plan to return home to Argentina next year.
Scotland was one of the last stops on their journey.
"Your kids are your fortune," says Herman. "Children are not some problem, they are your wealth."
All of the young Zapps are extremely polite, well informed about the world and can speak confidently about their adventures.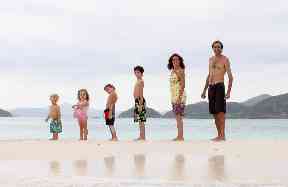 The eldest son, Pampa, who holds three passports, is often asked to speak at public engagements about his unusual experience of growing up a global citizen during stops in their travels.
"The best moments are when you're with friends or diving in an ocean or are up in a balloon," he says.
"I always wanted to go to Italy to see the Romans, like out of my Asterix and Obelix books. I also heard they had really good pizza, though I think the best one we ever had was in Turkey."
His siblings all nod in agreement. Turkey definitely had the best pizza.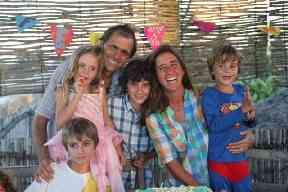 Back when the family marked their tenth year of nomadic life, they headed for the north coast of New Zealand to watch the ocean waves crash together.
"We were celebrating ten years of this beautiful life - of discovering treasures," says Herman.
"I realised then that life wasn't like what we were told it was when we were kids, that you have to study hard, work hard - nobody told me life was actually very simple. "
"With a little bit of love and a little bit of a dream you'll have it all," he says with a knowing smile.
"Focus on that and you'll have a beautiful life."
You can follow the Zapp family travels here on their online blog and on their Facebook page.
Download: The STV News app is Scotland's favourite and is available for iPhone from the App store and for Android from Google Play. Download it today and continue to enjoy STV News wherever you are.