Unicorn tail: Scotland's pampered pooches join rainbow trend
Dogs are being given multicoloured makeovers at a creative salon in Stirling.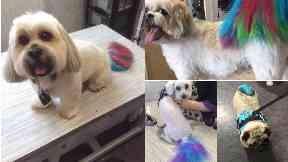 We've had the unicorn frappuccino, unicorn noodles and even unicorn toast.
Now it seems even Scotland's trendy pooches are getting in on the rainbow trend.
With the efforts of a creative salon in Stirling, dogs are being given a multicoloured makeover.
From Bichons with pink and purple posteriors to Pugs with turquoise tails, the Pampers Dog Stylists team say their clients are loving it.
"Everybody is going crazy for the unicorn tails," says Danielle Murphy.
"The rainbow look is definitely our most popular."
Danielle, 26, who has been grooming dogs since she was 15, is the creative director for the salon she launched with her mother, a fellow dog lover, a decade ago.
After attending several large canine shows in the US, Danielle witnessed the rise of the unicorn tail trend and decided to bring it to Scottish paws a few months ago.
"I've been doing creative grooming for a while and really have seen everything," she says.
"Nothing surprises me anymore but I saw this and thought wow, that's really different."
Danielle sought out specialist training from British dog grooming champion Sue Eld-Weaver.
Only specially approved dyes can be used on dogs due to their sensitive skin and each furry client gets a patch test before any colouring takes place.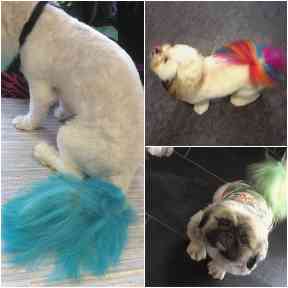 "Our clients really like it," says Danielle. "I think everybody is looking for something a little different these days."
The popular TV show My Little Pony is widely credited as playing a major role in the unicorn trend.
There is a bit of a nostalgia element in it, too, especially for a generation who grew up with milky pens and neon shell suits.
Unicorn matriarch Lisa Frank brought out a school supply range that peaked in the late 1990s.
Stickers, lunchboxes and pens featured every shade of fluorescent known to humanity, with cutesy pictures of hugging penguins, kittens and puppies.
As Vox journalist Alex Abad-Santos, described, the era had dolphins the colour of "bubblegum and Slurpees" and unicorns that were "flashy, candy-coloured beasts that borrowed their colours from radioactive rainbows".
According to figures obtained by the Tucson Citizen, from 1996 through 2000 the company made more than $60 million a year.
Unicorns are a big colourful deal - and now Scotland's dogs are being rainbowfied too.
"The dogs get a lot more attention when they are done up, too," says Danielle.
"I think people can't help but stop when they see them."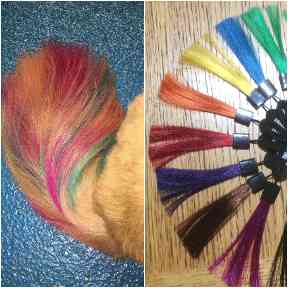 The salon has also seen a rise in "furjazzle" requests, with diamante shapes are placed on to the fur.
"It's usually if the dog is going to a wedding or an event or something," explains Danielle.
"The owner asks for a small diamante heart, for example. It stays on for a few days."
Dog styling has been embraced over the years, including turning your entire dog a different shade.
Actress Emma Watson was famously spotted with her friend's Maltese terrier dyed bubblegum pink back in 2012.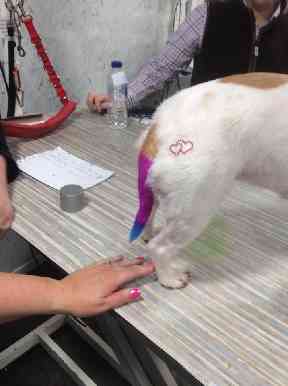 The Scottish SPCA however, urges caution.
Scottish SPCA chief inspector Mike Flynn says: "We do not believe that dogs, or any other animal, should be dyed cosmetically.
"We encourage responsible ownership and dyeing a dog's hair suggests that they may be treated as an accessory.
"However, as long as the dying process is carried out by a qualified professional with animal friendly dye then the process can be carried out without causing harm to the animal."
Danielle says the safety of the dogs she grooms is paramount and she takes care to make sure all the products use only natural ingredients and are administered safely.
"They are specialised products for dogs as their skin is sensitive," she says.
"Everything we use has been safety approved and is a natural product."
Dog dyeing is still quite rare in Britain, with only a few salons offering the service, but it is a well-established business in the US and Japan.
Danielle says she is happy to be part of an industry that makes her smile everyday.
"All the dogs are my favourite clients, they all have different personalities," she says.
"My mother and I were looking for something we could wake up and love to do every day.
"I love my job and we've got a lot more creative ideas for the future."
Download: The STV News app is Scotland's favourite and is available for iPhone from the App store and for Android from Google Play. Download it today and continue to enjoy STV News wherever you are.