Mining disaster: Village marks 50 years since colliery fire
Nine men lost their lives at the Michael pit in East Wemyss, Fife, on September 9, 1967.
It was one of the worst disasters in Fife's mining history.
On September 9, 1967, nine men died in a fire at the Michael Colliery in the village of East Wemyss.
At around 2.30am, a miner noticed some of the coal was burning and sounded the alarm.
When the fire broke out, there were 311 men working in the pit as part of the night shift.
Now, Fife Mining Heritage Society has arranged a memorial on Saturday to remember those who lost their lives 50 years ago.
One of the men in the pit was Danny Wilson, an apprentice engineer at the Michael Colliery.
"I picked up the phone down the pit and was told that a fire had broken out on the conveyor belt," he says.
"I ran back to the other man I was working with to tell him and we left. As we were heading out the tunnel, we came across a group of seven men who were standing in an air pocket.
"I knew which way we had to go to get out, because I'd been working in the area so knew exactly where the fire was. But they decided to wait for help. They all died."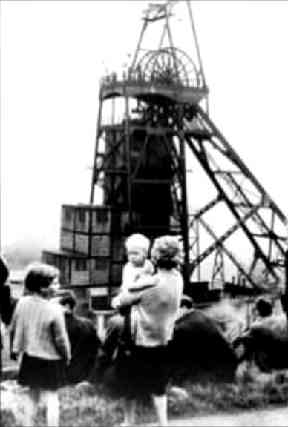 He continues: "The smoke near the top was thick and sort of sticky. It was clinging to my skin, almost like oil.
"I had a headlamp on and couldn't see my hand in front of my eyes. So I took my t-shirt off, dipped it in a puddle and wrapped it around my head."
Further up the mine, Mr Wilson came across another worker who was lying on the ground, moaning.
"I tried to convince him to move, gave him a bit of a kick, but he just lay there," he says.
"So we continued up the mine but I only got about 20ft away and though 'No I'll have to go back'.
"So I went back and leaned down to pick him up. The shock I got with the heat coming off him - he had a big tweed coat on - I'll never forget that heat. He was exhausted."
He adds: "I picked him up and carried him fireman-style to where the loading area was because I knew there would be fresh air there.
"When we got there, I tipped him off my shoulder, took one deep breath and the next thing I knew I was lying in an ambulance."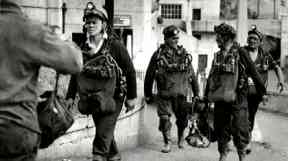 Mr Wilson was taken to hospital, where he was shocked to discover he had become temporarily paralysed.
He says: "Unknown to me, a lot of men were also paralysed. Some from the waist down - I was from the neck down.
"I also had to get an injection into my heart because my heart rate had gone up that much they thought it was going to burst.
"We were all sent home that night because they were expecting burn victims - but it was the smoke inhalation and chemicals that killed those men."
Mr Wilson hardly gave a moment's thought about going back for the fallen miner.
"You don't think about risking your life, it's just nature," he says.
"I didn't know who it was lying there - but the guy only lived half a mile from my house. He lived another 30 years after that."
He says: "Andrew Taylor, whose body is still down there, was a childhood friend of mine. Our families used to go on holiday together. It was personal."
The burning fire made the recovery of another two bodies impossible. There was risk of the mine collapsing in the heat.
Mr Wilson barely got a few days to recover from the trauma of the fire, taking up work at the Seafield Colliery in Kirkcaldy.
"Anything trumatic like that happening now, you get help," he says.
"Back then, I was back down in the pit within two days. It was barely time for your lungs to clear.
"But it wasn't the lungs that were the problem - it was the memories.
"I remember I was on the locomotive, going down into Seafield," he continues.
"They put sand on the tracks to stop the wheels slipping on the wet rails, creating friction. There was smoke everywhere.
"I didn't know this and got such a fright that I just jumped off the back of the train. Everything was going through your head."
Following the fire, the coal pit was shut down - leaving 2000 men unemployed.
The event is still remembered by locals in East Wemyss.
On Saturday, relatives of the victims will mark the day with a remembrance service, when a memorial plaque will be erected.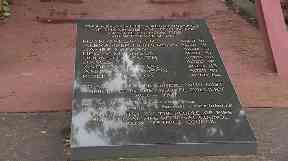 Download: The STV News app is Scotland's favourite and is available for iPhone from the App store and for Android from Google Play. Download it today and continue to enjoy STV News wherever you are.