QE2: Fifty years on from launch of one of the Clyde's finest
The world-famous cruise liner was launched by the Queen on September 20, 1967.
On this day 50 years ago, at 2.28pm on a Wednesday, the QE2 liner was launched by the Queen for the first time.
The huge Cunard vessel, nearly 1000 feet long, was greeted by tens of thousands of people as it left its shipyard on the Clyde on September 20, 1967, a wave two-feet high rising up across the river to mark her arrival.
Launching her, the Queen said: "I name this ship Queen Elizabeth the Second. May God bless her and all who sail in her."
The QE2, built at the John Brown's shipyard in Clydebank, would go on to become world-famous and one of the most successful merchant ships of all time.
Cunard's flagship cruise liner, she launched at a time when popular methods of travel were changing as the age of the commercial jet arrived.
With more people beginning to fly and fewer holidaymaking by sea, this radical new vessel was designed as a hybrid - capable of a high-speed crossing to New York but also able to spend longer periods at sea, cruising.
'She travelled further than any ship ever has and maybe ever will.'

Robert Lightbody, The QE2 Story
Robert Lightbody, founder of The QE2 Story website, says: "The people in Clydebank knew when they were building her that they weren't going to build another one like her and they were immensely proud of her for that reason.
"She represented everything that had gone before as well."
The QE2 made that crossing to New York, sailing from Southampton, in her maiden voyage in 1969, a city she would return to many times over the 20th century and into the next.
"Even now, if you look at photos in New York from the past she's quite often sitting there in the foreground," Mr Lightbody says.
The ship also almost single-handedly launched the era of large luxury cruise liners which continues to this day.
In its first decade, the QE2 sailed 1.5 million miles, carrying half a million passengers to 63 countries, with crowds gathering to witness this symbol of Clyde shipbuilding everywhere she went.
By the time she was retired, the liner had travelled a total of 6 million miles to locations around the world. "She travelled further than any ship ever has and maybe ever will," explains Mr Lightbody.
On May 3, 1982, the vessel was requisitioned by the UK Government to serve as a troop carrier to the Falkland Islands in the south Atlantic.
She arrived in an active war zone with 3000 troops on board around three weeks later.
On June 11 that year, the QE2 returned to Southampton to huge crowds waving banners with 640 survivors on board from the lost HMS Ardent, Coventry and Antelope.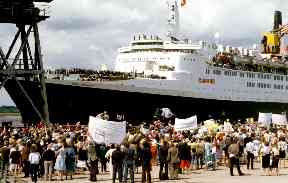 The QE2 eventually became the only ship offering a regularly scheduled transatlantic service.
She began her last season of sailings to New York in 2003 and was replaced in 2004 by Cunard's biggest passenger liner, the Queen Mary 2.
The QM2 has also replaced the QE2 as the flagship of the British merchant fleet.
The QE2 is now docked at Port Rashid in Dubai, where it is hoped she will be converted into a hotel and a tourist attraction.
The liner will probably escape the fate of many of her sister ships, which ended their days in far less glamorous circumstances.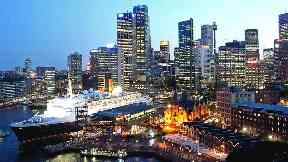 QE2: In numbers
She consumed 433 tonnes of diesel oil per day during her scheduled passenger service.
The ship could carry up to 1777 passengers, accommodated in 950 cabins across eight decks.
Her two enormous propeller shafts measure 262ft 6in in length.
She cost slightly more than £29m to build back in the 1960s - but Cunard spent more than 15 times that on subsequent refurbishments and refits.
The vessel completed 801 Atlantic crossings during her lifetime.
Download: The STV News app is Scotland's favourite and is available for iPhone from the App store and for Android from Google Play. Download it today and continue to enjoy STV News wherever you are.