Big-hearted Scots help Tommy, 81, with his bucket list
The pensioner only has a few items remaining after trips to Butterfly World and Rome.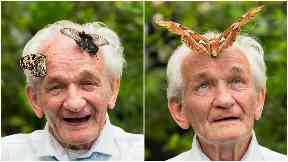 A pensioner who warmed the hearts of readers after he shared his humble bucket list has gone on to have several of his special wishes granted.
Tommy Hagan, 81, who spent most of his young life in an orphanage, had hoped to "see the wee butterflies at Butterfly World" and sit down to a great pie supper.
Tommy, who was put into an orphanage at the age of three shortly before the Second World War, spent 13 years in the system and missed out on much of his childhood.
He did not even learn he had a middle name until he left the orphanage.
After kind Scots heard of his story, Tommy received several offers to help him achieve his goals.
Big-hearted strangers have since taken him on a trip to Rome - after he expressed a wish to fly on a plane - and he has seen his beloved butterflies.
Staff at the Edinburgh Butterfly and Insect World read his story on STV News and invited him over to spend some quality time with them.
A group of woman from Cash Converters also got in touch seperately to say they would be delighted to take him there.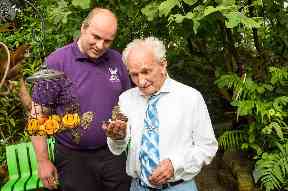 Edinburgh Butterfly and Insect World general manager Andrew McDonald was there to greet Tommy on the day.
"We were absolutely delighted to welcome Tommy here," says Andrew.
"A member of our team had seen the STV story on Tommy and his bucket list and we were delighted to make it happen for him.
"We wish him all the very best in completing the rest of his list."
Tommy went on to have lunch at the Dobbie's garden centre nearby and kept his cool when offered the chance to hold one of Butterfly World's resident snakes and some large tortoises.
Tommy insists that his most important bucket list goal is to help others, especially young people in care.
He was 16 when he left the orphanage to become a farm hand but his experience in care left him traumatised.
Recently, he has gathered the courage with the help of the charity Mind Mosaic to share his experience as part of the current Scottish Child Abuse Inquiry.
"I've lived a long while," he says. "I'd love to help other people like people have helped me."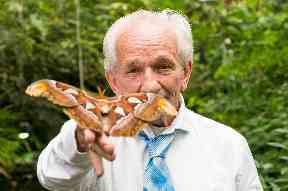 The group has been invaluable in supporting people like Tommy cope with trauma.
"Tommy is just an exceptional man, he's inspirational," says Mind Mosaic support worker, Elaine Wroe.
"I met him five years ago and have watched him fight his battle to be heard and it's his time now to have a bit of fun."
Elaine and her team have been voluntarily trying to help Tommy achieve his wish list, which includes learning to drum like a rock star and being able to take a trip "doon the water" on the famous Waverley paddle steamer.
His first wish, to learn how to drum, was granted with help from tutor Lesley McLaren, of the drumming school Hit Squad.
She told STV she had given Tommy the chance to rock out and have a bash at trying to play his favourite track.
"I've not got it quite right yet but I'm trying," says Tommy. "I love the song You Are My Sunshine."
As for Tommy's special trip to Rome, the Mind Mosaic team took a call from the Future Pathways Foundation, which works with people in Scotland who have suffered abuse or neglect.
Part of their funding is able to go to victims trying to rebuild their lives - usually in education - but they were able to make a special exception for Tommy and took him on a pilgrimage to Rome instead.
"He called me from Rome to say how much he loved the pool," laughs Elaine.
"Turns out he was talking about the Trevi Fountain. We're so very pleased for him and grateful to the many people from across Scotland who have got in touch offering to help."
Tommy has no great plans to relocate to mainland Europe, though, despite his recent adventures.
He now lives in sheltered housing on Scotland's west coast and says he is very happy there.
"It has a front door and a back door so I can be out in the sunshine," he says.
"I can sit out there and play my ukulele."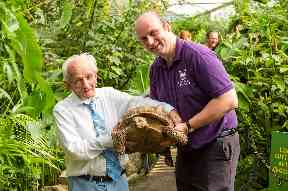 His other goals include seeing a black swan - most commonly found in Australia - and enjoying the perfect pie supper.
"Something to make my eyes sparkle, you know?" Tommy laughs. "I love a fish supper, too."
Elaine and the team are now working on a plan to perhaps organise a boat trip on Loch Lomond for Tommy - although not quite the Waverley Steamer, they're hoping it will enable him to still feel the wind in his hair.
The volunteers, who have been with Tommy for several years now, say he has taught them a great deal more than they have been able to give him.
"He's taught me to have resilience and to keep going," says Elaine.
"He can tell you the name of every plant and bird. He still has that drive to learn and grow and keep going.
"He's had a hard life and he deserves our help to have a good life now."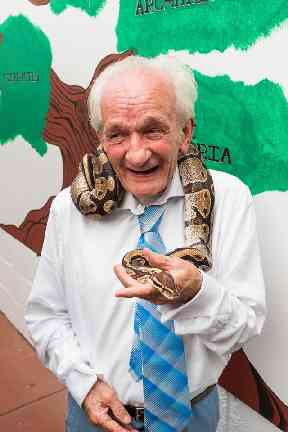 Tommy's bucket list
1. See the butterflies at Edinburgh's Butterfly World (Check!)
2. Do something to help others (Check!)
3. See a black swan
4. Go on a plane (Check!)
5. Drum like a rock star (Check!)
6. Take a trip on the Waverley paddle steamer
7. Enjoy a fantastic pie and chips
If anyone is able to help Tommy achieve his final few goals, particularly finding a Black Swan or taking him for a pie supper, please get in touch by emailing laura.piper@stv.tv.
Download: The STV News app is Scotland's favourite and is available for iPhone from the App store and for Android from Google Play. Download it today and continue to enjoy STV News wherever you are.
General Manager Andrew McDonald
- 07940560286