Child obesity: Figures behind Scotland's enduring problem
The number of overweight or obese children has remained static for decades.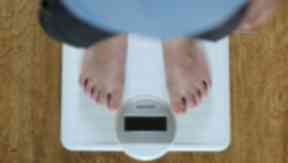 It is the problem that refuses to go away.
The number of children overweight or obese in Scotland has remained static for decades at around 29%, with the childhood obesity rate at a relative low of 14%.
By contrast, the estimate for the number of overweight children in the EU as a whole sits somewhere between 16% and 22%, with only 4% to 6% of them considered at risk of obesity.
Being overweight or obese can be a result of a range of factors including diet and nutrition, physical activity, poor sleep and poverty.
The further into later life people stay overweight or obese, the more likely they are to suffer one of the many health risks, including heart problems, strokes, asthma and diabetes.
A survey by ScotPulse for STV News yesterday revealed that 60% of Scots would back restrictions on junk food advertising.
Experts agree the best time to instil the right habits to help people enjoy healthy diets and lifestyles is during childhood.
So why has it proven so tough to bring Scotland's children down to the kind of weight levels seen elsewhere around the continent?
Let's drill into the figures.
150,000
This is around the number of children in Scotland at risk of obesity in real terms.
In percentage terms, the rate of child obesity has fluctuated in the past decade but has fallen 3% since 2014 to a joint-record low of 14% (last recorded in 1998).
But Lorraine Tulloch, programme lead for Obesity Action Scotland, says the 150,000 figure is still "shockingly high".
75%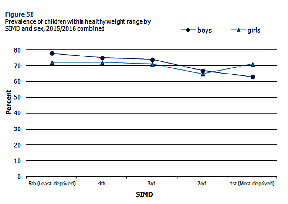 Three-quarters (75%) of children from the most well-off areas of Scotland were of a healthy weight in 2016.
This compares to a national average of 70%, which has remained fairly steady since 1998.
For children from the most deprived parts of the country, the number who are of a healthy weight falls to around two-thirds (67%).
Boys and girls do not differ greatly in overall trends, although there has been a 6% drop in the number of boys at risk of being obese since 2012.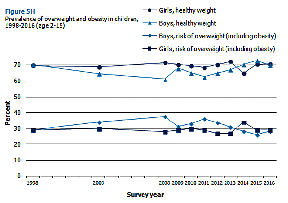 12%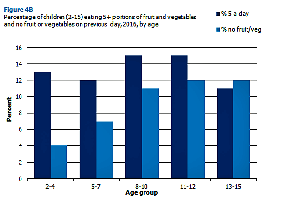 This is the percentage of children aged 11-15 who say they do not eat any fruit or vegetables over the course of a day.
In contrast, only 7% of children aged 5 to 7 say the same, while for eight to ten-year-olds the figure is 11%.
The eight to ten age group and the 11-12 group have the highest numbers of children saying they do in fact eat five portions of fruit and veg a day, at 15%.
Only 11% of children aged 13 to 15 say they eat five portions.
More than half (51%) of Scottish children eat sweets or chocolate every day - with the figure around half that for adults.
Around a third of children eat crisps (33%) or drink soft drinks (35%) every day.
82%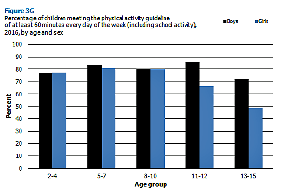 The five-to-seven age group do best on physical activity, with more than four-fifths (82%) of these children meeting the government's guidelines of an hour a day, seven days a week.
With children aged 13 to 15, this figure plummets to 61% - and just 49% for girls.
The overall trend has meant the numbers of children meeting the physical activity guidelines has risen 5% since 2008 to just over three-quarters (76%).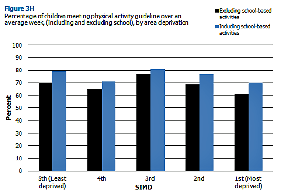 There is also a gap between the poorest and wealthiest children.
Some 79% of those from the least deprived areas do the recommended amount of physical activity but this falls to 70% for those from the most deprived areas.
Around two-thirds (68%) of children had participated in sport in the week prior to being surveyed.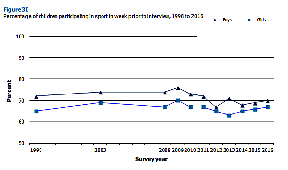 These figures only begin to scratch the surface of what Nicola Sturgeon described last week as the "growing public health challenge of obesity".
She compared the magnitude of the problem to that of smoking and alcohol misuse.
The statistics outlined above give an insight into the challenges facing those trying to improve children's health and reduce overweight and obesity rates.
STV News has been in Amsterdam looking at policy approaches being taken there to deal with the issue, and what lessons could be applied here in Scotland.
All Scottish figures taken from the Scottish Health Survey 2016, in which 4323 adults and 1561 children took part.
The figures estimating child overweight and obesity rates in the EU come from the European Association for the Study of Obesity (EASO).
Download: The STV News app is Scotland's favourite and is available for iPhone from the App store and for Android from Google Play. Download it today and continue to enjoy STV News wherever you are.