Porridge perfection: Cooks competing to get it just right
The Golden Spurtle is up for grabs at the World Porridge Making Championships in Carrbridge.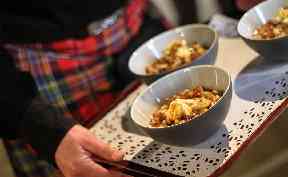 In the small village of Carrbridge, porridge is big business.
Once a year, the sleepy Highland community is transformed in a flurry of tartan and traditional music, a pipe band walking through the streets to announce the arrival of some very special contestants.
It is October 7 and the World Porridge Making Championship has returned to stir competitors from across the world into a frenzy for the 24th year.
"It's such a Scottish thing, porridge," explains Neal Robertson, who won the top title in 2010 after entering the competition on a whim the year before.
The inventor of a double-backed spoon dubbed the spon, the 60-year-old from Auchtermuchty, Fife, entered the competition as a way to promote his invention but he had no idea what he had let himself in for.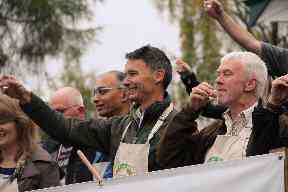 "I thought I was just going up to cook porridge in a wee village hall so I literally got up early on a Sunday morning, it was on a Sunday in those days, and drove up expecting to be cooking porridge for a couple of dozen people.
"And the next thing we're being led through the village with a pipe band in front of us, people lining the streets and from people from all over the world - it was just amazing."
The organisers of the World Porridge Making Championships don't do things by halves.
Competitors travels thousands of miles from across the world to produce pint after pint of their perfect porridge to earn the right to lift the golden spurtle, the coveted trophy of the event.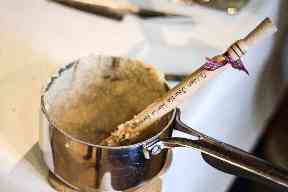 Established in 1994, the competition was created by Roger Reed, a local hotel owner and member of community council who was thinking of ways to promote the village.
In 2012, Rodger said: "I knew that other small villages around the country, UK, had world championships, conkers, tiddlywinks and marbles, what could Carrbridge do?
"I used to make the porridge at Fairwinds [hotel] and the idea of World Porridge came to mind."
It was then Carrbridge became the home of the World Porridge Making Championships and also the founder of World Porridge Day on October 10.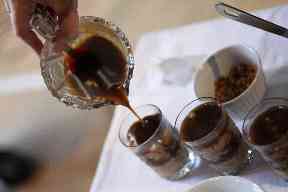 The history of porridge is a varied one, with most countries across the world eating some variation of grains cooked with water or milk for hundreds if not thousands of years.
Grains such as millet, maize, wheat and rice have all been noted throughout history as being a staple in diets, yet oat porridge could be the oldest of them all.
Found in the stomachs of 5000-year-old neolithic bodies preserved in peat bogs in Europe and Scandinavia, its popularity has not waned since.
Porridge's connections with Scotland could be linked with the staple diet of crofters, who would create a thick paste with oats and water and keep the concoction in a wooden porridge drawer, leaving it to be eaten over several days to the point it would harden and could be cut into slices.
While competitors may be spared sliced porridge, they must stick to the championship's strict rules, which allow four different varieties of oatmeal - pinhead, coarse, medium and fine - to be used, with oat flakes or rolled oats banned.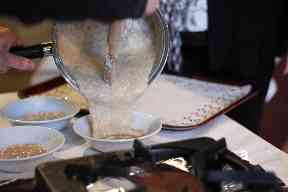 The traditional title is won by making the best porridge using only oatmeal, salt and water.
"Every day I make the traditional Scottish porridge, which should be only made with oatmeal, not rolled oats, water and salt, and it should be cooked in a pan," explains 2014 world champion Dr Izhar Khan from Aberdeen.
The nephrologist, who has entered the contest twice, extols the benefits of porridge to his patients, one of whom made him his own spurtle - a traditional tool used to make porridge.
Yet the addition of salt he says can make or break the dish.
"I think the trick is to make sure that you add the salt at the right time and also enough salt, because too much salt will ruin it and too little will make it bland."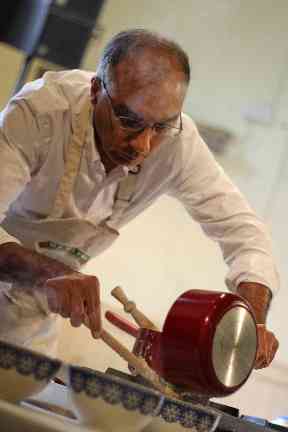 For Neal, who has honed his porridge making skills for eight years believes he knows what the judges are looking for - and it's all down to routine.
"I'd always had porridge since I was a child, my mum used to cook on the Rayburn and the variations within it at the competition just opened my eyes to it all.
"I'm completely a traditionalist, oatmeal, salt and water. Always stir it clockwise and eat it standing up," he explains proudly.
While porridge may be considered a Scottish dish, it's not always the natives who lift the trophy.
Returning to defend his title, Bob Moore is travelling from his home in Oregon to show just why he's considered king of the grains.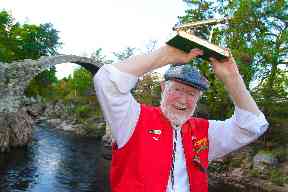 Running his mill where he has made healthy whole grains and minimally processed foods for almost 40 years, the 87-year-old entered the contest in 2016 after dedicating his life to his love of oatmeal.
Last year, he said: "I couldn't believe it when my name was announced. It is so meaningful to me to win the Golden Spurtle.
"I've devoted my life to eating and producing good wholegrain food and this really has made me so happy."
While the Golden Spurtle is the main event, competitors are urged to enter the speciality title, where previous contestants have transformed oatmeal into risotto, empanadas, puddings and even waffles.
Dr Izhar believes this year could be his speciality year and after being commended in 2015 for his Indian dish which used his wife's sauce, he believes he has the perfect recipe to bowl the judges over in 2017.
He adds it will be a "good surprise".
For Neal, next year may be the event where he hangs up his apron for good and bows out of competitive porridge making.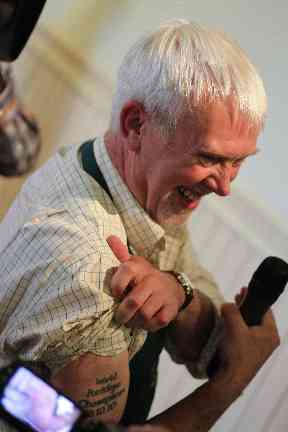 With a collection of eight participation spurtles and another on the way, he aims to complete a set of ten - but still has his eye on that golden prize.
If he does not succeed, he will always have a reminder of his winning streak - in the form of a tattoo etched on his arm extolling his 2010 title.
"It was such a brilliant date to win it on - 10.10.10 - I just thought 'why not' and it just so happened to be on World Porridge Day on October 10 so it marks that as well.
"My wife was horrified, and somebody said 'at your age' which I though was rather harsh really," he laughs.
Download: The STV News app is Scotland's favourite and is available for iPhone from the App store and for Android from Google Play. Download it today and continue to enjoy STV News wherever you are.