Meals on wheels: Delivery cyclist on new vegan journey
James Tait has started Glasgow's first vegan and vegetarian hot food delivery service.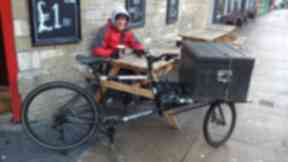 Cycling through the streets of Glasgow, James Tait is on a mission with his chest cargo bike.
The modified bicycle, which can carry up to 60kg in its front chest, is filled with fresh produce for delivery to businesses across the city.
James, who has been cycling around the city for more than a decade, now has a new venture he aims to bring to hungry Glaswegians - the city's first vegan and vegetarian hot food delivery service.
The number of Scots identifying as vegan has been on the rise over the past few years, with the Vegan Society estimating that there are around 300,000 vegans across the UK.
Meanwhile, the People for the Ethical Treatment of Animals (Peta) has named Glasgow and Edinburgh as the UK's most vegan-friendly cities in 2013 and 2015 respectively.
Yet for vegans who want a vegetable curry delivered to their door or a pizza made with dairy-free cheese, choosing a well known company can put them off ordering.
It was a gap in the market James himself noticed after going vegan four months ago.
"I was doing some food deliveries and the bags were stinking to high Heaven after a couple of days of doing food deliveries," the 47-year-old says.
"It was just an idea after working with one of the bigger companies for a couple of months for some extra cash but it just wasn't right for me. It just didn't sit right with me."
Looking for a way to satisfy the city's love of fast food and plant-based diets, James began offering his services online for hot and cold food delivery without the risk of cross-contamination from meat products, purchasing three different food backpacks.
Also offering to collect groceries in his cargo bike, his company FFWD Bicycle Messengers hopes to offer a healthier alternative to fast food for Glaswegians with plans to work with some of the city's vegetarian and vegan establishments.
James previously hit the headlines after offering his cycling services in the winter months to deliver homemade soup to the homeless.
Kitting out his cargo bike with urns of homemade soup, flasks and cups, he made his way through the city to keep those on the streets warm with piping hot cups of comfort.
It's something he would love to return to soon if other cyclists would be willing to transform the idea into a co-op.
"I did that one Christmas, I couldn't almost cope with the demand," he says, recalling cycling through the city centre and seeing people in doorways and huddled in corners who thanked him for his donations.
For now though, James hopes his vegan venture will be a success, joking that for him changing his diet was as easy as ditching his morning bacon rolls.
Growing his own vegetables in his allotment and avoiding dairy means he feels fitter than ever, despite cycling miles a day for his deliveries.
"I've never had such a good diet, varied and healthy, and I'm a bike courier so i need a lot of calories, I need a lot of protein," he says.
"I wasn't sure that it was actually going to work out but it couldn't have worked out better."
Download: The STV News app is Scotland's favourite and is available for iPhone from the App store and for Android from Google Play. Download it today and continue to enjoy STV News wherever you are.