Child obesity: Radical approach fuels Dutch food revolution
What can Scotland learn from Amsterdam's policies on child obesity in its schools?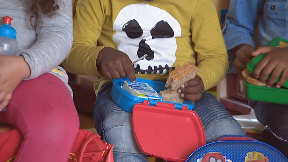 Mirjam Bremer is at the vanguard of a revolution in how the city of Amsterdam approaches children's diets and health.
As a principal at a school in the Dutch capital, she has spearheaded the implementation of the city-wide healthy weight programme for her pupils.
The radical programme adopted by Amsterdam's municipal government in 2013 to reduce childhood obesity has had startling results, with a 12% drop in the child obesity rate in just three years.
In 2012, Amsterdam's child obesity rate had stood at an alarming 21%.
The policy is not intended just to change things temporarily, it is hoped it will bring about a full-scale generational change in food culture.
"We want to educate the children as much as we can about healthy eating and a healthy lifestyle," explains Ms Bremer.
The programme's tough, interventionist approach would arguably raise eyebrows in Scotland and perhaps raise concerns of a nanny state.
It has refused sponsorship from fast food corporations such as Coca-Cola or McDonald's, as an example.
At the schools level, it has taken the form of a strict regiment for pupils in which they are only allowed to bring water or milk to school - no juice of any kind - and even birthday treats are banned.
Most controversially for some parents, children in Amsterdam are weighed and measured every year and their progress tracked.
At her school, says Ms Bremer, sugary snacks are a complete no-go.
"There is no sugar at all in school," she says. "They have a healthy lunch and healthy snack which contains water and fruit.
"They can have a sandwich but they're brown, healthy sandwiches."
She adds: "At first not a lot of parents were very enthusiastic about it, because it's a big change from letting your children have lemonade, or whatever you want to feed them, to banning all sugar.
"It has been a process where the teachers and the parents and kids have worked really hard to actually make it happen."
In Scotland, child obesity rates have marginally improved in recent years but the overall number of overweight children has remained fairly static at around one in three for the last 20 years.
There is plenty of work being done to try to improve the figures around obesity, however, which Nicola Sturgeon has described as a "major public health challenge" in the same league as smoking and alcohol misuse.
At St Luke's Primary in Kilwinning, North Ayrshire, head teacher Fiona Mackenzie has a very similar mindset to Ms Bremer in the Netherlands.
Her school has signed up to NHS Ayrshire and Arran's healthy weight initiative for early years and primary school children, called JumpStart.
"We want to empower children from a very early age and empower families also to get involved," she explains.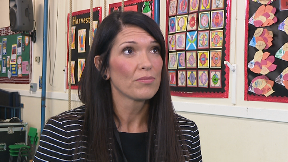 Children's health coaches from the JumpStart programme work in schools but also in smaller groups like families and sometimes on an individual basis, usually for children who are overweight or obese.
They teach pupils and sometimes parents about healthy eating and lifestyle choices, with various activities thrown in, with a view to helping children and families develop better long-term habits.
"Our families have been in at school," says Ms Mackenzie. "They've been engaging in some of the activities the children have been engaging in.
"They've been learning themselves about healthy lifestyle choices: exercise, drinking more water and eating more fruit."
She adds: "We've been trying to encourage parents to start introducing healthy snacks into the packed lunchboxes and that has been working."
The JumpStart programme is not unique to Ayrshire and Arran as health boards and schools around Scotland have been trying to put in place similar initiatives.
Why then do our child overweight and obesity rates remain so "stubbornly high", as Lorraine Tulloch, programme lead for Obesity Action Scotland, puts it?
"Within those statistics, there are inequality gaps that we face in Scotland with childhood obesity," she explains.
"We have seen that gap widening over the last number of years, and that led the Scottish Directors of Public Health to conclude that we weren't doing enough to sustain improvements in childhood obesity.
"Also, (they concluded) that the policies that we had implemented had actually made that gap worse, and that we needed to change our focus."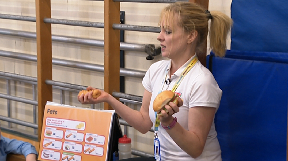 Ms Tulloch points to Amsterdam as an example of a much better programme, where resources were targeted at the parts of the city that needed it most, such as the neighbourhood of Ms Bremer's school.
Scotland has been missing its dietary goals for 15 years despite Scottish Government support for child healthy weight programmes since 2008.
Part of the problem, says Ms Tulluch, is that different health boards have variations of school-based, group-based and one-to-one interventions.
With a new diet and obesity strategy due from Scottish health ministers soon, it is hoped a more unified approach might be adopted.
One key difference between Scotland and Amsterdam, Ms Tulloch notes, is that in the Netherlands they do not provide children with school meals - unlike here.
"In Scotland we're in a different position and we have an opportunity to really influence children's diets through the school meals that we provide," she says.
In Kilwinning, Ms McKenzie says her primary school's canteen has seized that opportunity.
"We always have a healthy diet for the children to pick from (in the canteen)," she says.
"There's a salad bar which is there permanently for the children and more children have been going towards that."
Ms Tulloch is concerned that such practices are not being replicated across all schools in Scotland.
A Scottish Government review of school meals is ongoing but Obesity Action Scotland has already conducted its own investigation.
"We found there was lots of good practice - lots of opportunities for children to access salad bars and salad bowls but there is still some inconsistency across Scotland," she explains.
"Puddings are served very frequently - in fact more often than soup - and the sugar content of the nutritional standards hasn't been revised to meet the new guidance that is now in place for sugar in our diet."
To transform food culture and the food environment for future generations - and begin to replicate some of Amsterdam's success - schools must "lead by example", she says.
She adds failure to bring down rates of overweight and obesity, along with the associated health risks, will put "immense" pressure on the NHS for years to come.
Download: The STV News app is Scotland's favourite and is available for iPhone from the App store and for Android from Google Play. Download it today and continue to enjoy STV News wherever you are.