Auschwitz art: Survivor draws horror of Nazi death camps
Marian Kołodziej survived four concentration camps to illustrate the human suffering he witnessed.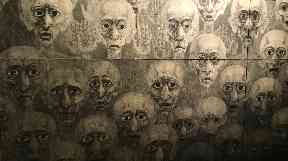 There is a large basement in a monastery not far from Auschwitz where the deaths of more than a million people are scrawled over the walls.
Few people know of it and the Franciscan monks who live above it in the small Polish village of Harmęże are careful guardians of its contents.
It is a large, untouched collection of art, the drawings of a man tortured by memory.
Nearby is a large expanse of icy water, a former fishpond, where he almost drowned.
He had been in there waist deep, forced to work hour after long hour by his torturers, until he collapsed face-down into its depths with exhaustion.
His name was Marian Kołodziej, though from June 14, 1940 even this was taken from him.
Marian was 18 years old when the war broke out. Captured by the Gestapo and sent out on the first transport to Auschwitz, the young Pole became known only as Prisoner 432.
He survived four Nazi concentration camps and for 50 years he told no one, not even his own family, of what he witnessed there.
Then, after a sudden stroke left him paralysed down one side, the nightmare of the death camps burned through him like a fever.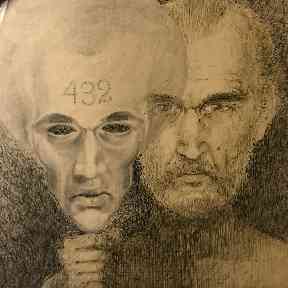 Consumed with the grief of memory, he began to draw at an almost alarming rate, showing through his art the horror he felt words were not able to express.
His large works are of incredible detail, harrowing images of life in the camps where millions of men, women and children were murdered.
Precise numbers are still debated but according to the US Holocaust Memorial Museum, the German SS systematically killed at least 960,000 of the 1.1 million to 1.3 million Jews deported to the camp.
Other victims included approximately 74,000 Poles, 21,000 Roma, 15,000 Soviet prisoners of war and at least 10,000 from other nationalities.
More people died at Auschwitz than at any other Nazi concentration camp.
Many were gassed to death on their arrival, including babies and young children. The remaining prisoners fought for survival every day after.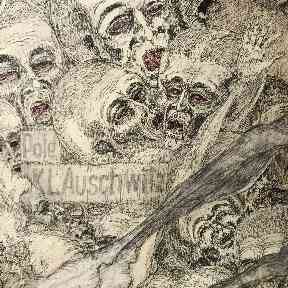 In his later years, Marian gifted his entire works to the monastery which had once housed him when he nearly drowned.
His only wish, that he be the one to organise the entire exhibit - and that it should remain untouched after his death.
Marian called it the Labyrinth and it survives to this day, a haunting experience into the depth of human suffering at the hands of others.
The artist's own ashes are held there after his request to have them scattered on Auschwitz soil, where the rest of those he knew had perished, was denied.
He died in 2009.
"This is not an exhibition, nor art. These are not pictures. These are words locked in drawings... I propose a journey by way of this labyrinth marked by the experience of the fabric of death... It is a rendering of honour to all those who have vanished in ashes." Marian Kołodziej.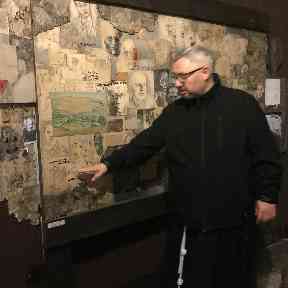 For those who work as guides at nearby Auschwitz, Marian's work is considered to be the most important artistic representation and insight into life in the death camps in the world.
Some of the guides were fortunate enough to meet Marian before he died, guided through the collection by the artist himself.
"As he grew weaker, he would lie flat on the floor on his stomach, his pencils strapped to his fingers by his wife so he could still draw," says one of the priests at the monastery, Father Piotr.
"Auschwitz never left him, he carried it with him always."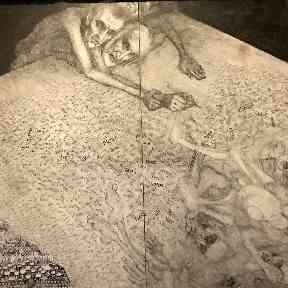 You cannot get into the exhibit without contacting the monastery first but the priests are always happy to be guides. Indeed, it is recommended.
Marian himself told the priests that he would prefer people walk through his exhibit with as little words as possible, as witnesses only to the pain.
To understand his story and the events he portrays, the priests have first-hand accounts from the artist himself to offer.
Marian's second wife, Halina, who the priests describe as being as warm as the sun to her husband's cold grief, helped to write the guidebook to the exhibit from her husband's own words.
Now frail and elderly, Halina is currently being cared for by the Franciscan priests in Poland.
Her husband's legacy is also in their care. After years in a basement, the collection is under attack from woodworm, with a crowdfunding page recently set up to desperately try to save the works before the infestation worsens.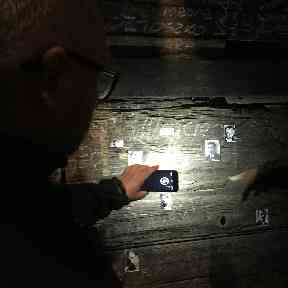 It seems a sadly poignant legacy, that these harrowing representations of death could in turn be destroyed.
With time not on their side, the priests are actively trying to spread as much awareness of the exhibition as possible, so its content and message will not be forgotten when it's gone.
Reporters from Iran, Amsterdam, America and Scotland have been granted access to try to capture the art on camera to share them with those unable to travel to the site.
While photographs of the exhibition can by no means do it justice, the themes that Marian portrays from camp life can be shared.
From emaciated prisoners and their torturers to even instances of cannibalism when starvation reigned, the artist shows them all in a way that strikes to the very heart of the human conscience, asking if such a conscience even exists.
Marian recognises even the role of the witness throughout his exhibition as visitors wander through his maze of painful imagery.
At one point, he has lain a large drawing of emaciated prisoners down on the floor under a sheet of glass.
To enter the next room, visitors have no choice but to step on the cracked glass and the faces beneath.
"A reminder," translates Father Piotr, "that we all step on someone at some point in our lives".
The beginning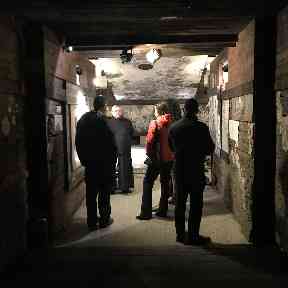 The entryway to the Labyrinth was specially designed by Marian to feel like the freight trains that were used to carry millions of prisoners to Nazi concentration camps such as Auschwitz.
The doorway to the basement of the monastery is lined with wooden panels.
When a large visiting group is held there, for a few minutes before the exhibition begins they can experience to some small extent what the prisoners being transported felt, cramped together in the darkness.
Marian was on that first transport to Auschwitz, the largest of the German Nazi concentration camps and extermination centres.
More than 1.1 million men, women and children lost their lives there.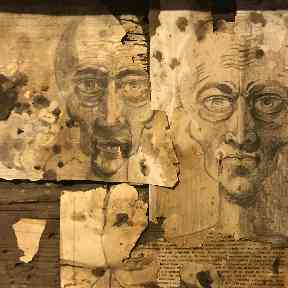 When the war broke out, Marian and his friend Marian Kajdask repeatedly attempted to cross the border to reach Polish troops in the West.
Captured by the Gestapo, Marian Kołodziej was sent to prison then on to Auschwitz.
He was later sent to a sub-camp after he fell sick, where he secretly copied blueprints of munition factories for the Polish resistance movement.
Marian was caught and sentenced to death, deported back to Auschwitz and began his difficult journey to stay one step ahead of the Nazi executioner.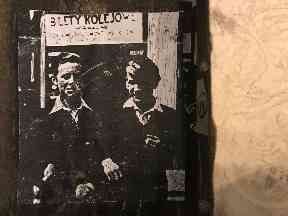 One drawing shows the time he was put to work with the Leichentrager Kommando, the group who moved dead bodies at the camp.
His job was to throw the remains of tortured prisoners on to a wagon.
One day he recognised the body of his childhood friend, Marian Kajdask.
The shock and grief hit him with equal force and, instead of just throwing the body of his poor friend on to the pile of corpses, he carried him in his arms instead like a mother would a child, straight into the crematorium furnace.
He didn't eat for three days after the discovery.
Loss of dignity, loss of hope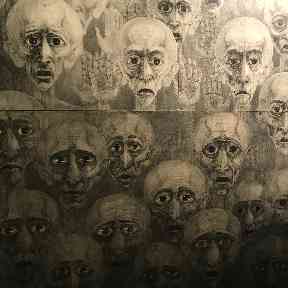 Marian intricately shows the layers of human dignity stripped away after a prisoner's arrival at Auschwitz.
In many of the images, row after row of prisoners are shown gazing out of the paper they have been drawn on with large eyes in detailed brush strokes.
At the top of one picture, Marian sketches them in their full clothing, with hair and beards, and carrying religious symbols and belongings.
By the bottom of the picture, they are stripped bare, hair gone, eyes darker - a row of gaunt faces that disappear into darkness.
When a prisoner arrived at camp, he or she was taken into a room, all valuables stripped away and sold by the Nazis. The gold funded the building of the gas chambers.
Even the hair of the women was shaven off and woven to make cloth that was sold for money.
Starvation and the bowl of life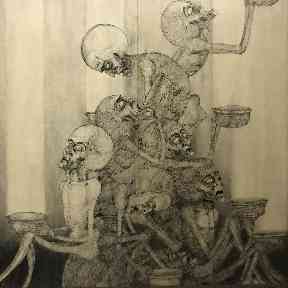 One of the major themes of Marian's exhibition is the one that wrapped and gripped the prisoners of Auschwitz every day in the concentration camp - starvation.
Prisoners fought to live on the most meagre of rations and often nothing at all.
There are accounts of survivors who ate leather and paper to fill emaciated bellies - more harrowing are reports of the rare moments of cannibalism that occurred.
Marian says he witnessed such an occasion. According to the priests of Harmęże, he never ate meat again.
In the camps, your bowl meant life - to lose it was death.
Each prisoner was given a bowl to eat from, wash from and even, for those prisoners too sick to leave their bunks, a bowl for excrement.
If you lost your bowl, there was no chance of another. No bowl meant no food, and therefore death.
Cannibalism and torture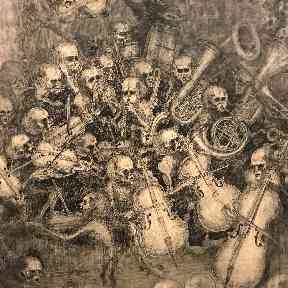 Marian depicted the instances of cannibalism in Auschwitz because he wanted to show the entire bitter truth of life in the camp.
It seems that after 50 years of silence every horrific memory had to surface through his pencil and on to paper, from insectile skeletons gnawing on the flesh of the dead to line after intricate line of some of his most harrowing memories.
Most of those were of the torture he witnessed and experienced himself.
One method the Nazis used was to force prisoners to play music, an upbeat song specially written for the camps, which the prisoners were made to sing.
After a long day of manual labour and close to exhaustion, the final soul-breaking moment would be marching home to the tune of the band.
Marian draws the orchestra as a band of skeletons, conducted by death himself.
On the rare event that a prisoner escaped - and was recaptured - they were returned to camp and dressed as a clown, with a board strung round their neck saying: "I'm glad to be back."
They would then be forced to march round the camp banging their drum, dressed to look like a poor sad fool, before they were put to death.
Marian draws himself as this clown, his face as an older man but the drum the same with Prisoner 432 clutched to his back.
Like the men who tried to escape and couldn't, he shows himself as the prisoner forced back to Auschwitz again and again, against his will - even after 50 years outside its walls.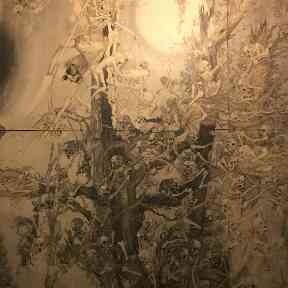 On another wall of the basement, Marian has hung a huge image of a tree, skeletons clinging to its branches, screaming in fear.
One day, he said, a bored German officer in Auschwitz ordered prisoners in the camp to climb a tree and set dogs at the bottom of it, to bite those who could not climb high enough.
Weak from hunger, prisoners fell to the ground to the teeth of the German Shepherds.
Marian, drawing from unknown reserves of strength, climbed so high he could see over the electric fences and the tall walls of the camp.
He gazed at the houses, the fields and the wild flowers at a sight so unimaginably beautiful.
"He named this work the Tree of Life and Death," says Father Piotr.
"To fall from the tree was to die but above and beyond it was life."
Martyrdom
There is one figure in all of Marian's work who bears a detailed face and not that of a skeleton - the face of Saint Maximilian Maria Kolbe.
Kolbe was a Franciscan Friar who was sent to Auschwitz for hiding Jews during the Second World War.
When the Nazi guards selected ten people to be starved to death in punishment, Kolbe volunteered to die in place of a stranger who had begged to be saved for the sake of his children.
Kolbe was sent with the other men into an underground cell and they were starved to death.
After two weeks, nearly all the prisoners had died of dehydration and starvation. All except Kolbe.
Because the guards wanted the cell to be emptied, the remaining prisoners and Kolbe were executed with a lethal injection.
Those present say he calmly accepted death, lifting up his arm to the executioner. He was later canonised as a martyr.
The deed and courage of Maximillian Kolbe spread around the Auschwitz prisoners, offering a rare glimpse of light and human dignity in the face of extreme cruelty.
It had a profound effect on Marian, who witnessed Kolbe's sacrifice that day.
He drew his interpretation of the events many times over, always with Kolbe's face more human than any other - perhaps because the artist viewed him more than any other as the only one able to keep his humanity in an inhuman place.
Hope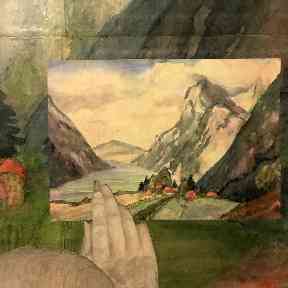 It is important to note that hardly any of Marian's works are in colour. The death, the horror, the daily struggle for survival are all captured in black and white.
One small picture stands out from them all, a piece of paper in watercolours showing mountains and blue skies.
It's the first piece of art Marian drew after he was liberated at the end of the war - the first view he saw.
He found paper and managed to make his own pigment to capture the scene. Years later he made it part of his final exhibition, though even at the end he draws his own hand clutching it, still in black and white.
While the view was a moment of hope and relief, he was unable to let go of what Auschwitz had made him - a man of black and white unable to get back the colour the death camp took from him.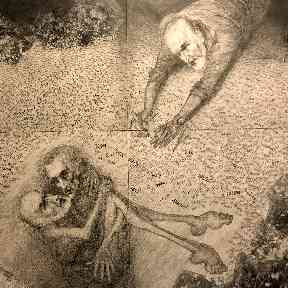 Did he believe in hope? After everything he'd witnessed? A telling place near to the end of the exhibit shows a narrow box room hung with images of all the atrocities committed throughout history, from Egyptian times through to the present day.
"His message that history teaches us that it teaches us nothing," says Father Piotr.
No matter what the horrors we witness, we continue to repeat them and never learn from the past.
There is one last sign, however, that perhaps points to a hope for humanity that Marian did hold.
Although he did not live to see it completed, Marian asked that a peaceful Japanese garden be built at the exit of his exhibition.
Today, his friends continue to gather in it each year to sit among its leaves and pebbled walkways - a small Eden after a trip through hell.
Perhaps Marian wanted to leave a symbol of hope at the end of all things, or a final message - that beauty cannot easily be found among men and the things they do, only in a greater power.
Legacy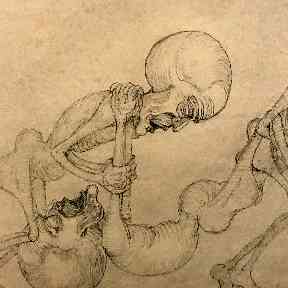 Marian's legacy is his memories, depicted in a way that gives insight into the horrors of the death camps that few living people now remember.
While the red brick and desolate grounds of Auschwitz still stand, Marian's offering is as vital to the education of the next generations on the holocaust because of the sheer raw emotion he is able to lay bare before the world.
Each drawing shows how he carried the death camp with him, inside, right until the end.
He had messages he wanted to get across after he was gone, the experience of starvation, of torture, of souls without hope - and of never being able to feel alone.
In the camps, prisoners would pay with scraps of bread when they could, just to have five minutes alone without eyes watching them.
When vistors leave Marian's exhibit, it is the eyes they say remember - the large black eyes, thousands of them, that follow you long after you've left.
While Marian expressed a wish to have people witness his memories and feel for themselves the pain, he does leave messages scrawled throughout the walls and a final letter on the last door of the basement to those who come to see it.
"Going through my Labyrinth is a homage to my colleagues who were turned to ashes - but they have stayed with me forever," he writes.
"My sketches which you have seen are tattooed on my skin like number 432. They are my deep wounds."
Marian includes a quote, and perhaps a warning, from Andre Malraux: "The dialogue of a human being with suffering is deeper than the dialogue of a man with death."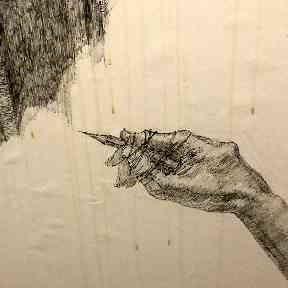 One of those who worked at the nearby Auschwitz Memorial and remembers Marian is Pawel Sawiki.
He had the opportunity to walk through the artist's exhibition with him, listening to him talk through his painful struggle with the philosophy of death.
Pawel recalls him wondering aloud - would it be better to be one of the prisoners who got sent to the gas chambers to die within the first 30 minutes of being at Auschwitz?
Or to be the one who survived but spent the next 50 years of his life dying inside every day?
"Please, help me to answer it myself," Marian scribbles in an open plea to visitors at the exit, on the exhibition door.
"What you have agreed to see happened not only in Auschwitz..."
Download: The STV News app is Scotland's favourite and is available for iPhone from the App store and for Android from Google Play. Download it today and continue to enjoy STV News wherever you are.