Death camp: Auschwitz stands as warning to future generations
Museum staff are marking 70 years of guarding the site of one of humankind's greatest atrocities.
There are tiny birds balancing on the barbed wire fences of Auschwitz-Birkenau.
It has been said often and by many that they do not sing over such a place.
How can there be song, people ask, at a site where so many voices were taken?
Near them is a path that passes through gates of barbed wire.
On one side are birch trees that form a green boundary to a clearing - a large meadow carpeted in wildflowers. On the other side of the path lies a pond with a dozen red roses floating on its surface.
Both mark the final resting places of fathers and sons, of mothers with babies in their arms, who all walked with innocence into gas chambers built by men and left through furnace chimneys as clouds of grey-blue smoke into the sky.
Their remains of ash and fragments of bone, no use to their murderers, lie where they were flung at the bottom of the pond and beneath the earth.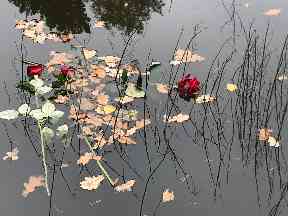 Auschwitz concentration camp is the site of the largest mass murder in a single location in human history.
It was here, in the largest of the Nazi death camps, that the German SS systematically killed at least 960,000 of the 1.1 million to 1.3 million Jews deported to the camp.
Other victims included approximately 74,000 Poles, 21,000 Roma, 15,000 Soviet prisoners of war and at least 10,000 people from other nationalities.
For 70 years, the Auschwitz-Birkenau Memorial and Museum in Oświęcim has guarded and preserved the resting place of all these victims of Nazi genocide, under its guiding philosophy: "To preserve authenticity."
A responsibility initially begun by some of the few survivors of the camp, the team work daily to keep the site intact, exactly as it was when the Nazis retreated before the arrival of the liberating Soviet Army in January 1945.
Their hope, a shared one, that what remains in wood, brick and stone will stand as a lesson and a warning to the world.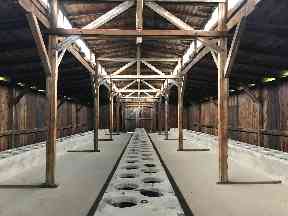 Keeping the camp "authentic" is a constantly harrowing and heartbreaking challenge.
It is autumn in Poland and the ground has been drenched in heavy rainfall.
Each year, the earth gives back signs of what was taken there; buttons from a mother's coat or a child's shoe.
If they reach the surface, washed up in the rain, it is the team of conservationists who will gently pick them up, brush off the earth and add them to the millions of items already under their guardianship.
They must also find ways to maintain buildings of crumbling brick where the inmates were kept, built to last barely ten years let alone seven decades.
The preservation lab, with high-end technology, opened in 2003.
In it at the moment are canisters that held the poison pellets for the gas chambers, a metal stretcher used to carry corpses into the furnace and even sheet music, Tchaikovsky, which had been played by the death camp's orchestra.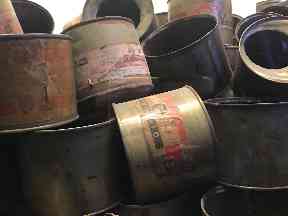 The lab team must look after clothing that once belonged to families, along with 2,000kg of human hair - shaved from the heads of female victims and woven into cloth to be sold.
The Auschwitz museum holds more than 100,000 shoes, 12,000 kitchen utensils, 3800 suitcases and 350 striped camp garments.
There are 470 prostheses and orthopedic braces, more than 88lb of spectacles and hundreds of empty canisters of Zyklon B poison and shower heads for the gas chambers alongside hundreds of hairbrushes, toothbrushes and prayer shawls.
It is the tiny baby clothes, a little blue dress or a hand-sewn bonnet, that seem more fragile than most.
"The most fragile thing I ever held in my hands was a rosary made from bread," says Paweł Sawicki, part of the team at the Auschwitz Museum and Memorial.
Its beads were made from the meagre rations the people imprisoned there were forced to survive on. For a man to give up even a crumb of bread was a major sacrifice.
Whoever made this rosary did so believing there was something worth more than starvation and death to him.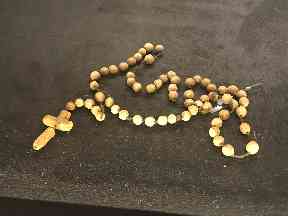 Some view the objects found at Auschwitz as items of history, others as evidence of one of the most horrific crimes to be committed.
The rest of the items are left buried in the earth. Unlike other places, this is not an archaeological site used for digging up artefacts from the past.
"This is a graveyard and we protect it as such," says Paweł. "Nothing we could dig up in this earth now would change what we already know happened here."
There are times, though, when the conservators' tasks can become too much to bear.
"Working with shoes probably is one of the most difficult parts of working here," conservator Banas-Maciaszczyk told a New York Times reporter back in 2009.
"Everyone here has emotional moments."
For her, it was a day when she was cleaning a little girl's wooden sandal. She could see the small footprint inside.
"This is something hard to describe," she said.
From 1940 to 1945, between 150,000 and 200,000 children died in Auschwitz.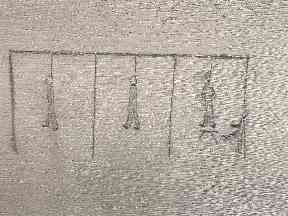 "We try to show the mechanism of evil which happened here," says Auschwitz museum director Dr Piotr Cywiński.
No one who went into the gas chambers came out alive.
The biggest voice of all, of those who fell victim to the extermination, cannot speak.
It is the job of the researchers and scientists who gathered evidence of the crime to speak for them.
A tall man with a Viking beard, black beret and Harley Davidson jumper, Dr Cywiński has led the team forwards.
Not just in safeguarding a constant stream of funding for the future, which they have now established through international donations and investment, but in the great many ethical issues Auschwitz throws at them.
Almost as if the site were aware of how blackened, or near to non-existent ethics were in the camp's past, the team are faced with regular ethical debates now.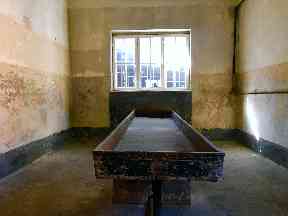 A recent conversation was over whether or not the mounds of human hair, shaved from the victims, should be buried, cremated or left on show as part of the exhibition.
After intense debate with other survivors and families, the call has been that it is too complicated to make one - in the meantime, the hair will be left in state, not preserved but left to the fate of time.
It was decided earlier on that no photographs or filming would be allowed of the human hair on show to the public.
That there is discussion on these ethics is perhaps almost as important as any decision itself - given that for so long ethics played no part in what happened at Auschwitz.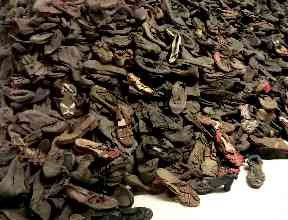 Plans for the future include a new exhibition, to replace the current one set up in the 1950s, and a new visitor centre to cope with the large amount of people who travel to see the camp.
Last year, the largest number of visitors to arrive outside of Poland were the UK and Ireland - more than 270,000 - followed by 215,000 from the US.
From all the countries combined, including Poland itself, more than two million people visited the site last year.
For Dr Cywiński, there are several humanitarian questions the museum and memorial can raise in the minds of visitors, partly by using the power of empathy as a drive to educating people.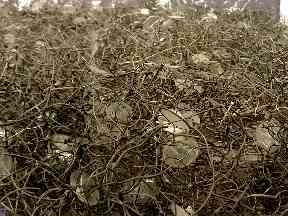 "The discussion around these issues is still emotional," he says. "We can see that at Anne Frank's house, for example, and many other places.
"In our way, to a lesser extent, we focus on the perpetrators. I'm not comparing these two worlds, of victim and perpetrator, but the anthropological problem here is not the victim.
"They were taken from their homes, brought here and murdered."
He adds: "You probably agree with me that the anthropological problem is how a structured state, a group of uniformed people, a whole group of helpers and collaborators, engaged less or more actively, in something so huge and unprecedented."
To prove his point, Dr. Cywiński brings out a photo, a black and white print of Auschwitz Nazi staff on a day's holiday away from Auschwitz.
They are up in the mountains, a row of laughing men and women, linking arms in the sunshine and smiling at the camera.
"In a minute they will get back on the bus and go back to their work," he says quietly.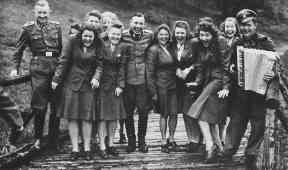 The deep, uncomfortable questions on human nature and on mankind's capability of cruelty are in essence what those at Auschwitz today want visitors to ask themselves.
As Paweł Sawicki, who takes tours around the camp grounds tells visitors: "Genocide does not begin with killing. It begins with words."
"You don't need sophisticated architecture to kill people," he says. "You just need the idea, too."
Two cottages in Birkenau, the first gas chambers created in the second part of the camp, the first gas chamber was in Auschwitz I, were used to kill a quarter of a million people.
"In a way, we touch the darkest parts of humanity here," says Paweł.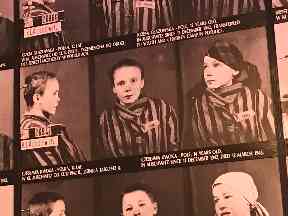 Although Dr Cywiński openly says they have not found the answers to these questions, he does state today's world needs to find a way to renew the question of humanity in the context of perpetrators.
"This is the same problem we have observed in Rwanda and many other places," he says.
"This is something we can see in Burma today. When a Prime Minister and Nobel Prize Winner looks at this and says she cannot do anything...
"This is upsetting in general, and when you work in a place like this it's unbearable."
He adds though, that the team try to keep politics as far away from Auschwitz as possible.
For them, their duty is to preserve the past as a warning to the future.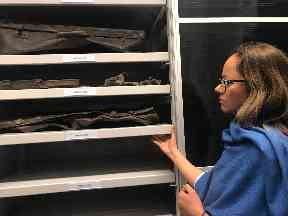 Every year, as more survivors die, the work of the Auschwitz team becomes more important.
Within the next few years, there will be only the objects they care for to speak of the horror and cruelty of the death camp.
As Roman Kent, a former inmate of the camp said in a speech marking the 70th Anniversary of the Liberation of Auschwitz: "We survivors cannot, dare not, to forget the millions who were murdered.
"For if we were to forget, the conscience of mankind would be buried alongside the victims."
He warned though, that remembering is not enough.
"Deeds as well as thoughts are crucial," he said.
"It is our mutual obligation, as survivors, and that of national leaders, to install in current and future generations the understanding of what happens when virulent prejudice and hatred are allowed to flourish.
"We must all teach our children tolerance and understanding, both at home and in school... We all must make clear that hate is never right and love is never wrong."
Download: The STV News app is Scotland's favourite and is available for iPhone from the App store and for Android from Google Play. Download it today and continue to enjoy STV News wherever you are.