Common Wheel: Charity project helping to repair bikes and minds
The Glasgow workshop gives people with mental health problems a chance to rebuild their lives.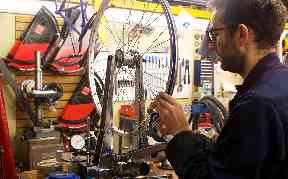 Arriving to the tune of spinning bicycle spokes, Chris parks his bike outside Common Wheel's workshop, preparing for a busy day ahead.
As the kettle boils, the workshop comes to life as volunteers arrive for the day.
There are punctured tyres to attend to, handlebars to rewrap with pink tape and washers to be tightened.
Lined up in rows are bicycles ready to be worked on, paper notes attached to each one with a diagnosis.
Common Wheel is well known for its unusual contraptions, with high seats and wild wheels made in its Maryhill workshop.
Usually Glaswegians spot the curious cycles around the city, a Common Wheel sticker a telltale sign of its origin.
Yet Common Wheel exists for a more altruistic purpose.
It is a mental health charity that supports some 600 clients each year in Glasgow through occupational therapy courses from bike workshops to music and a new carnival art course.
Common Wheel began 20 years ago when GP Colin Guthrie, psychiatrist Alistair Wilson and bike enthusiast Neil McDonald discussed the idea of tinkering with bikes as a form of therapy.
"Alastair had the idea that we should have a mental health bicycle workshop as he had been at at another shop working on his bike and he found it very therapeutic and wondered if it would work for his patients," Neil explains.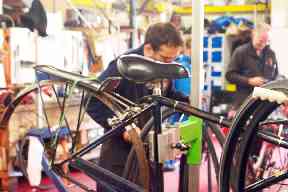 Securing its first bicycle workshop in Maryhill in 1999, Common Wheel expanded into a second site in Bridgeton before beginning music workshops for dementia sufferers and those with mental health issues in 2004.
Neil, a self-taught bicycle enthusiast, runs the charity's Build Your Own Bicycle programme, which introduces referred clients into a world of brakes, handlebars and pedals.
Given an old bicycle, each client learns to take it apart and through Neil's teaching build it back up from scratch using new or secondhand parts to create their very own bicycle which they can keep.
Clients are referred through mental health professionals and are often looking for a sense of structure in their lives or something to encourage them to leave their home and learn new skills.
The ten-week course may not be a job of sorts but clients are encouraged to see the course as work, showing up on time, listening to instructions and learning to work alongside others.
"Some people who have been unemployed for some time, a lot of these people haven't had to be anywhere or expected to be anywhere and so this mild expectation to be on time gives people that little push to start thinking about getting this regular routine in their life," explains Emma Razi, project manager for Common Wheel.
"Having said all that, this is a mental health charity and we're massively supportive.
"So if someone comes in one day and is like 'I can't do this today I'm having a really bad week' then that's absolutely fine, you go off home and we'll see you next week."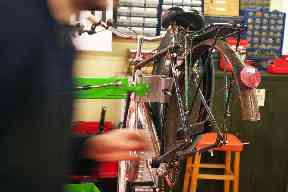 Last year, Common Wheel welcomed 105 clients into its bike workshops, with around 12 to 15 clients staying on to volunteer, refurbishing donated bikes for sale and working on repairs for the general public.
Three clients moved into employment, two went into further education and six went on to volunteer with other organisations.
Emma explains the long-term goal for the project is less about getting people into work or volunteering and more about building social skills for its clients to take out into the world.
Seeing an improvement in clients' confidence, communication, motivation, teamwork and decision-making skills is what makes a course successful, she says.
"Essentially we're giving people, many of which are long-term unemployed with mental health problems across the city, a reason to get out of bed to leave their home and to give them something to do in the day which is a real well thought out activity with real outcomes," Emma adds.
"Socialisation, skills and those things all combined together result in an overall improvement in mental well-being."
Neil adds: "If you get somebody at the right time, you can change their life."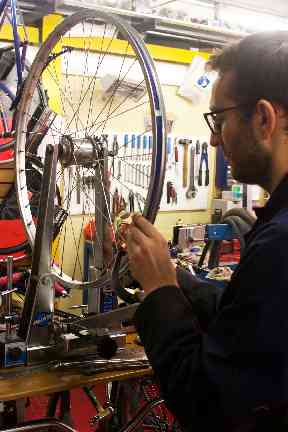 For Chris, volunteering with Common Wheel has indeed changed his life. After struggling for two years with depression, the Build Your Own Bicycle course helped to establish routine in his life.
Neil noticed the 36-year-old, who was used to repairing his own bike, had an aptitude for working with bicycles and asked him to stay on as a volunteer.
He works in the Maryhill workshop two to three days a week and says he feels "a lot better for it".
"I really liked coming in just for the structure and the routine of it and so it's just one of those things that help you get out of the flat," he explains.
"At the time I was really struggling with any sort of normality and being engaged with other people and so [the course] helped me on the road to that and it helped me be somewhere other than the flat and be engaged in life.
"It's nice to be thought of as you have a skill and it helps to have that reinforcement and feeling more normal again."
Common Wheel's bike workshops are run like any other, with warm welcomes, tea breaks and a healthy dose of chatter as they work away - whether it's football scores or the weather.
"We don't tend to talk about mental health that much, because therein lies things that can make people worse," Neil explains.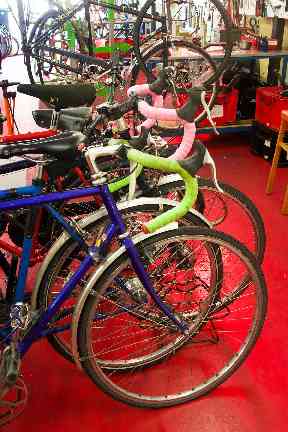 While volunteers and clients tend to work independently, they are working on the same job at the same time which helps to reinforce the idea of structure.
"Because there is a tea break and a hello and a goodbye, they get to know each other and to do things to change a material thing in the world," says Neil.
As a customer pushes a bike into the workshop, quipping there is nowhere else she would trust with her two wheels, Common Wheel's volunteers spring into action.
The workshop full of chatter, Chris works away on a wheel whose slackened spokes need tightening. He takes care, easing the washers with oil to ensure the customer can ride away with confidence.
Neil concludes: "Were not particularly cheap or particularly fast but we are good. One thing is you develop a habit of perfection."
Download: The STV News app is Scotland's favourite and is available for iPhone from the App store and for Android from Google Play. Download it today and continue to enjoy STV News wherever you are.