Healthy homes: Children's diets transformed in the kitchen
STV visited two households in Amsterdam and Ayrshire for a childhood obesity series.
Asma el Morabit is extolling the virtues of broccoli as she mashes it with potatoes.
She is one of the network of healthy cooking ambassadors in Amsterdam, who host classes and promote better food choices with children in their communities.
It is part of the wide-ranging drive to reduce childhood obesity in the Dutch capital, launched in 2012, which takes responsibility for the issue from households and schools to doctors' surgeries and beyond.
"We are having a broccoli revolution in Amsterdam Oost," she says.
"Every six months we pick a different ingredient to build around with the other mothers. It is great."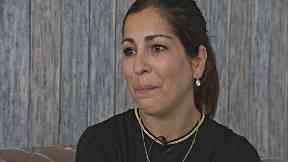 Asma is putting the finishing touches to tonight's dinner for her children - seven-year-old Badredinne and daughter six-year-old Samya - by making the side dish to accompany the lean chicken sausages and salad she has already prepared.
She says: "I have kids, they are my number one. For them to grow up healthy is important to me.
"My children have seen that what they are doing is very good.
"So when they ask me, 'Mama, can we get candy?' or 'Mama, can we get this?' I am telling them 'No'. Then they are quiet, because they are understanding."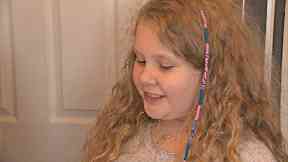 For this series, we also filmed Pamela Lindsay and her daughter Amelia in their South Ayrshire home.
The nine-year-old was signed up to the Jump Start programme in March this year.
Similar to the Amsterdam model, the project aims to tackle rising obesity rates among five to 15 year olds in the area by promoting healthy eating and physical exercise.
Pamela says: "It's upsetting for a mum when your daughter's upset about how she feels, how she looks, so you just want to do your very best for her."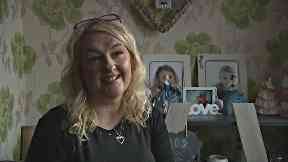 She says health issues within her family mean that cooking from fresh is very important.
"Diabetes runs in my family and her dad's family so that's a big issue," Pamela says.
"There are so many hidden sugars in the jars of sauces you can buy, it can be quite frightening."
Amelia is joined by her best friend, ten-year-old Tegan Parks, in helping her mother prepare lentil soup for tonight's dinner before the youngsters attend their drama class together.
As they scrape and grate carrots, Pamela watches on in the busy kitchen.
She says: "With Jump Start they try to inform the parents about healthier cooking. Like not using jars, doing your sauces from scratch, not cooking with too much salt.
"I cook all my sauces from scratch now. And I do buy more fresh fruit and veg. I try to make sure Amelia has plenty of fresh fruit and veg in her dinners, as well as some fruit for school and different things like that.
"But it's hard, because they're kids - they don't always want to eat the healthy things."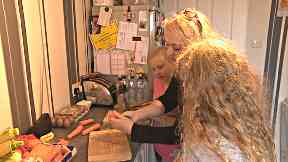 As STV News has reported this week, the strategy Amsterdam has deployed in tackling its "wicked problem" of childhood obesity is informing thinking among experts in Scotland.
The Scottish rate has stayed at a similar level for almost 20 years, with the latest figures showing around a third of children are at risk of being overweight or obese.
Against this backdrop, the Scottish Government is due to consult on a new strategy on the problem, with calls for it to be bold and ambitious in tackling the issue.
Among the options on the table are lowering portion sizes, restricting multi-buy promotions of unhealthy products and curbing junk food advertising - specifically those that target children.
Pamela says marketing can have an impact.
"Temptation is always there. You know you do, you pick up unhealthier foods but I try to limit that to a weekend thing.
"Amelia is more conscious of her weight. I think that's something that age group seems to be right now, especially little girls.
"So she stops and says 'no, that's not healthy for you,' or 'I don't want cake,' or 'I don't want that'. But, you've sometimes got to say 'look, let's not bother, let's just have it. It's a special occasion'."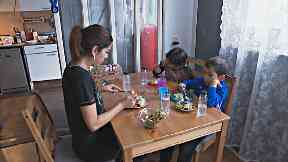 In Amsterdam, Asma tells of how changing her children's eating habits was a challenge at first but is now part of the norm for them.
She says: "I have seen a difference. Before I gave them lots of sugar - candy, chocolate, cookies, chips. They were very hyper. When I cut it all, I have seen the difference.
"Now, they are far more relaxed."
Asma adds: "Healthy food isn't very expensive. Sometimes it is cheaper in fact.
"When we started it was a little bit difficult but the kids love to come to my cooking lessons. They share what they learn with their parents."
At her Saturday classes, Asma teaches children between the ages of six and 12 straightforward recipes, including healthy versions of some high-calorie classics such as pizza, with a broccoli base replacing the traditional dough, or making entire cakes out of pineapples and other fruit.
Before she sits down with her children for their homemade meal, she says: "I always explain to the kids why this food is good and why candy and sugar is not good.
"The kids are listening to me and that's why I love to work with them. They are small, they are little, but they want to learn, they want to see.
"And helping them do that - that's my goal."
Download: The STV News app is Scotland's favourite and is available for iPhone from the App store and for Android from Google Play. Download it today and continue to enjoy STV News wherever you are.