Magical tale: Bedtime stories inspire illustrator's new book
Johanna Basford has taken her colouring books in a new direction after five best-selling novels.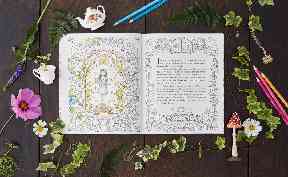 Tucking her daughter into bed, Johanna Basford would begin to paint a picture of a little girl named Ivy who stumbled upon the magical world of Enchantia.
Giant bumblebees fitted with saddles just big enough for the heroine would sweep her off her feet past walls of sweet peas, the curious character meeting elves who lived in toadstools and a mouse who would become her companion.
Stories that began in the 34-year-old's imagination would be turned into little paper books the next day, her daughter Evie colouring pictures of Ivy and her adventures until she asked her mother to turn the enchanting story into a book.
Despite selling 22 million copies of her colouring books, the Aberdeenshire illustrator was nervous about making the switch from drawing the depths of the ocean and tropical jungles to writing a new manuscript of her daughter's favourite tales.
"This book was pretty much written on scraps of paper on receipts that I found in my wallet," Johanna says.
"Every time Evie would fall asleep in the car or in the buggy, I would perch of the side of a wall and scribble down the next little bit and it came together in little fragments like that."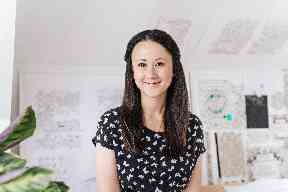 Johanna's five bestselling colouring books have been such a success that it would have been easy to make more, she says, with a book about flowers the next step.
She says she is "selfish" when it comes to her own creativity, however, and the idea of a novel intertwined with her popular illustrations for readers to colour was too interesting a concept to dismiss.
"It was quite an easy decision to make, the colouring books were doing really well and obviously there's that huge category now with people all over the world colouring and putting down their digital devices, that I just wanted to do something a little bit different, a little bit new," she says.
"Being a creative person, you never really want to do the same thing over and over again.
"So I guess the same way I was excited about making a new book, the colouring community would be excited about colouring in a new format as well."
Usually when researching a new book, Johanna would scour nature books and intricate photographs to help recreate blooming flowers, curling leaves and shoals of fish.
A visit to Buckingham Palace to receive her OBE as part of the Queen's Birthday Honours offered a surprising new source of inspiration.
Pregnant with her second daughter Mia, she began to study the ceilings and furnishings in the palace and, unable to take her phone into the room, stared at each piece - determined to remember it when she returned to her studio that evening.
"I remember sitting in those big huge beautiful rooms and looking at all the ornate finishings and the beautiful wallpaper while I think everyone was staring at Prince William and I was the only one gawping at the ceiling thinking that's a really nice gold pattern, I'll need to remember that," she laughs.
Aside from gathering inspiration, meeting the Duke of Cambridge was a highlight for Johanna, especially when he mentioned his wife enjoyed her colouring books.
"It was very nice, he mentioned that Kate likes to colour and she has one of my books and it was a very surreal conversation but he was so lovely and it was such a wonderful day, a really exciting day," she says.
When she arrived home in Aberdeenshire, her daughter managed to run off her energy before bedtime with her mother's OBE and the MBE of her father James Watt, co-founder of BrewDog's, pinned to her jumper.
The toddler, however, was a little disappointed her mother had not met her favourite royals.
"She was asking why I hadn't met Elsa and Anna, the princesses from Frozen, Johanna says.
"She was kind of excited but a little disappointed at my lack of Disney princess spotting - that's two year olds for you."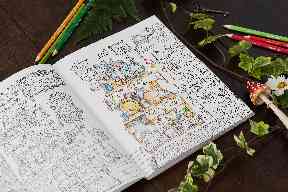 While the palace's ornate patterns influenced some of Johanna's new work, her signature double-page spreads, intricate drawings and whimsical style have remained in her illustrations as well as the story of Ivy, who stumbles upon a secret passageway into the world of Enchantia nestled between borders of sweet peas and towering toadstools.
At first glance, Ivy and the Inky Butterfly appears to be a story for children, the fantastical land created for Johanna's daughter something that would not appeal to her adult audience, many of whom have taken to colouring as a step to switch off and relax.
Johanna believes Ivy is a story for everyone, however, and while she created and coloured little booklets with her daughter about the tale over a year ago, she says adults can colour it for themselves or create a personalised heirloom for their children or grandchildren.
"The story is one that I would hope would just be timelessly charming and really appeal to children who want to hear a bedtime story," she says.
"My favourite stories are Chronicles of Narnia and Alice in Wonderland and it's that sense of a story that is timeless and charming and whimsical that you can dip in and out of no matter what age you are."
Following the much anticipated release of Ivy and the Inky Butterfly in October, Johanna says she was worried about the reaction from fans as the book is her most personal yet.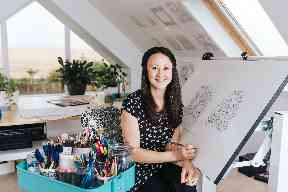 "It started as a bit of an idea, a seed of an idea that began with my oldest daughter and I worked on it while I was pregnant then I took a week off to have a baby then came back," Johanna says.
"My youngest one Mia was sleeping under my desk when I finished it so I think in the back in my mind this is the book that is so closely interlinked with my family and that if it doesn't go down well it would be really difficult.
"But the colourists who have received it so far love the new direction."
Since its release, the #johannabasford hashtag on Instagram has blossomed into more than 300,000 tagged pictures as colourists and their children read the story together, coloured pencils in hand.
Johanna says: "It's always fantastic to me in those first few weeks because I've been looking at these black and white pictures for a year now and suddenly they come to life in colour and I see the way people are imagining Ivy and how they interpret all the different pictures I've been working on and for me that's the book completed.
"It's not finished, even though I submit my artwork, even though I'm holding a bound printed book, it's still not finished until I see coloured pictures, and to start seeing that is really exciting."
Download: The STV News app is Scotland's favourite and is available for iPhone from the App store and for Android from Google Play. Download it today and continue to enjoy STV News wherever you are.