Ophelia: Scots braced for latest in line of destructive storms
We are no strangers to wet and windy weather but natural disasters come rarely.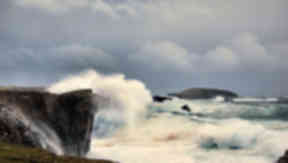 Parts of Scotland are braced for heavy rain, floods and winds of up to 80mph over the next couple of days as the remnants of Hurricane Ophelia hit our shores.
The Met Office extended an amber weather warning to the south west of Scotland on Monday, although Ireland is expected to take the brunt of the storm, with 90mph gusts forecast.
These islands are, of course, no stranger to wet and windy weather - but proper natural disasters are fortunately a little less frequent.
Nonetheless, there have been a few down the years. Here are some of the most destructive.
Flooding in wake of Storm Frank, 2015-16
The storm battered parts of the north east, Ayrshire, Dumfries and Galloway and the Highlands on December 29 and 30 in 2015.
It caused flooding that destroyed around 600 households and 100 businesses, as well as leaving 275 bridges in need of repair, with the bill running to around £12m.
Two men, a kayaker and a canoeist, lost their lives after being caught in the water during the storm.
One man's body was recovered from the River Findhorn in Moray, while the other man died after being pulled from a river near Invergarry.
East coast tidal surge, 2013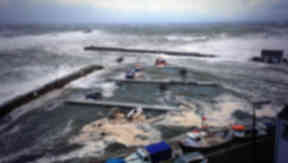 Thousands on the east coast were forced to abandon their homes in December 2013 when tides in parts of the North Sea reached their highest levels in 60 years.
At the storm's height, the entire rail network was closed in Scotland and power was cut to 130,000 properties amid gusts of up to 142mph.
Both the River Ness and Dee burst their banks during the first day, with police closing roads in both Inverness and Aberdeen.
Two people died in the storm: a lorry driver whose vehicle overturned in West Lothian and an 83-year-old man who was struck by a falling tree in Nottinghamshire.
Hurricane Bawbag, 2011
It wasn't really a hurricane, and it wasn't officially called Bawbag but it will always be Hurricane Bawbag.
Formally dubbed Friedhelm, the cyclone storm was given its new moniker by Scots on social media and quickly became a viral sensation.
A red weather warning was issued by the Met Office for the central belt on December 7 - the highest it can give - and the storm that followed brought hurricane-force winds averaging 105mph.
It caused 150,000 households and two hospitals to lose power, uprooted trees, battered bridges and coastal structures and disrupted public transport.
Glasgow floods, 2002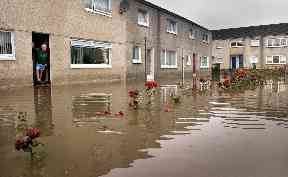 In the summer of 2002, thunderstorms sparked a series of flash floods that would submerge parts of Glasgow.
At its height, 1500 residents of 500 homes were affected by the flooding, with a month's worth of rain falling in the course of just one afternoon.
The east end was the most badly affected, with its storm drain and sewer system blamed for the area struggling to deal with the water levels.
Some streets in areas like Shettleston were flooded waist-deep, and the final bill for the damage was almost £2m.
Boxing Day storm, 1998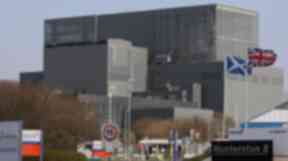 The windstorm made landfall in Ireland before striking swathes of Scotland and northern England, peaking on Boxing Day.
Dubbed Stephen by forecasters, the storm left thousands of Scottish households without power, with some supplies not restored until the new year.
Gusts exceeding 90mph were recorded and in some places reached higher than 100mph.
Most alarmingly at the time, the reactors at Hunterston B nuclear power station in North Ayrshire were shut down due to a loss of power, with the station being powered by batteries for a short period.
Burns Day storm, 1990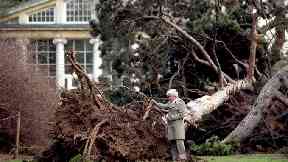 It came three years after the Great Storm of 1987 which hit England and parts of northern Europe (also known as the Michael Fish hurricane) and is lesser known but was arguably just as destructive.
The 1990 storm started in the Atlantic on January 23 before hitting Ireland and then crossing over Ayrshire on the 25th - Burns Day.
It then proceeded south where the bulk of the damage was caused, killing 47 people, uprooting three million trees and causing more than £3.3bn in damage, making it the most expensive storm in UK history.
Hurricane Low Q, 1968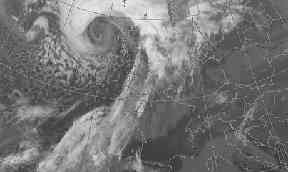 Considered Scotland's worst natural disaster, the storm brought winds of up to 140mph which battered the central belt.
It left hundreds of people in Glasgow homeless and, for a time, put the whole city in darkness. The final repair bill was in the region of £30m, with police describing the damage as worse than the Clydebank Blitz.
The storm felled 8000 hectares of forest across Scotland (1.6 million cubic metres of timber) and ultimately caused the deaths of around 50 people.
It is believed to have originated from a cold front in Bermuda.
Download: The STV News app is Scotland's favourite and is available for iPhone from the App store and for Android from Google Play. Download it today and continue to enjoy STV News wherever you are.