Firefighter's epic 3000-mile voyage in memory of his friend
Kris Elliot will attempt to row the Atlantic in tribute to watch manager John Noble.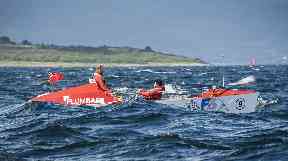 A firefighter who pledged his career to saving lives is about to undertake the world's toughest row in memory of his friend.
Kris Elliot, who is more used to braving burning buildings than gigantic waves, is just weeks away from taking on a 3000 mile epic charity challenge.
Each penny he raises is in tribute to his former friend and boss, watch manager John Noble, who lost his life in a road accident in 2008 when responding to a 999 call.
John, from Alloa, had more than 20 years' experience as a firefighter.
Described as a "real gentleman" and a dedicated family man, he left behind a wife and two children.
Nearly a decade later, the crew of Blue Watch still remember John and what he stood for.
Their boss, their friend and a devoted father who "always did his best to help" and "treated people with respect and dignity".
Which is why, in just a few weeks' time, Kris is willing to try to cross an entire ocean in his memory.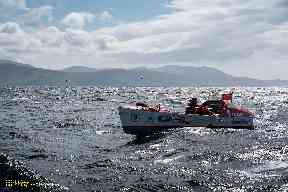 On December 12, 2017, Kris and his brother Blair will attempt the epic voyage to raise money for the Fire Fighters Charity.
The Talisker Whisky Atlantic Challenge is a 3000-mile endurance race across the Atlantic.
Braving 40ft waves and sleep deprivation, the duo will take to a 23ft rowing boat in what could be up to 100 days spent at sea.
"We contacted John's widow to ask her if we could do this," says Kris.
"We knew Johnny and we knew he'd think we're idiots for trying this but we also knew he would have supported it."
With the blessing of John's wife and his son and daughter, Team Noble was born.
John was Kris' first boss at the station when he first joined the service.
Another firefighter had signed up to row with Kris until his doctor vetoed the idea and he was forced to pull out just last month due to injury.
Instead, Kris' brother stepped up to help. Although an offshore engineer, not a firefighter, he knew how much the challenge meant to his brother and the crew.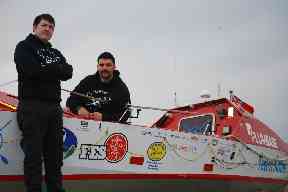 The attempt has been three years in the planning, with the brothers spending as much time as they can off Scotland's west coast and in the waters of Loch Lomond, rowing their way to stronger arms and greater resilience.
"The reality is, you can't make this situation safe," says Kris.
"It's like when we go into a fire, you can make yourself safe as much as you can but not the burning building you face."
Apart from the first and last 200 miles of their journey, the adventurers will be out of helicopter range.
Instead, they'll rely on personal locator beacons attached to their life vests should they run into trouble.
If they run into distress and an alert goes out, any vessel nearby is legally obliged to find them.
Their boat gets shipped off to La Gomera soon for the start of the event and the team are busy training, checking and preparing themselves.
This will be the first time a Scottish firefighter has rowed the Atlantic.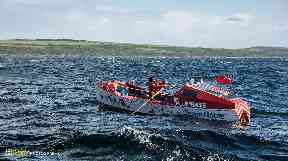 On Monday, their boat, the Pendovey Swift, will be shipped to the starting point at La Gomera in the Canary Islands.
The lads will follow it, ready and in place for the start of the race on December 12.
Kind sponsors have already gifted them food for their journey, including several weeks worth of noodles and beef jerky.
They will be rowing 12 hours a day for three months, including Christmas Day, so they've packed their Santa hats and presents from their family.
"We'll be some 700 miles off the coast of Africa that day," says Kris.
"So we'll spare an hour for presents and some Christmas tunes then get on our way."
The brothers also have a satellite phone so they can call home, a vital emotional link for both of them.
Kris' wife and young daughters are backing him all the way.
"It will be hard, especially that call home at Christmas time, but we're looking forward to the finale," says Kris.
"We've been told you can call five days ahead of the end and order your favourite food to be there waiting for you!"
The finale involves landing to the sound of a steel band at port in Antigua, with their families waiting for them and hopefully, adds Kris, a lot of money raised for charity.
At the moment, they're gathering in donations from generous members of the public in exchange for putting donators' names on their boat and rowing those names across the Atlantic.
"Firefighters can suffer not just physical injury but psychological injury, too," says Kris.
"I've been working as a firefighter for 11 years and I know the boys and girls here and how much this charity means to them.
"Not only does it help serving and retired firefighters but also their dependants and in recent years is being called on more and more."
They hope to reach their £100,000 target by the time they pull their last stroke through the water.
"I don't think my brain has had a chance to think about it fully, that in five weeks we're going to be out there," says Kris.
"But we're excited for the challenge and we're in full swing now. I'm sure John would think we're all idiots but we know he'd support us.
"This whole expedition is for John."
You can follow Team Noble and donate to the Firefighters charity here online.
Download: The STV News app is Scotland's favourite and is available for iPhone from the App store and for Android from Google Play. Download it today and continue to enjoy STV News wherever you are.