Toy story: Must-have gifts for children through the decades
Who would still like a Mr Frosty, Sock Monkey or a Tickle Me Elmo in their festive stocking?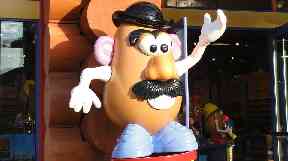 The oldest known toy in the world is believed to be a stick, according to the National Toy Hall of Fame.
Though as Edward Bleiberg, a curator of Egyptian art at the Brooklyn Museum says, Neolithic balls made from mud are probably up there, too.
Needless to say, advancements have been made over the years.
John Spilsbury invented the first jigsaw puzzle in 1767 and the rocking horse popped up around the same time, especially among the wealthy as it was thought to develop children's balance for riding real horses.
Since then, we've had marbles, Cabbage Patch Kids, GI Joe and a potato with optional facial features.
Mr Potato Head rocked the 50s. "Born" on May 1, 1952, the original toy cost $0.98 and contained hands, feet, ears, two mouths, two pairs of eyes, four noses, three hats, eyeglasses, a pipe, and eight felt pieces resembling facial hair.
The original toy did not come with a "body" so parents had to provide their own potato.
After complaints of rotting vegetables, his new plastic body arrived in 1964. He made a major comeback with the release of the Toy Story films in recent years and remains a firm favourite.
What about the other top toys to grace the bottom of Christmas Trees through the decades?
As we delve further into the festive season take a look back at the toys of old, dripping with television jingles that were cheesier than a cheddar cracker and packed with children dressed just as embarrassingly as you probably were.
Plus the immortal phrase, as relevant now as it was then: "Figures and accessories sold separately - batteries not included".
1920s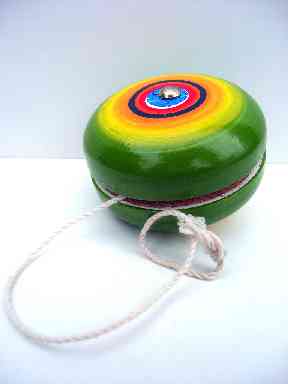 Dismal Desmond, a velvety Dalmatian hound, was designed by Richard Ellott and was one of the most successful toys of the 1920s until 1929 when Cheerful Desmond was made.
Desmond remained in production until the Second World War and was reintroduced in the 1980s and 90s.
We also had the Raggedy Ann Doll, Crayola Crayons and the first mass produced metal toy cars and planes.
The yo-yo was introduced in 1929 shortly after mini-golf and pop-up books for children being a really big deal.
The publication of the Daily Express Children's Annual Number 1 "with pictures that spring up in model form" was on every wish list.
1930s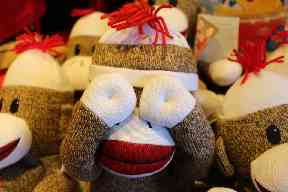 From finger paints to Buck Rogers pistols and the beloved sock monkey, the 1930s were a great time to be a child.
Monopoly was introduced to Britain in 1936 from the US, Meccano introduced its simplest ever set and we had the first ever Mickey Mouse soft toy in 1930.
Shirley Temple dolls were top of wish lists after the bouncy, curly-haired child star shot to fame singing On the Good Ship Lollipop.
1940s
In the early 40s toys were getting a bit more advanced but given events of the time, a lot of them had a war slant to them.
Military toys were in every little boy's hands but there was also space for the wonder that is Magic 8 Balls and the first packaged bubble solution.
Then came the Slinky, invented and developed by accident by naval engineer Richard T. James in 1943.
James knocked a spring he had been working on from a shelf, and watched as it "stepped" in a series of arcs to a stack of books, to a tabletop, and to the floor, where it re-coiled itself and stood upright.
He made it into a toy and it was an immediate hit, selling its entire inventory of 400 units in 90 minutes.
More than 300 million Slinkys were sold between 1945 and 2005.
1950s
Who could forget the decade that brought us Barbie and the Frisbie?
Barbie launched in March 1959 and has since sold more than a billion dolls, making it the company's largest and most profitable line.
Britain was far from wealthy at the start of the 1950s, though, and materials to make toys were still in short supply.
Model vehicles were the top sellers and the production of die-cast toys was huge business internationally.
Products such as Lesney's Matchbox series (1954) and Mettoy's Corgi cars (1956) were leading the world.
In 1957, Scalextric caused a sensation at the Harrogate Toy Fair.
Invented by Fred Francis, the first set cost £6 and demand was so great the firm could not cope with number of orders and had to sell out to Lines Bros.
There was also Muffin the Mule, the first of the great stars of children's television, making his debut in October 1946.
New toys from abroad included Scrabble and Lego, which although launched in 1955 did not make a huge impact until the 1970s when it won the Toy of the Year award three times.
1960s
The 1960s was an epic decade for toys. These were the years of Etch A Sketch, Lite-Brite and the Easy-Bake Oven.
The Etch A Sketch was introduced near the peak of the baby boom on July 12, 1960, for around £2. It went on to sell 600,000 units that year.
Initially called the Magic Screen, after a complex series of negotiations the Ohio Art Company launched the toy in the United States in time for the 1960 Christmas season with the name Etch A Sketch.
Lite-Brite was a light box with small coloured plastic pegs that fit into a panel and illuminate to create a lit picture.
Over the years, it was offered in different forms including a flat-screen version, a 3D cube and an FX edition that spins and plays music.
With current technology, Lite-Brite is now offered as an iPad app.
1970s
This decade rocked the Rubik's Cube, Baby Alive and Nerf Balls.
Invented in 1974 by Hungarian sculptor Ernő Rubik, the original device was called the Magic Cube. As of January 2009, 350 million cubes had been sold worldwide making it the world's top-selling puzzle game.
Baby Alive was massive, a baby doll brand made by Hasbro that was able to eat, drink and wet itself.
The first Baby Alive doll was introduced by Kenner in 1973.
It could be fed food packets mixed with water and came with a bottle, nappies and feeding spoon.
The spoon would be inserted into its mouth and a lever on its back pushed to have it chew the food. The food would move through her and end up in her nappy.
This version did not speak so you had to check the nappy a few moments after feeding. It also produced droppings and threw up regularly.
Adults might consider that an unwelcome nightmare but children loved it.
Nerf Balls were another hit. According to most enthusiasts and the general public, Nerf stands for "non-expanding recreational foam".
In 1970, the Nerf ball was introduced as the "world's first official indoor ball", a foamy spongy ball of wonder that did not stop children trying to whack each other with it as hard as they could.
1980s
Remember the glorious bright decade that was the 1980s? That time when children were clad in jelly shoes and scratch 'n sniff T-shirts. You didn't have the internet, not even a dial-up modem.
The beep, blip, *static* whirrrrrr that sounded like you were trying to contact an alien planet wouldn't arrive in the average UK home until 1992.
Everything in the 1980s seemed a lot bigger. Hair was permed, pop music had synthesizers and shoulder pads stuck out a mile.
And then there were the toys.
Remember My Little Pony, Cabbage Patch dolls and Transformers? Then there were Pound Puppies, those cute little velvet rabbits from Sylvanian Families and that wonderful game called Connect Four.
The original Star Wars figurines were huge, as were GI Joe, Fisher Price Roller Skates and the Tonka Truck.
The cool kids got a Game Boy - Tetris was the ultimate in handheld gaming - and those children who had parents who preferred something a bit more educational ended up with a Speak and Spell.
The introduction of Cabbage Patch dolls nearly caused a global riot but Mr Frosty saved the day as did a healthy doze of Hungry Hippos, which became the all-time family favourite.
1990s
By the 1990s, new technology meant even more fun in the toy realm. This was the decade of flashing lights, sound-effects and ever more interactive toys.
The Furby made its debut in 1998, a furry hamster owl-like creature that sold a whopping 40 million units during the first three years of its original production.
A newly purchased Furby starts out speaking entirely Furbish, the unique language all Furbies use but is programmed to start using English words and phrases over time.
Its speaking capabilities were translated into 24 languages.
Beanie Babies arrived in the early 1990s and became a huge deal.
Nine original Beanie Babies were launched in 1993: Legs the Frog, Squealer the Pig, Spot the Dog, Flash the Orca, Splash the Whale, Chocolate the Moose, Patti the Platypus, Brownie the Bear (later renamed Cubbie) and Pinchers the Lobster.
Other great toys from this time included Buzz Lightyear from hit film Toy Story, Tamagotchi the weird little virtual egg pets, Teenage Mutant Ninja Turtles action figures and Tickle Me Elmo.
2000s
If you grew up mostly after Y2K, then the top toys of your childhood would most likely have been Bratz dolls, a Razor scooter or any number of games by Nintendo or Sony.
When the Razor scooter hit major retail outlets in 2000, more than five million were sold in their debut year.
Distinguished by their oversized heads and pin-thin bodies, Bratz Dolls were the most popular plastic figurines to land on toy shelves since Barbie.
Although initial sales were poor, Chloe, Jade, Sasha, and Yasmin eventually took on and by 2005, MGA had sold 125 million Bratz worldwide totalling $2bn in sales.
Some toys made a comeback, like Hasbro's Beyblade which was a modern twist on the classic spinning top.
The plastic toys, which were released in conjunction with an anime television series, feature several interchangeable parts and characters with names like Drago, Storm Pegasus and Dark Wolf.
They enabled children to test their strategy and design combinations in battles.
According to Beth Snyder Bulik at Advertising Age, more than 150 million Beyblades were sold during the first couple years on the market.
Some 44.6 million Xbox 360s have been sold since the consoles launched in 2005,. It was closely followed by Nintendo's Wii in 2006.
Perhaps one of the more unpredictable trends was the furry toy hamsters released in 2009. Battery-operated Zhu Zhu pets created such hysteria, some eBay enthusiasts were willing to pay a small fortune for them.
Creator Russ Hornsby designed Zhu Zhus to mimic the behavior of their real-life counterpart. Nine different characters with names like Squeak, Mr. Squiggles, and Num Nums, made affectionate noises when cuddled.
2010s
By 2010, another unusual toy was in hot demand - a tiny, squishy animal in a plastic bubble called a Squinkie that was huge in Japan.
Tiny, adorable Squinkies live in the land of Squinkieville, where apparently there are always fun adventures to be had.
For the older children (aka adults) the launch of the iPad that year was huge - but it also was a massively popular gift for children during the Christmas season - so much so that it sold more than 300,000 units on the first day of its release.
The following year, a tablet for children called LeapPad Explorer took off, followed by the Wii U in 2012.
This video-game console was another holiday-season home run for Nintendo. It sold like hotcakes and customers reportedly waited in line for hours to get one.
There was a big nostalgic return for our furry friend from Sesame Street the following year, when Big Hugs Elmo arrived on the scene.
More of a hugger than a tickler, he was very nearly just as successful as his predecessor.
The smash "Let it go" hit that was Frozen smashed into 2014 with an Elsa Doll that was crowned the new queen of dolls marketed to girls, followed by cute little robot BB-8 the following year.
The remote-controlled droid, based on a character from Star Wars: The Force Awakens was predicted to be the best-selling toy of the 2015 season. Upon its release, the initial supply sold out in one day.
The one that really got everyone in a Christmas queue crisis was Hatchimals in December 2016.
This interactive toy starts as an egg and needs your child's love in order to hatch.
After enough care and attention, the egg will be ready to hatch into a furry creature that can be raised from baby to toddler to kid.
The toy can learn to repeat what you say, to walk, dance and play games.
What it couldn't do was keep up with demand. An unforeseen success for its makers, the little Furby egg creatures sold out like hot cakes.
2017
So what has made it on to all the Christmas wish lists for kids this year?
Hatchimals are back on the list - the top craze from last year which involved plastic eggs that "hatched" furry animal robots.
There are also a few flashbacks to the successful toys of decades past, with an all new version of a Nerf gun, a Star Wars lightsaber and the original Stretch Armstrong.
Smart robot monkeys that live on your fingers and blow kisses are flying off the shelves - they're called Fingerlings.
As is a toy tiger who is apparently best friends with a chicken. Furreal Roarin Tyler is proving popular.
Check out our full list here.
Download: The STV News app is Scotland's favourite and is available for iPhone from the App store and for Android from Google Play. Download it today and continue to enjoy STV News wherever you are.