Spooky Scotland: Six haunting tales to chill you to the bone
From a haunted tap to ghostly figures in a morgue, we delve into some truly cold cases.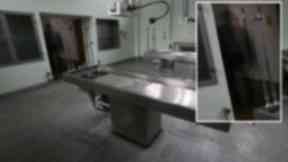 It was a pretty average day on the STV Features desk when the email alert came through.
It was late April in 2015 and paranormal researcher Ryan O'Neill was holding an investigation at the century-old Pearce Institute in Govan, Glasgow.
"There have been reports of a haunted tap," he wrote.
"Who is allegedly haunting it, I don't know, but it's not just the one spirit, it seems to be a mix."
The ears on the desk pricked up. We get a lot of these reports - far more than you might expect. Usually they're about a haunted castle, UFO sightings or a talking dog.
A haunted tap, though, that was a little different. Who, or what, would want to haunt a tap?
Cynical as we were, we decided to delve a little deeper - as we've done with a few other strange happenings.
More than 90% of the time we smile, nod sympathetically and move on but here is a selection of the rare few that intrigued even our hardened cynical minds.
For other dark tourism sites you can also check out the new Visit Scotland e-book Scottish Ghosts, Myths & Legends, an online guide to the country's tales of the unexpected and unexplained.
Happy Halloween.
Glasgow's haunted tap
Back to the tap that mysteriously switches on by itself.
Originally built in Glasgow in 1906, The Pearce Institute, affectionately known as the PI, has been at the heart of the Govan community for more than a century.
Intended as a local social centre for the surrounding community, it offered Govanites reading rooms, a library, a gymnasium, cooking and laundry departments.
The organ, stage and gallery in its McLeod Hall also made it a popular venue for dance and social gatherings.
What the locals hadn't expected was that the social events might continue long after everyone was gone.
There have been a number of ghostly sightings including the tap that turns itself on when no one is there.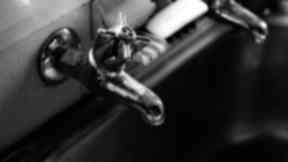 The apparition of a ghostly woman has allegedly been witnessed walking across a foyer, a decommissioned organ has been overheard playing tunes without a player and the presence of a man has been reported in the main hall on a number of occasions too, though staff at the institute confirm they have yet to see any firm ghostly evidence.
"I've not seen anything myself but people ask us about it all the time - I usually think it's a door slamming in the wind or something," the building's caretaker Michael Rice told us when we tracked him down.
"I think I'd rather not know though if you know what I mean?
"It's alright for the ghost hunters because they leave when they're done but I'm the one who has to stay behind and lock up every night - I'd much rather not know if something was lurking about!"
Albert the musical ghost
When we heard about a rather genteel, classical music loving ghost in Edinburgh we had to check that out, too.
The stagehands at the Edinburgh Playhouse speak almost reverentially about Albert, who allegedly often politely taps them on the shoulder and is prone to sudden bursts of orchestral movements on empty stages.
They think he might have been the old caretaker who worked there, died and never left.
"Years ago we used to sleep here after hours if we had a late show and an early morning shift the next day," stagehand Mark Smeeks told us.
"I was staying over by myself and I woke up thinking that I'd heard something. I could hear a noise over the Tannoy. So I walked down the stairs into what we call our catering and wardrobe area, following the noise."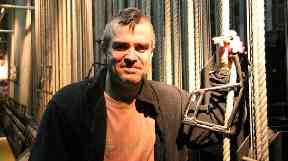 "I got down there, and my neck hairs just went again, I was freaking myself out because I thought someone might have broken into the building," he said.
"There's a wee sliding door you have to walk through and as I stepped through I felt a cold wet finger tap me in the shoulder.
"It was so strange, because I felt it right through my thick sweatshirt. I turned around quickly but no one was there. That's probably the one that freaked me out the most, because I physically felt something."
None of them say it is a bad ghost though. In fact, they even renamed the bar there Albert's Bar after him for the theatre's 75th anniversary.
Perhaps Albert is happy indeed to remain the friendly ghostly patron of the theatre that has taken him to heart.
Ghostly figure in the morgue
This one kind of stumped us, though we're edging on believing it must have been a trick of the light.
In August 2016, the STV ran a story on the last look inside the eerie halls of Victoria Infirmary in Glasgow.
The building closed down the year before when services migrated to the new Queen Elizabeth University Hospital.
Most of the contents in the building had been removed but there were still overhead lights in operating theatres, call buttons for nurses and even steel tables left in the morgue.
There was also this guy: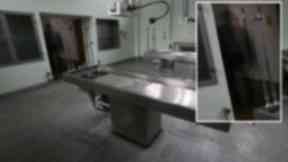 Not that we noticed him at the time that is - it wasn't until after we published the story that eagle-eyed readers spotted the ghostly figure standing in the doorway of the abandoned morgue.
We thought maybe a light reflection? Or perhaps a trick of the camera with a long exposure setting?
Or perhaps it really was someone who had chosen to remain behind after every one else had gone...
The Necropolis vampire
This is an old 'un but a good 'un. The much told tale of 1954 when hundreds of primary schoolchildren in Glasgow swamped the city's Southern Necropolis cemetery, searching out a "Vampire with iron teeth" which they blamed for killing and eating two young boys.
According to police reports from the time, they genuinely believed there was a monster and fully armed themselves for the hunt with stakes, knives and dogs.
What began as a rumour in the school yard led to 200 hysterical youngsters traipsing through the Victorian graveyard at night like a scene from Buffy the Vampire Slayer.
Rumours circulated of the 7ft "Gorbals Vampire".
Tam Smith, one of the boys present on the day, September 23, 1954, recounted to the BBC: "The red light and the smoke would flare up and make all the gravestones leap.
"You could see figures walking about at the back all lined in red light."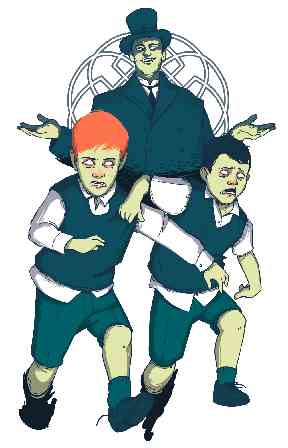 Police constable Alex Deeprose was called to respond to reports the cemetery was overflowing with children.
Although he tried his best to disperse them, they only all went home when it started to rain.
It made the news - and then the world news.
So what started the hysteria? There was an American comic book at that time entitled The Vampire with the Iron Teeth and there was also a local tale of Jenny wi' the Iron Teeth, an old woman said to haunt Glasgow Green in the early 19th century.
Or there really was a vampire and all the children were right.
One boy present that day, vampire hunter Ronnie Sanderson said: "I was there. I was in the graveyard when I was eight years old. I've been telling my wife about the vampire for years and she's never believed me."
Ghostly sound of children laughing
There is an old property along the Royal Mile of Edinburgh that few people can spot but where some have heard the ghostly sound of children's footsteps running on wooden floors.
The Ragged School, a grim location next to Camera Obscura Outlook Tower on Ramsay Lane, was established in the 1800s for 50 of the city's poorest and most deprived children.
It has been derelict for years, the top two floors were not occupied for more than century, but when a paranormal team ventured inside in 2007 they found it "quite eerie".
There have been other reports of the sound of children running around and an air of sickness when inside it.
In early 19th century Scotland, many children caught up in crime, no matter how petty, were languishing in prison. Others were flogged or hanged without mercy.
Writing in 1845, the governor of the Edinburgh jail, Mr Smith, stated in a letter that 740 children under 14 (245 of whom were under ten) had been committed to prison in the previous three years.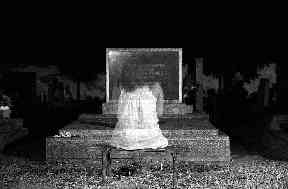 Ragged schools were a solution, charity schools that provided free education, food, clothing, and sometimes lodgings for destitute children.
The movement began with disabled shoemaker John Pounds from Portsmouth but it was Edinburgh philanthropist Thomas Guthrie (1803-1873) who furthered the development of these schools throughout Scotland.
Whether or not any of the ghostly children remain, however, is uncertain.
Though, as Andrew Johnson, manager of the Camera Obscura which owns the adjacent school told The Scotsman in 2007: "We've heard giggling children on our third floor, too. And on the back stair, footsteps have been heard."
'Possessed' doll Annabelle
Here's a recent one to make you run and hide your child's toys.
A woman in Glasgow, Natalie Mellon, told the Daily Record in August that she believes her antique doll, which she says is about 100 years old, is at the centre of spooky goings-on including doors opening on their own and objects moving.
Natalie, 33, inherited the toy after a friend of her father-in-law found it in an attic.
She has since nicknamed it Annabelle after the horror movie in which a seemingly innocent doll has a life of its own.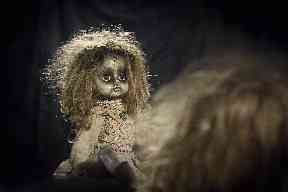 Ever since she's had Annabelle in the house, Natalie, says her pet dogs cower in the corner whenever the doll is in the room.
Kitchen cupboards open by themselves when the doll is around and a friend who stayed with her heard strange noises, then woke to find the doll outside her room.
Recently, Annabelle appeared to have made a kitchen cupboard door open and a knife slide off a shelf.
Annabelle has since been locked away in the shed.
Spotted anything creepy in your part of Scotland? Please get in touch and tell us all about it.
Download: The STV News app is Scotland's favourite and is available for iPhone from the App store and for Android from Google Play. Download it today and continue to enjoy STV News wherever you are.