Law Killer: How notorious murderer was freed to attack again
Robbie McIntosh targeted a woman in Templeton Woods, Dundee, after release from jail.
The "Law Killer" Robbie McIntosh is back in jail after attempting to murder a second woman while he was on home leave in Dundee.
The attack not only invokes memories of his first attack, aged just 15 in 2001, but also two brutal murders committed on the same spot nearly four decades ago.
In August, McIntosh attacked a dog walker in Templeton Woods in similar circumstances to the murder he carried out 16 years ago.
Police believe the second attack would also have proved fatal had passers-by not heard the woman's screams.
McIntosh, now 31, was jailed for 15 years for the 2001 murder and was on home leave from prison when he carried out the second attack.
Here, we tell the story of the murder of Anne Nicoll, the controversy behind McIntosh's release and the infamous history of Templeton Woods.
Law Killer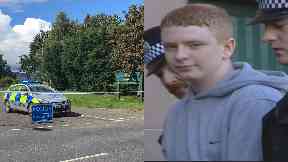 On August 2, 2001, Dundee was in shock by the news dog walker Anne Nicoll had been brutally murdered in the city.
The 34-year-old civil servant was stabbed 29 times by Robbie McIntosh, then 15, on the Law in Dundee. He also stamped on her face.
Ms Nicoll suffered knife wounds to the neck, face, head, back, chest, abdomen and left arm after being attacked as she walked her Airedale terrier.
She was left unable to even scream for help after he targeted her voice box.
Her husband found her dead body in woodland after being led there by their dog.
During his trial, McIntosh lodged a special defence of incrimination and claimed his friend was to blame.
The trial heard that there was "not a shred of evidence" to back up his claims.
Ms Nicoll's family wept in court as McIntosh stood expressionless in the dock when the jury convicted him of murder.
The teenager was later sentenced to 15 years behind bars for the attack.
"It was a brutal, could almost be described as frenzied attack with the number of stab wounds"

Former DCI Andy Allen.
Speaking to STV News on Wednesday, former detective chief inspector Andy Allen, who led the murder investigation 15 years ago, said: "We found Anne just further up the pathway here. Obviously severely injured and obviously dead with multiple stab wounds.
"It was a brutal, could almost be described as a frenzied attack, with the number of stab wounds inflicted.
"To be honest for a 15-year-old boy he had the mind of a - you would almost say - a seasoned criminal."
He added: "There was no response whatsoever from any of the questions asked of him and he never spoke to any of the interview teams.
"It was very unusual, especially for someone of his age."
On the recent attack he said he was not shocked to hear McIntosh had attacked a second woman.
He said: "It wasn't surprise, because when we did arrest him and interview him 15 years ago I was convinced he was the type of guy and I just had the feeling that he would do this again.
"So it was no surprise to me when I heard that he had."
Former Daily Record journalist Brian McCartney, who covered the case, said McIntosh should never have been released.
He said: "I was astonished that he was allowed out of prison. I think a lot of people thought it was inevitable he would strike again.
"Professor (Derrick) Pounder told me that the profile of McIntosh exactly fitted that of a sexual sadist - someone who was sexually aroused by brutal imagery.
"On the night that he killed Anne Nicoll, he wiped incriminating porn files from his computer but computer experts were able to download the files that he had and there was a considerable number showing violent rapes including the rape of children."
Controversy over release and second attack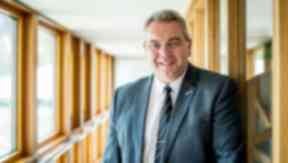 In 2016, McIntosh was allowed temporary leave from prison to pick up work experience ahead of his impending release.
The move provoked anger and the late Scottish Conservative MSP Alex Johnstone was an outspoken critic at the time.
He said: "The problem with the justice system in Scotland is that it leans too heavily in favour of criminals and cases like this highlight that.
"It's bound to have an impact on the family of the victim. It's clearly far too soon to have someone like this out in public, however important it is that we try to rehabilitate offenders."
It was while McIntosh was on home leave that he battered a second woman with a dumbbell before dragging her from a path into Templeton Woods and attempting to murder her.
The 31-year-old later tried to destroy evidence linking him to the attack but was arrested soon after before pleading guilty on Wednesday.
Templeton Woods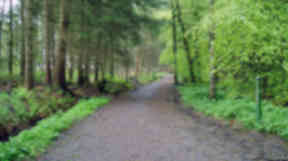 Nearly 40 years ago, Templeton Woods was the scene for two of Scotland's most infamous unsolved murders when two young women were killed in the space of a year.
Despite the dead bodies of Carol Lannen and Elizabeth McCabe being dumped a few short yards apart from each other, detectives do not believe the killings to be linked.
Carol Lannen was only 18 in March 1979 when her body was found in the woods, sparking one of the biggest manhunts in Scottish history.
Then, in February 1980, the city was in shock again when a second woman was found dead in the woods.
The body of 20-year-old nursery nurse Elizabeth McCabe was discovered just yards from where Carol Lannen had been found 11 months earlier.
Now 38 years have passed since the first murder and still no one has ever been jailed for either of the murders.
As both families continue to wait for justice, the brutal attack on a woman by the "Law Killer" will have brought back painful memories.
Download: The STV News app is Scotland's favourite and is available for iPhone from the App store and for Android from Google Play. Download it today and continue to enjoy STV News wherever you are.