Woman makes 4400-mile trip to remember war hero grandfather
Robert Shankland from Ayr braved enemy lines during a key battle in the First World War.
When she was a child, Janet Shankland-Huggins simply knew her grandfather as a kind, softly-spoken man who always had sweets for her in his pocket.
It was not until she was older she learned of Robert Shankland's endeavours as a soldier during the First World War.
Born in Scotland before emigrating to Canada in 1911, at the outbreak of war Mr Shankland enlisted as part of the 43rd Battalion of the Canadian Expeditionary Force and returned to Europe.
On October 26, 1917, during the Battle of Passchendaele, the battalion was among the units of the Canadian Third Division that attacked the heavily fortified Bellevue Spur.
Concrete strong points, defended with heavy machine guns, had repelled all previous assaults.
Mr Shankland braved enemy lines to take vital new information back to command before returning to and helping to capture the Bellevue Spur.
For his actions that day he was awarded the Victoria Cross, with the citation stating his courage and his example "undoubtedly saved a critical situation".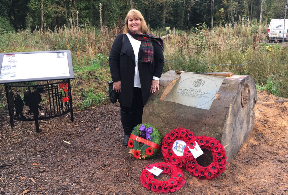 "We didn't learn what we had done in the war until we were a bit older when we could understand it," says Ms Shankland-Huggins.
"To us he was just our grandpa - chubby, white-haired, always had candies in his pocket, always soft-spoken."
She travelled almost 4400 miles to her grandfather's home town of Ayr on Thursday as the guest of honour for an emotional commemorative ceremony exactly 100 years to the day since his act of valour.
It came after South Ayrshire Council launched an international appeal earlier this month to trace any living relatives of Mr Shankland ahead of the ceremony.
The ceremonies are part of a national programme to mark the 628 Victoria Crosses awarded during the First World War.
'To us he was just our grandpa - chubby, white-haired, always had candies in his pocket, always soft-spoken.'

Janet Shankland-Huggins
"My phone went crazy on Friday, October 6, with messages from all over the world," explains Ms Shankland-Huggins.
"There were people through ancestry.com and my grandmother's side of the family contacting saying: 'They're looking for you'. And they found us."
She flew in from Greater Vancouver, British Columbia, to attend the ceremony, during which a commemorative stone laid at Rozelle Remembrance Woodland in Ayr in Mr Shankland's honour
Two more of his grandchildren, Mark Cameron Shankland and Barbara Anna Flower, were unable to attend due to time constraints for travel documents and other commitments.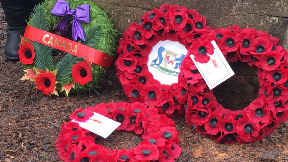 "It's definitely a pleasure to come here and see this and know that he is remembered," says Ms Shankland-Huggins.
"Emotions are very high... lots of nerves the last week getting prepared to come and wishing my brother and sister could be here too - I know they really wanted to."
Robert Shankland was 80 when he died on January 20, 1968, at Shaughnessy Hospital in Vancouver.
His ashes were scattered in the city's Mountain View Cemetery.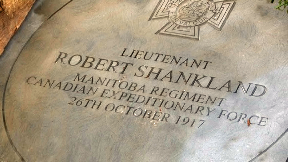 Mr Shankland's name also appears alongside that of his Prestwick-born wife, Anna Stobo Haining, on the Haining family gravestone in Monkton and Prestwick Cemetery.
South Ayrshire provost Helen Moonie said: "We didn't think that we'd be able to track down any of the Shankland family but we were overwhelmed by the response and deeply moved that his granddaughter, Janet, flew from Canada to take part."
She added: "The commemorative stone has been set as a permanent reminder of the contribution that Robert Shankland made during the war.
"With relatively few people awarded a Victoria Cross during the First World War, he will be forever remembered in his native Ayr."
Additional reporting by Clare McNeill.
Download: The STV News app is Scotland's favourite and is available for iPhone from the App store and for Android from Google Play. Download it today and continue to enjoy STV News wherever you are.