Little mermaids take the plunge with magical swimming classes
Lindsay Leeper has launched Scotland's first mermaid school in Glasgow.
When Lindsay Leeper was a child, she was convinced drinking sea water would transform her into a mermaid.
Dreaming of swimming in the ocean with a colourful fin, Lindsay and a friend hoped the magical spell would lead to an underwater adventure.
"We were really hoping we would turn into mermaids but we didn't," Lindsay laughs.
"I remember speaking to my mum about it and she was like 'well you never know, 90% of the space of Earth is water and we've only explored 10% of that so there's 90% that have mermaids in it'."
When the 31-year-old from Glasgow's childhood wish did not come, she decided to transform into Mermaid Lindsay, her bubbly alter ego who teaches Scottish children how to swim just like a mermaid.
With special monofins that strap feet together and swimsuit material covers to transform legs into tails, children learn how to swim like a mermaid with dolphin kicks.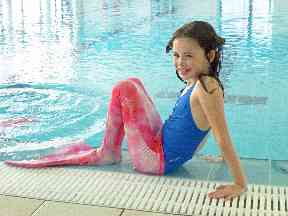 Tales of mermaids have been noted as far back as 1000 BC and while some regard the half-woman half-fish creatures as tempestuous and cruel, others show a kinder side and their fondness for humankind.
Perhaps the most famous of these is Hans Christian Anderson's fairytale The Little Mermaid, published in 1837 and later adapted into a Disney movie of the same name.
Lindsay's love of the water began when she was 16 working as a swimming instructor while undertaking a teaching degree.
Some 15 years later she is still teaching children in South Lanarkshire how to swim but began to notice some pupils became disinterested in the sport after a certain point.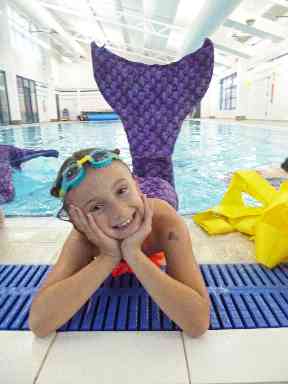 "I've got a lot of children that come through the programme that after a certain amount of time get a bit bored with swimming and they're not excited about it any more," she explains.
"I was trying to think of a way to encourage the older children that can swim a bit already so they can keep doing swimming."
After a friend notified her about a course in England, Lindsay took the plunge and become certified as a mermaid swimming instructor.
Expecting her pupils to be excited, she was overwhelmed by the response as she began teaching Scotland's first mermaid classes in pools across Glasgow.
"I thought it was just going to be a wee extra side job to make some extra money but it's actually becoming quite a lot of work and hopefully become a full-time job in the near future," she says.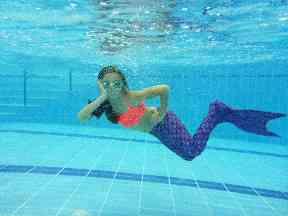 Transforming into mermaid, Lindsay, with glittery hair strands and a sparkling tail, says children are mesmerised by her classes as she teaches mini mermaids how to swim safely and also enjoy themselves with challenges and games.
"When you've not had a monofin on before, you're not used to having your legs together and restricted so we teach how to be safe in the water, how to turn in the water, how to stand up properly to get their bearings," Lindsay explains.
"And then we go through the magical care of the Merkingdom. We swim through the seaweed and we catch the shells and we play lots of games and challenges."
The magical swimming experience has been such a hit with her regular swimmers that Lindsay's classes are becoming sell out experiences.
She hopes to branch out into mermaid-themed parties next year, with mermaid makeovers, games and plenty of cake.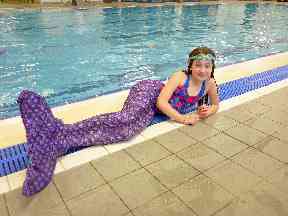 "The children are absolutely raving about it and are wanting to come back already," she says.
"It's not just a good fitness side for them, it's also a great social side as well, interacting with other mermaids and we do some partner work as well.
"We do mer-high fives where they high five their tails and things like that."
While the mermaid school is strictly for children, Lindsay hints adults could soon enrol and learn to swim like the mythological creatures with her.
For the time being, however, she is delighted her childhood dream of becoming a mermaid has finally come true.
Download: The STV News app is Scotland's favourite and is available for iPhone from the App store and for Android from Google Play. Download it today and continue to enjoy STV News wherever you are.