IVF: Mother's pride 40 years after fertility breakthrough
Grace MacDonald was the first person in Scotland to give birth using the treatment.
In vitro fertilisation (IVF) was the breakthrough that revolutionised fertility treatment around the world.
It has been 40 years since it was successful for the first time, with Louise Brown born in England nine months later.
The first Scottish IVF baby, Alistair MacDonald, was born on January 14, 1979, to a whirlwind of media interest.
The work of Dr Patrick Steptoe and Professor Robert Edwards was originally viewed as controversial and the first trials were carried out in almost complete secrecy.
Religious groups protested the work, saying the Royal Oldham Hospital in Greater Manchester was trying to play God.
Grace MacDonald, Alistair's mother, still remembers the media hounding her family when names of those involved in the programme were leaked to the press.
Mrs MacDonald says: "I was very surprised at the interest. I didn't really know until about November, when it was broken in the press, that I was one of the only IVF pregnancies in the country.
"A nurse at the hospital leaked the names to the press. There were people there from all over the world - television cameras coming to our house from America and Australia - it was all a bit surreal.
"But our neighbours were amazing and closed ranks and closed off the street and wouldn't let them in."
It was just by chance that Mrs MacDonald was involved in the programme in the first place.
She had been visiting friends in Stirling when she noticed an article about the treatment on her friend's coffee table.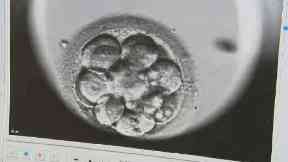 "The way the article described the problems that women were having fitted me exactly", Mrs MacDonald recalls.
"The article was about the team making some kind of breakthrough at that time. It didn't go into a lot of detail so I wanted to take this further.
"My gynaecologist through in Glasgow at that time was a great doctor called David Heart and I did have appointments coming up with him for other problems. And David said 'Right, if you want to write Grace, I will as well'."
She adds: "And that's how it started. But it was quite a long time later that I heard back from Patrick Steptoe to come down. That was it, I was put on the programme in 1975."
Mrs MacDonald faced a lot of other problems in the lead up to falling pregnant.
'Being a part of that, I felt a great sense of achievement.'

Grace MacDonald
First, she had to undergo major surgery to remove both her fallopian tubes and an ovary.
The first round of IVF was administered in 1977, which failed. Success rates in those early years were just 12%.
A few months later, Mrs MacDonald was brought in for a second round, which was successful.
Now, more than six million babies have been born thanks to IVF and the treatment is hailed as being one of the biggest breakthroughs in fertility treatment.
Medical researchers are hopeful of making more advances in the fertility treatment so it can be more successful for people wanting to start a family.
The odds of falling pregnant through IVF now stand at around 40% but it is hoped this could be dramatically increase.
Now, 40 years on, Mrs MacDonald says she still feels honoured to have been a part of the revolutionary programme so many people depend on now.
"When he was born there was obviously total joy and elation", Mrs MacDonald says.
"But being a part of that, I also felt a great sense of achievement."
Download: The STV News app is Scotland's favourite and is available for iPhone from the App store and for Android from Google Play. Download it today and continue to enjoy STV News wherever you are.