In pictures: Striking images from across Scotland this week
Photographers share their favourite shots from the country's hills and mountains.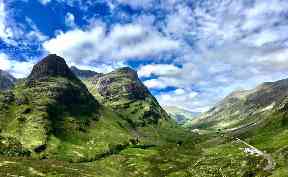 Welcome to Scotland from the Roadside, a weekly gallery showcasing some of the best images from around the country taken by you.
From opportune moments shot on smartphones to breathtaking landscapes captured in high definition, each week we share a selection of interesting pictures taken by people on their travels around Scotland.
We have partnered up with the Scotland from the Roadside Facebook group, a popular destination for trading photos and stories, which has drawn in more than 100,000 members.
Each week, we ask the page's creators, Bruce Philip and Linda Curran, to select their favourite images shared on the page over the past seven days.
This week, photographers have been sharing their #scotlandfromthehillside images, from the Three Sisters in Glencoe to a stunning crop of buttercups on Harris.
A view of Stornoway by John Dyer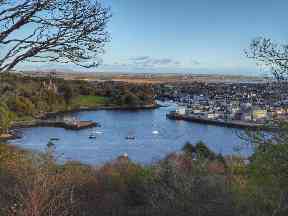 "This is the view of Stornoway taken from 'Gallows Hill', Cnoc na Croich, traditionally once the place of execution in Stornoway," explains John.
"We are now 'Stornowegians' having moved from Motherwell a few months ago.
"Stornoway's name is from the old Norse 'Sjornavagr' for 'steering bay' and Lews Castle can be seen in the left of the photo and this is the original spelling of the island."
He adds: "The estate including the castle was bought by Lord Leverhulme from the Matheson family. He then gifted the castle to the folk of Stornoway in 1923.
"This island life we now lead is full of photo opportunities and I look forward to finding out more about our new homeland."
On Iona's highest hill by Davy Carney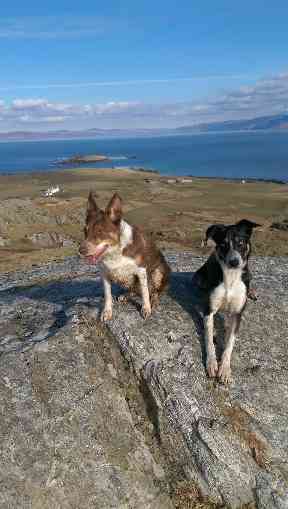 "I love Iona, it's the jewel of the Hebrides in my opinion and I never go anywhere without my dogs," says Davy.
"As it is the highest hill on the island, it seemed a no-brainer to take a picture of them there.
"The brown one is a bitch called Eilidh and the other a dog called Opie. I was over in Mull for the weekend and live in Alexandria next to Loch Lomond."
Buttercups and daisies by Debbie Neilson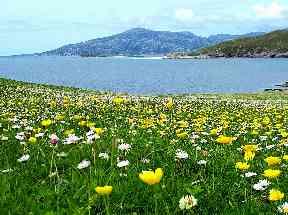 "I took this picture while I was on holiday with my family to the Isle of Harris," says Debbie.
"We took a trip to Hushinish and I loved the mass of buttercups and daisies, which provided a colourful foreground to this image."
On the way to A'Chailleach by William Murray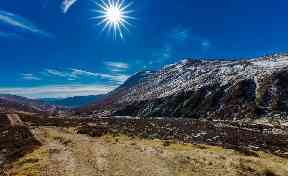 "My wife Heather and I are novice hillwalkers and live close by in Kingussie where this shot was taken," explains William.
"We decided to walk up to Creag Liath one weekend in the spring this year, which is to the right on the picture.
"Creag Liath is at the back of Newtonmore and not busy as you might expect with hillwalkers, in fact that day we were out for almost eight hours and only came across another three walkers."
He adds: "I didn't realise that I had captured the sun with a stunning star burst affect until I took the images off my camera later that evening.
"The Cairngorms is such a stunningly beautiful place and we're very fortunate to live in the national park with so much beauty on our doorstep."
The view from Bealach na Ba by Kev Neilson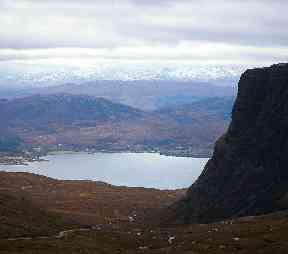 "This picture was taken on New Year's Day," explains Kev
"My wife and I had been staying in Plockton for Hogmanay and decided to take a trip to Applecross and were greeted with this stunning view from the top of Bealach na Ba."
Looking north from Tinto hill by Dougie Milne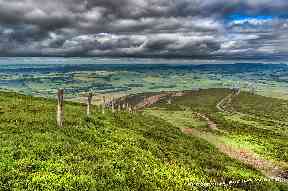 "This was taken from the top of Tinto hill," says Dougie.
"As seems to have been the case for every hill we've climbed this year, this was our second attempt, because the weather was poor the first time, and I wanted to get decent photos."
From the Nevis Range gondola by Kirsten Jorgensen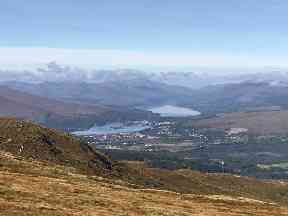 "I spend a lot of time as a tour guide showing visitors to Scotland stunning scenery," Kirsten says.
"The Nevis Range is outstanding beautiful, and I love the perspective of the area that you could never appreciate from the roadside.
"This is always a favourite with my tourists."
The summit of Ben More by Al Beattie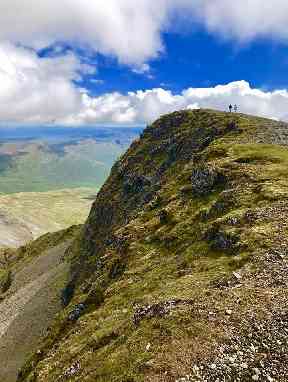 "We were on our tour of Scotland and climbed Ben More on a fantastic day," says Al.
"I loved the depth of the shot and the walkers on the ridge just added to it."
The Three Sisters by Terri Davidson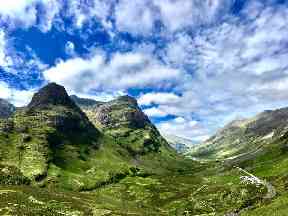 "I took this specific shot to add to my blog on Facebook to allow my followers to see one of the most photographed areas of Glencoe," Terri says.
"The shot itself was taken just before I decided to wander over our notorious Aonach Eagach Ridge for the first time and that day has now taken the crown of my favourite place to walk.
"I like to get away into the Highlands at any given opportunity and love to be able to write about it and show others who follow my page."
The view from Cockleroy hill by Steven Aitkenhead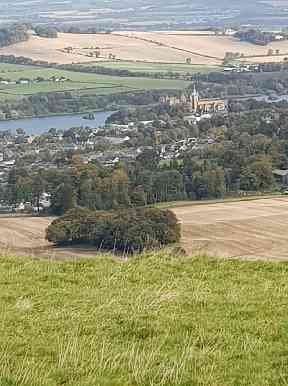 "This was taken whilst visiting Beecraigs Country Park on Monday, September 25, with Fiona Daines and was our first time on Cockleroy hill," says Steven.
"The views of Linlithgow Palace were the inspiration to share the photo."
Download: The STV News app is Scotland's favourite and is available for iPhone from the App store and for Android from Google Play. Download it today and continue to enjoy STV News wherever you are.