Bonfire Night: Sparkling treats to light up your party
Some of the goodies we love to eat on November 5 are steeped in history just like the day itself.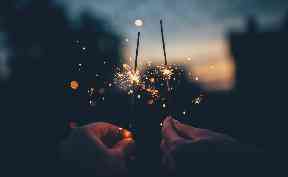 Remember, remember, the fifth of November, the gunpowder treason and plot.
As bonfires crackle and fireworks light up the night sky across the country, there may be a few renditions of the traditional folk poem telling of a plan to take down parliament.
The memorable rhyme, created some 200 years after a plot to blow up the Houses of Parliament in London was foiled.
The celebration began after Guy Fawkes was caught guarding explosives underneath the House of Lords, which were planned to kill King James VI and I in 1605.
Plotters hoped to usurp the protestant king and replace him with Catholic head of state after King Henry VIII had made himself head of the Church of England to allow him to marry whoever wished.
Their plan failed, with many of those involved with the plan hung, drawn and quartered.
People were then granted permission to light bonfires to celebrate the king's survival.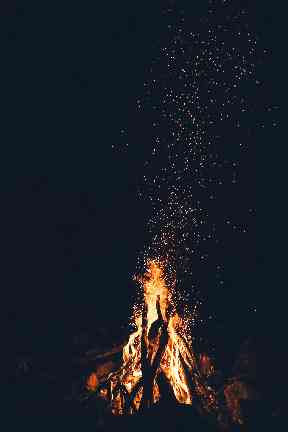 Throughout the years, Bonfire Night celebrations brought friction between the two churches and the significance of the guy placed on the bonfire was given different meanings.
In modern times, November 5's links with politics, religion and the monarchy have dwindled and by the end of Second World War it was seen as a community celebration where children asked for money to make a guy and families gathered to watch fireworks displays.
Now Bonfire Night may be more associated with the treats we look forward to consuming while faces are lit orange by the light of the fire.
Steeped in their own history, here are the stories behind Bonfire Night's favourite goodies.
Toffee Apples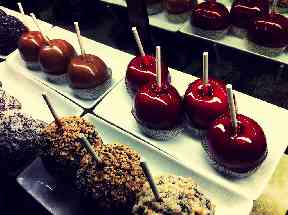 Toffee apples are a traditional treat in the week leading up to Guy Fawkes Night, with the sweets more commonly consumed in Scotland and Northern Ireland during Halloween.
It is likely their prominence during autumnal festivities is due to the apple harvest.
Toffee apples were first created in the US for a window display by William W. Kolb, who dipped apples in a red cinnamon candy being developed for the Christmas period.
Selling the first batch for five cents each, he would soon go on to sell thousands of candied apples, with countries around the world adding their own spin with caramel, toffee and different apple varieties.
Yorkshire parkin
Sticky traybake parkin, full of treacle and ginger, is an unusual cake in that it is baked until hard yet softens as it cools.
Oats were the staple grain for families in Yorkshire rather than wheat and the cake was traditionally made with oatmeal, flour, lard, treacle and ginger.
As the years went by, many traditional holidays were celebrated with fire and ritual cakes.
While their popularity waned, Bonfire Night's has continued, with November 5 known in Leeds as Parkin Night.
Baked potatoes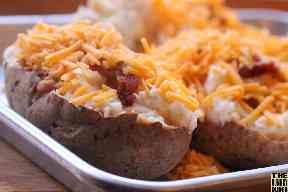 Throwing potatoes wrapped in silver foil on to the burning embers of a bonfire is a memory many have of Bonfire Night.
In the UK, baked or jacket potatoes were sold by street hawkers during the colder autumn and winter months in the late 19th century.
It is thought hawkers would sell up to 1000 baked potatoes a day in London.
Their link with November 5 lies with the bonfire, in which the potatoes are cooked until the skin is crispy and the inside soft, laden with toppings and then consumed to keep those enjoying the festivities warm.
Cinder toffee
Whether you call it cinder toffee, puff candy, honeycomb, hokey pokey or sea foam, the sweet's characteristic bubbly texture remains popular to this day and is commonly found coated in chocolate in a Crunchie bar.
Cinder toffee is often linked with the celebrations of Guy Fawkes Night despite no discernible link with the festivities nor a precise inventor of the sponge-like sweet.
While some recipes do vary, most call for sugar and golden syrup, which is boiled before adding bicarbonate of soda.
The heat of sugar breaks down the soda, releasing carbon dioxide which in turn transforms the smooth sugar syrup into a bubbling volcano which is poured into a tin where it rapidly cools.
The resulting toffee is smashed into shards and consumed with sticky fingers by the fireside.
Bonfire toffee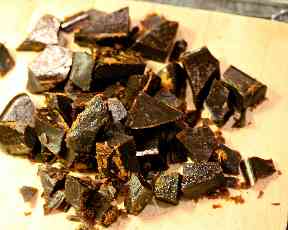 Bonfire toffee, or claggan as it is known in Scotland, is a hard brittle toffee with strong ties to Halloween and Guy Fawkes Night.
Made with butter, treacle and brown sugar, the tough sweet, which tastes similar to butterscotch, would be formed into lollipops or simply smashed with a toffee hammer into shards
First created in the late 17th century, the confection became linked with Guy Fawkes Night by 1800, although it is not known why the sweet was linked with the celebrations.
Bonfire toffee was homemade even up until the 1960s due to the high cost of black treacle.
Despite the large-scale sweet manufacturing business, a shop-bought version was too expensive and many turned to making their own at home.
It was often handed out to children as a sweet treat during Halloween and Bonfire Night.
Download: The STV News app is Scotland's favourite and is available for iPhone from the App store and for Android from Google Play. Download it today and continue to enjoy STV News wherever you are.