Trump tweets: US president's tumultuous year on social media
The leader of the free world uses Twitter to vent his spleen - except when he is deleted.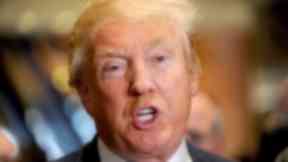 It has been a year since Donald Trump was elected US president. Any thoughts so far?
You probably have a few, given the nature of Trump's presidency as one of the most dramatic and divisive in living memory.
Featuring heavily as part of the circus is the 45th president of the United States' Twitter feed, which he uses probably more freely than any politician ever has.
With it he lashes his enemies, takes aim at so-called "fake news", proclaims his achievements, condemns acts of terror and dismisses the various investigations into his 2016 campaign's ties with Russia.
We've tracked down his most illustrative tweets since last November to tell the story of a roller coaster year - for Trump, the US and the world.
We will all come together - November 2016
Following his victory in the electoral college over Democratic rival Hillary Clinton, the new president-elect vowed unity and would meet outgoing president Barack Obama two days later to begin the transition.
NO WAY! - December 2016
He changed his tune a bit the next month.
Won't happen! - January 2017
Following a successful ICBM launch in July, some analysts now think North Korea has this capability.
US intelligence estimates it will have it by next year at the latest.
So-called judge - February 2017
The president did not take kindly to his executive order restricting entry to the US for citizens from a number of Muslim-majority countries being blocked by the courts.
He railed against the "so-called judge" for stopping his so-called Muslim ban. Various iterations of this policy have since been attempted, with the most recent blocked by a Hawaii judge last month.
Bad (or sick) guy! - March 2017
In March, Trump returned to the favoured topic of his predecessor, making allegations in an early-morning tweet rant which would rock Washington.
Fake News and its phoney Russia story - April 2017
This handy tweet condenses two of Trump's favoured (and linked) talking points - that "fake news" is out get him and the investigation into Russia's alleged meddling in the 2016 US election, including alleged contact with the Trump campaign, is "phony" (sic) and a "witch hunt".
The first federal indictments related to this probe were unsealed last week and curiously ended up linking to a Stirling University academic.
Covfefe - May 2017

In one of the US president's relatively rare deleted tweets (normally due to misspellings), he brought a new word into pop culture's lexicon that briefly took the world by storm.
Due to the mistake not being corrected until the next day, speculation ran rampant as to the meaning of "covfefe" and sparked all kinds of banter on social media.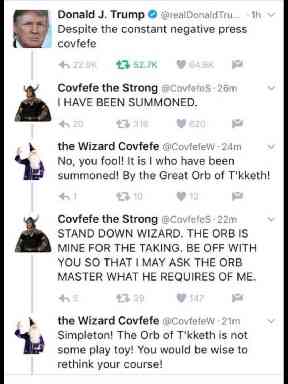 Trump then belatedly got involved the next day to suggest he was in on the joke. You make your own mind up.
Pathetic excuse by London Mayor - June 2017
Following the London Bridge terror attack on June 3, which left eight dead and dozens injured, Trump decided to take to Twitter to criticise the city's mayor Sadiq Khan on consecutive days.
Crooked Hillary Clinton - July 2017
This is part of an ongoing series in which the president lambasts his former electoral opponent despite beating her last November.
He shot off a string of tweets attacking the 2016 Democratic nominee as well as fired FBI director James Comey.
These tweets came 11 days after it had emerged his son Donald Trump Jr had met a Kremlin-connected Russian lawyer promising dirt on Clinton.
Charlottesville - August 2017
Trump was pilloried by parts of the press and on social media for his remarks after events in Charlottesville, where one woman died as neo-Nazi and alt-right protesters clashed with counter-demonstrators.
Critics claimed he had created an equivalency between the far-right and those opposing them with his remarks at a press conference that there "were very fine people on both sides".
Country, Flag and National Anthem - September 2017
One of the president's most recent causes has been trying to stop NFL players kneeling during the American national anthem prior to games.
Since 2016, a number of NFL players have been taking a knee in protest against racism and police brutality in black communities.
Little Rocket Man - October 2017
Returning to the matter of North Korea and its nuclear weapons programme, Trump began calling the country's leader "rocket man", most notably during a speech to the UN.
Also notable in October, the president suggested the licence of US news networks could be "challenged" on the basis of the "fake news" they were producing.
Rogue employee - November 2017
For a brief moment on November 3, the account @realDonaldTrump was no more, due to the antics of a Twitter employee on his last day.
A triumphant president returned to the site shortly thereafter, saying the events proved "the word must finally be getting out".
Donald Trump has more than 42 million followers on Twitter so you'd imagine so.
Download: The STV News app is Scotland's favourite and is available for iPhone from the App store and for Android from Google Play. Download it today and continue to enjoy STV News wherever you are.