'Scotland's happiest dog' loses tail after wagging it too much
Buster the Staffie has found a new home after two years with the Scottish SPCA.
A dog who had to have his tail amputated after he wagged it too much has finally found his forever home.
Jolly Staffie Buster, who spent two long years in the care of the Scottish SPCA, had to have surgery to remove his tail after he got too excited and injured it by wagging too hard.
Dubbed "Scotland's happiest dog" by those caring for him, the cheerful chap finally attracted the attention of a new owner earlier this year.
He has since moved into his forever home and is cheerfully enjoying "unlimited bum scratching" and a comfy big sofa.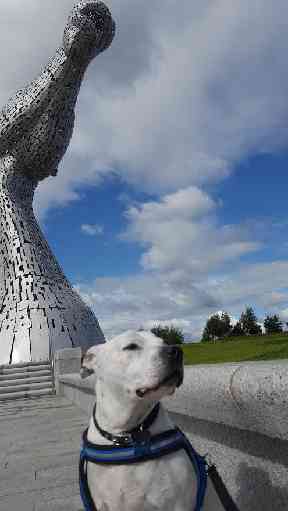 Diane Aitchison from the Scottish SPCA says: "When Buster was with us he won over all the staff at the centre with his boyish good looks, cheeky personality and his love of cuddles.
"He earned his title of the happiest dog in Scotland after his tail had to be amputated following repeated injuries from how hard and fast he'd wag it.
"That certainly hasn't stopped his exuberant personality, though.
"After two years with us here at the centre, it's great that he has finally found his forever home where he has unlimited bum scratching and a big sofa to snuggle up on."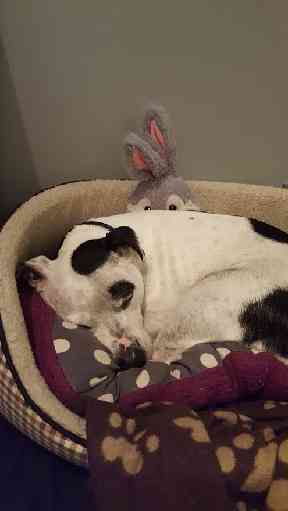 Michelle Lennox, who adopted the friendly dog, says: "Buster was very well behaved from the start, he was well trained by the staff at the centre.
"We took Buster on his first holiday to Northern Ireland - he loved the attention from strangers and won them over with the paw trick the staff at the centre had taught him.
"He can be a bit wary of some dogs but he has made some friends in the neighbourhood - he's a bit of a ladies man."
She adds: "He also loves children and his postwoman Tracey is his favourite visitor.
"People say he's lucky we found him but I think we're the lucky ones."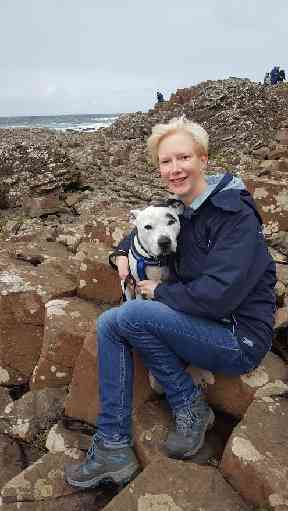 While it may sound unusual, Buster is not the first dog to suffer from over-wagging injuries.
Sometimes referred to as "happy tail syndrome" dog breeds such as Staffies and spaniels can wag their tails so wildly they get injured.
The force with which a dog can wag his tail, hitting hard surfaces over and over or for a prolonged period of time, can cause serious damage, especially to the tip of the tail.
Buster was luckily able to be cared for quickly by staff to prevent further injury and he has now joined the ranks of other Staffies as a poster boy for his breed.
The Scottish SPCA is running an awareness week from November 13 to highlight just how great Staffies such as Buster are as pets.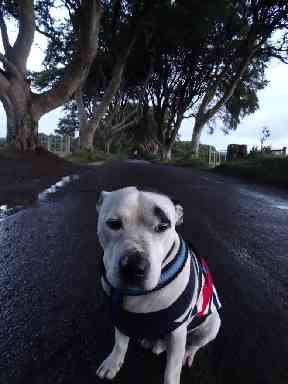 The Scottish SPCA's chief superintendent Mike Flynn says: "Staffies are one of our most popular dogs and it's clear to see why.
"They are friendly, loyal and affectionate dogs, they are real people dogs and thrive on human companionship."
He adds: "Anyone thinking of rehoming a staffie should head along to one of our nine rescue and rehoming centres where our super staffies are waiting patiently for their new home."
If you have already rehomed a Staffie from the Scottish SPCA you can share your story using #StaffieEverAfter on Facebook, Instagram and Twitter.
If you are interested in giving a Staffie a new home can visit the charity website at www.scottishspca.org or call your local centre on 03000 999 999.
Download: The STV News app is Scotland's favourite and is available for iPhone from the App store and for Android from Google Play. Download it today and continue to enjoy STV News wherever you are.