Premature baby Henry defying the odds after early struggles
Henry Dryburgh's parents were warned he was unlikely to survive birth at just 29 weeks.
Lauren Knight was first told there might be something wrong with her baby when she was just eight weeks pregnant.
She was informed Henry had a one-in-five chance of being born with Down's Syndrome at her scan in Alford, Aberdeenshire.
Lauren and her partner went for an amniocentesis test to confirm this so they could start preparing for his arrival.
The results came back negative but the problems did not go away.
Doctors, noting her fetus was quite small, then sent off tests for dwarfism but those also came back negative.
At just 29 weeks, Lauren was brought into hospital to be induced, with doctors concerned for her and Henry's safety.
When Henry was born, he weighed just 1lb 9oz. Henry had stopped growing at just 23 weeks old and this parents were warned he most likely would not survive.
Before the birth, doctors warned Lauren that Henry would not be moving, breathing and would be navy blue when he was born.
Now 18 months old, Henry Dryburgh has defied all odds to survive. He was born a kicking, screaming bundle of bright pink.
Lauren says: "I didn't know babies could even be that tiny. You couldn't even make out facial features or anything. He was just so small and bright red."
The struggle did not end there.
Henry started to go downhill soon after the birth and was quickly placed on a ventilator.
Premature babies are usually only on ventilators for a few days but Henry was on one for seven weeks. It has caused issues including chronic lung disease.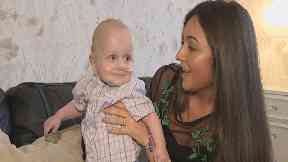 Lauren says those first few weeks were really tough.
"He didn't even feel like our baby - his first nappy change, first feed, absolutely everything - someone else got those first special moments with him," she explains.
Now, the family is working with No Tube, a centre that works with families to wean children off feeding tubes, to try to start Henry on solids.
Lauren says: "Henry has severe mouth aversion meaning he doesn't accept anything in his mouth other than a really specifically made dummy.
"He won't put anything in his mouth. Putting his fingers in will make him sick, the smell of food makes him sick. It's hard to try to overcome that.
"We've worked with dietitians, speech and language therapists, everybody, but no one can come up with an answer."
She adds: "No one has seen these sort of things we're seeing with Henry before. They don't have the time to work one-on-one for such intensive therapy.
"We've got every hope that No Tube will work. Speaking to some of the other mums, it seems like the miracle cure we need to get Henry eating."
The alternative would mean Henry will have to undergo surgery to have a permanent feeding tube inserted.
Lauren has high hopes it will work, Henry having challenged and overcome all expectations so far.
She adds: "So many people tell me 'it's amazing how you've coped'.
"But you just sort of roll with what you're dealt. When you're thrown in at the deep end, there's nothing to do but swim.
"You always have to look on the positive side of what you're being told, what you're going through or what it looks like is going to happen because things can turn around so quickly."
Download: The STV News app is Scotland's favourite and is available for iPhone from the App store and for Android from Google Play. Download it today and continue to enjoy STV News wherever you are.