International flavour: Glasgow couple bringing restaurant home
One Star House Party has served customers across eight different countries in as many months.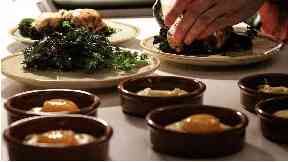 Visiting 20 countries in 20 months, setting up a pop-up restaurant at every stop is no easy task but it is what three friends are almost halfway through.
Now the three are almost half way through their goal, having visited eight different countries in eight months.
James Sharman from London and Kevin and Trisha McCrae from Glasgow have all worked in various positions in the restaurant industry for many years.
James moved to Hong Kong and Trisha and Kevin went out to visit him.
He decided to set up a three-night restaurant in his apartment but soon three nights had spread to three weeks and they knew they were on to something special.
Now, the trio have served dinners in China, Vietnam, the US, India and even at the base camp of Mount Everest in Nepal.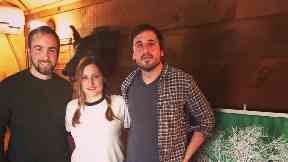 In December, they are bringing One Star House Party home to Glasgow.
Diners visiting the week-long pop-up will be given a seven-course taster menu featuring their favourite dishes from the countries they been to.
Trisha said the original idea for a travelling restaurant was sparked from a desire to add more creativity to their work.
They tried out a second pop-up venture in the US starting in New York, before making their way to San Francisco, stopping in southern states as they went.
Trisha says: "We stopped one of the times at Big Sur, California, and thought it would be cool to do one of the dishes from there. So we went the beach, scooped up sand and took it with us.
"When we got to San Francisco, we did a dish called squid and sand.
"We placed the bags of sand in the oven until they were pretty hot. The thinnest piece of raw squid was placed on a plate and the bag was brought out and placed on top of the squid."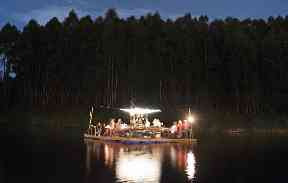 She adds: "The heat from the sand would cook the squid while we dressed the plates in front of the customers.
"After it was finished - the short tour of the States - we sat down and had a discussion about doing it properly. We decided, for no particular reason, it would be 20 months and we'd try to visit 20 countries.
"We wrote a list up of where we'd like to go and decided we would start in China, and then just geographically leapfrog around the world from there."
Kenya was a particular highlight for Trisha.
"We set it up on a floating platform on a lake under the stars," she says.
"Originally we had rented a lake house with a massive garden and we were going to do it there as a garden party.
"But there was this massive man-made lake right at the bottom of the garden. We were joking around saying could you imagine if we built this floating raft and had dinner there?"
She continues: "Well, it escalated really quickly and the next thing we knew we had 12 locals helping us build this huge raft that seated 40 people.
"We cooked in the middle of the raft for eight nights, serving 640 people. It was probably one of the most magical places you could have a restaurant."
Now, having visited eight countries - China, Vietnam, Thailand, Nepal at the Mount Everest Base camp, India, Oman, Kenya and South Africa - they are opening a one week pop-up shop on Pollokshaws Road.
"I think we're all a bit nervous", Trisha added.
"We've been away from Glasgow for four years, so there's a bit of pressure to get it right. People we know will be looking at us to see what we've done and what we've learned over the past few years."
One Star House Party will open from December 14 until December 21 on Pollokshaws Road at Shawlands.
Reservations will be available on November 25 at noon via their website, priced £75 per person.
Download: The STV News app is Scotland's favourite and is available for iPhone from the App store and for Android from Google Play. Download it today and continue to enjoy STV News wherever you are.