Rock 'n' roll photographer puts fans in focus for new book
Sandy Carson from Lanarkshire has documented around 3000 concerts since 2007.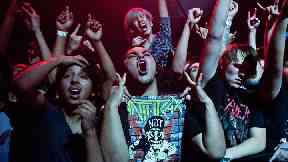 A decade ago in a sweltering Texas melt of armpits and noise a diehard music fan got his big break.
It was 2007 and Sandy Carson had been commissioned to photograph his first music festival.
He had been attending them for years. First as a young BMX rider from Lanarkshire, moshing in the pits around Glasgow.
Then, when the bike thing really took off, as a sponsored professional rider on tour around the world.
"My parents were just happy I was doing something that kept me out of trouble," he jokes.
Even then, he had his camera on him, snapping away at the other pro riders until one day he was doing more shooting than biking.
Finally, under the heat of a Texan sun, he found himself in the live music capital of the world, armed with a contract, a camera and his first photographer's pass into the pit.
Sandwiched between the fans and the stage he settled into the roar and turned his camera towards the band.
Magazines and publishers mainly wanted shots of the performers.
"But there was this thin little part of that first contract asking me to shoot some pictures of the crowd," recalls Sandy.
"Just enough to get some of the feeling of the event."
Sandy turned his lens on the sheer raw emotion of the fans and kept doing so for the next 3000 gigs.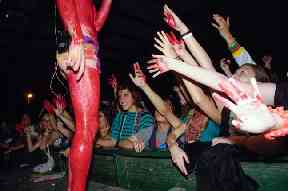 Shot after shot, the Lanarkshire lad documented the thriving, living energy of concert crowd fans and their reaction to the music from the pit.
He was there with Anthrax, with FUN and with Slayer. At Mogwai, Lionel Richie and Odd Future.
For every group of shots he took of the band, Sandy would also turn and shoot the twisting, jumping mass of fans behind him.
These were the music lovers who would would camp out for hours just to be near and hear their idols in an "almost religious experience".
"Sometimes I thought the fans were cooler than the band," Sandy says earnestly.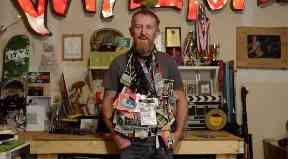 Then, when Sandy's fiancee showed him a book of photographs of the screaming, crying crowds at The Beatles gigs in the 1970s, he knew exactly what he wanted to do with his own shots.
Sifting through his mass of images, he selected the ones that he felt truly captured the emotion of each gig.
From a man crowd surfing in his wheelchair at Slayer, to a super fan throwing his long hair back like a lion and roaring at the barrier before his idols Anthrax.
Sandy gathered up all the shots of sweaty armpits, tears and the sheer rush of emotion from fans "in the moment".
Then he decided to tell everyone about it - the fans, the bands and anyone who would listen.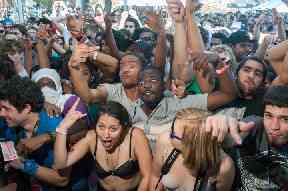 He gathered in sponsors and in the true currency of rock 'n' roll, offered free pizza to anyone who would help him.
It worked. Sandy drew in more than £24,000 and created his photo book, calling it We Were There.
The bands he had been photographing for years backed him, not just from Texas but from closer to home - from Scots band Mogwai and those who had spent many a mad night with him at the Barrowlands in Glasgow.
So many fans supported him, Sandy was able to self-publish his book.
Then prestigious art publisher Daylight Books took it up, launching it in New York in August this year with an accompanying vinyl of tracks and a gig wrist band to appeal to the crowds.
"These photographs of people watching musicians perform, tell their own story in a way that a collection of images of bands never could."

Stuart Braithwaite, MOGWAI
Over the last few months, it has been bought by fans and musicians around the world before it reached Amazon in November 2017.
One fan even showed up to the launch with his girlfriend who had tattooed Sandy's specially designed "We Were There" logo on her arm.
"That was quite something," he laughs. "You never really expect something like that."
In all honesty, Sandy says he never expected his book to get any attention at all.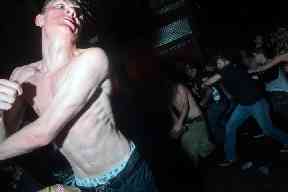 "We Were There is somewhat of a self-portrait gone full circle almost," says Sandy.
"It's a portrait of myself as a music fan, a musician and now a photographer stuck in the middle capturing all sides."
"I've done my fair share of cramming down the front row as a teenager - and still do," he adds.
"But mostly it's with a camera round my neck these days."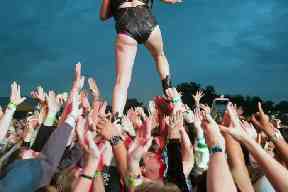 For now, Sandy is staying put in Texas though he admits his Scottish skin has never really got used to the heat.
Spurred on by his first success, he is already working on another book and believes the success of the first one is down to one very simple rule.
As he says in his book: "Without the band there are no fans, without the fans there is no band. One just cannot exist without the other."
To view more of Sandy's images and to follow his work you can visit the We were there photographer's website.
Download: The STV News app is Scotland's favourite and is available for iPhone from the App store and for Android from Google Play. Download it today and continue to enjoy STV News wherever you are.