Tiny twins who defied the odds celebrate World Prematurity Day
Tillie and Lottie Fowler weighed less than 3lb combined when they arrived 17 weeks early.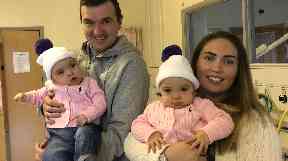 They may have weighed in at less than 3lb combined but these little fighters are all smiles.
Identical twins Tillie and Lottie Fowler have fought many battles in their short lives since arriving into the world 17 weeks early.
Their arrival into the world is the earliest of any surviving twins in Scotland and they barely registered on the scales when they were born in the Princess Royal Maternity unit in Glasgow on August 11, 2016.
Tillie was just 1lb 4oz and Lottie was 1lb 5oz.
"It was all very scary going into labour 17 weeks early," says their mother, Jenna.
"I had no warning either as everything with my pregnancy was going great up until then. With twins there is always a higher chance of prematurity and the fact they are mono mono twins increases the chances even more."
As well as being being identical twin sisters, monoamniotic means Tillie and Lottie also shared amnions, chorions and placenta, too. It is very rare - about one on 10,000 births.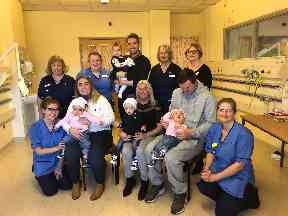 "As you can imagine, it was all very scary but the care we received was amazing," says Jenna, who adds she cannot thank the nursing staff enough for the emotional help they gave the family.
She adds: "We spent 125 days in the hospital and by then we knew every member of staff by name.
"We are just so grateful to have the twins and realise just how lucky we are."
To mark World Prematurity Day on November 17, the girls and their parents Jenna and Stuart Fowler returned to the hospital to meet other parents and say thanks for the care they received.
Now happy and healthy bouncing babies, the little sisters were all smiles for the staff who cared for them.
Many maternity hospitals across Scotland are marking World Prematurity Day in some way.
Night shift staff at all the NHS Greater Glasgow and Clyde maternity hospitals are armed with purple glow sticks and the babies in the wards are all sporting special purple bobble hats.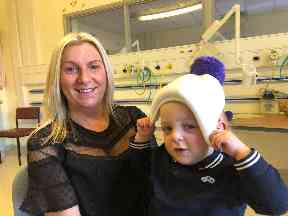 Premature means a birth before 37 weeks gestation and can bring both short and long-term issues for the babies concerned.
According to premature birth charity Bliss Scotland, more than 6000 babies are born premature or sick in Scotland every year.
Neonatal intensive care nurse Sharon Foster is one of those helping to organise a celebration event to mark World Prematurity Day.
She said: "Last year we had the privilege of caring for Lottie and Tillie, Scotland's youngest twins to ever survive.
"It was lovely to see the mums, dads and especially the babies back on the ward and looking so healthy and big.
"It makes all the difficult moments so worthwhile when they come back to visit and we can see for ourselves how well they are doing."
Download: The STV News app is Scotland's favourite and is available for iPhone from the App store and for Android from Google Play. Download it today and continue to enjoy STV News wherever you are.