Street Pastors: Margaret in mission to help those in need
The 67-year-old provides comfort and care until 4am every Sunday in Glasgow.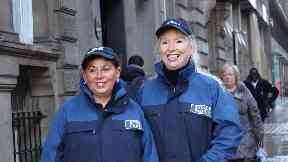 She could spend her Saturday nights in a warm house, sipping on a cuppa and nibbling biscuits of her own.
Instead, 67-year-old Margaret Reeves wraps up and heads out into the streets of Glasgow, providing comfort and care to homeless people and the hopelessly drunk.
As one of 96 members of the charity Street Pastors, the grandmother stays out until 4am, handing out cups of tea, homemade rolls and biscuits - as well as reuniting lost friends.
Margaret says: "We could write a book about everything the street pastors have seen. We see people from all walks of life and ages. But we are not there to judge people - just to help them.
"It is a great experience, we have a laugh and a joke with a lot of people. I really consider it a blessing. Most people are really grateful for our help."
The charity works with Community Safety Glasgow and the emergency services to train the church volunteers, who carry first-aid kits, thermal blankets and radios that link them to a network of CCTV operators.
At home before her shift, Margaret prepares 25 filled rolls to give out to people sleeping on the streets and her colleagues do the same with biscuits and sweets.
The Street Pastors spread the word of the Glasgow City Mission Night Shelter and other available services, including accompanying people there to find a bed for the night.
Jennifer Layden, Glasgow City Council convener for equalities and human rights, said: "It is truly amazing that people are happy to sacrifice their weekends and go out in the cold and wet until the early hours to help others.
"The commitment and dedication of the Street Pastors is inspiring."
Download: The STV News app is Scotland's favourite and is available for iPhone from the App store and for Android from Google Play. Download it today and continue to enjoy STV News wherever you are.